Not So Fast! Interactive Game ~~ DONE~~Read The Moves!

Novica
Posts: 23,848
What is Not So Fast?
The Not So Fast! (NSF) contest is a forum-based game with good-natured interaction between participants resulting in a list of products each person must render.
For the game, there are Not So Fast moves done with, to, and /or between the participants. Have fun watching the artists manipulate, plot, and scheme to manuver products onto the final render list of each person. The six items a person starts with (two sets, three props, and a character) definitely will NOT be what they have to render at the end of the game!
The goal is simple. CREATE MISCHIEF. The gameplayers are NOT here to be cooperative! Or...are they?
They're playing for laughs and to see who can create the best "Not So Fast!" moves which leave other artists rendering funky combinations. The motto of the game is, " If you can mess with someone, do it." Strategy reigns supreme here, timing is everything. Other people DO have moves to get another player out of a bind- but will they use them? They might if the culprit has pulled a NSF move on them and they want to give some payback by helping out another recipient. You never know!
*************************************************************************************************************
Basic Rules: To qualify for the prize gift cards, participants follow these guidelines. Posts will have the current tally of where they stand and are updated by the participants, it's very easy to immediately see what they've done AS THE GAME MOVES ALONG!
1. Each artist MUST make 10 "NSF" (Not So Fast!) moves in the game. A NSF action is added to your total when you initiate an action, not when you are the recipient. You can't just exist in the game, you have to PLAY! You are allowed up to 20 moves during the 4 day period. (Your post will show which moves you've already made. There's a standard format.)

2. You may not reverse a NSF action by using the same NSF action or repeating the action. (Someone forces you to swap with them, you can't force them to swap that product back to you. See 5)
3. Each game player must make moves involving a minimum of 6 different players. (Moves which involve two other people, and that would count for two people.)
4. Each player must use at least 4 of the 7 NSF moves. This prevents a player from using the same gameplay over and over. (Your post will also show this.)
5. Once an item has been taken OR swapped from a player, they can not get it back from the player who took or swapped it in that same reverse move. (Think strategy here!)
Communication During Gameplay:
6. Conspiracy and giving suggestions of what can / should be done TO OTHER participants is encouraged- it's time to "start throwing people under the bus." However- participants are limited to suggesting ONE NSF move. They can NOT map out two or more advance strategies or even hint at them.
7. The person on the receiving end (of a conspiracy being discussed against them) is allowed try to influence the outcome by pointing out BETTER MOVES AGAINST OTHER PLAYERS. They can not discuss themself AT ALL.
8. Players can not ask for help regarding their current situation, with the exception of the NSF #5 of a mutual swap.
9. All collaboration is done on this official thread. No PMing, emailing, smoke-signaling, Morse Code...you get the idea. The chitchat is out in the open for everyone to enjoy. Well, everyone except the player on the receiving end. It will be fun to watch alliances form and shift. The person you think has your back, just stuck you with a slimy worm, a worn toilet seat, or a lollipop.
10. A sponsor is regarded the same as a player- when they announce a NSF move, it is official. They will be using NSFs #4, #5 and #7 The same communication rules which can be applied, apply. (Discussing only one move, no behind the scenes collaboration.)
**************************************************************************************************************
The NSF (Not So Fast!) Moves
Here are the NSF moves the players will make: (Remember-players must use 4 out of 7 and get a total of 20 moves) They are designed so even if a player is not online, the game continues without them. Their list of products in their possession will change even if they are not participating at the time. Players can not make moves with other players (such as swaps) unless they possess both items.

1. "I'll Swap With List" One time use during the entire game: Swap out one item with one from the list. The TYPE of item must be the same (a prop for a prop etc.)
2. "We're Swapping Says Me" Make another contestant swap products with you. Both people must own the same things and they must be the same TYPE. (a prop for a prop etc) This is a harder one, both items must be in their possession at the time.
3. "We Agree To Swap" One time use by a player during the entire game: Two contestants AGREE to swap products. DIscussion is allowed but NOT strategizing future moves. (See Communication rules.) In other words, you can discuss swapping one item, but not strategizing why you're doing it or what you plan to do after the swap.
4. "You and You Swap." Force two other players to swap items. YOU decide what they swap. Again they must be the same TYPE. (prop for a prop) Players must own both items and have them in their possession.
5. "Say Bye And Hi" Tell someone which product to give up to the list, and which one to take from it. The TYPE of item must be the same (a prop for a prop.)
6. "I'll Take That, Thanks." Steal an item from another contestant and decide what they take from the list. The TYPE of item must be the same. (getting the hang of it?)
You must then send one of your other items (SAME TYPE) to the list as now you have too many.
NO LONGER AN OPTION, DELAYS THE GAME
7. "You're A Thief" Tell another contestant (you chose) they MUST steal a specific item (they own) from another contestant. (you chose.) YOU'RE DONE.
The person that takes the item: (gets to chose)
a. Must give up the same type item (a prop if they had to steal a prop) to the list because they can only have 3 props, 2 sets, and 1 character. They may NOT give up the item they had to take.
b. The MINUTE they post the item they are giving up, it is available, whether Novica has had time to get it to the list or not. First come first served, but note it does count as a NSF (#3 above) whether it is on the list or not.
c. Tells the person they stole from which item from the list will replace it. And of course, it must be the same TYPE of item.
NEW!
8. "Fetch It For Me, Thanks!" Combining two moves, #5 Say Bye And Hi- and #2 We're Swapping Says Me. The person goes and gets an item you also own, and they give it to you when they get back.
First, make sure the product you have in your possession that you are swapping later with them, THEY OWN. (A) (This is the We're Swapping Says Me part.)
Tell someone what product they are giving up. CAN NOT BE A CHARACTER.
Tell them what item is replacing it. (B) (Be sure you OWN IT. They are bringing it back over to you.)
Take it (B) (must be the one they fetched) and give them an item (A the one you checked to see if they own it.) Must be a prop or a set. Must be the same type item
9. "Fetch Now You Two Swap Combining two moves, #5 Say Bye and Hi with #4 You And You Swap
This NSF move is when one out of two other players (NOT YOU) HAS IN THEIR POSSESSION an item both players own. (Item A)
The one who does NOT have an item in their possession owned by both players, you tell what product they are giving up.
Then you take an item from the main list that BOTH players own for that person. (B)
Then you tell them to swap the item the first person has (A, which they both own) and the new item (B) just brought in from the main list.

*************************************************************************************************************************
Oh, one more thing... (this does NOT count as a NSF action)
"The Old Hagrad" Hagrad makes the Old Maid look absolutely adorable. Send this woman on her way because when the game ends, if she's in your possession you automatically have to add another product (VOTED ON BY THE PARTICIPANTS) to your render.
Thinking about holding on to Old Hagred until the last minute and sticking it to someone? Nah, that's too predictable.
a. Once you receive Old Hagred, you must pass her along before you can do a NSF.
b. If it has been longer than 6 hours since you received the old gal, she will be moved along for you. (You put the time in the post when you give her to someone) SHE IS PUT ON HOLD AFTER 6 HOURS (by any participant who is online) AND YOU LOSE THE RIGHT TO PASS HER ALONG. The first participant to call the time on it, gets to look at the list of people (which is in EVERY post with Hagred) who have yet to receive her that round, and pick someone to send her to. Don't miss your opportunity to choose- send her within 6 hours!
c. Once a player receives Old Hagred, they can NOT get her again untill ALL players have had her at least once. After everyone has had Hagred, it starts over again, everyone gets her a second time before she can make the rounds a third time. Or more. Hagred should get her broom motorized, she's going to be visiting a lot of players!
Novica will launch the first one and show you how to do the post.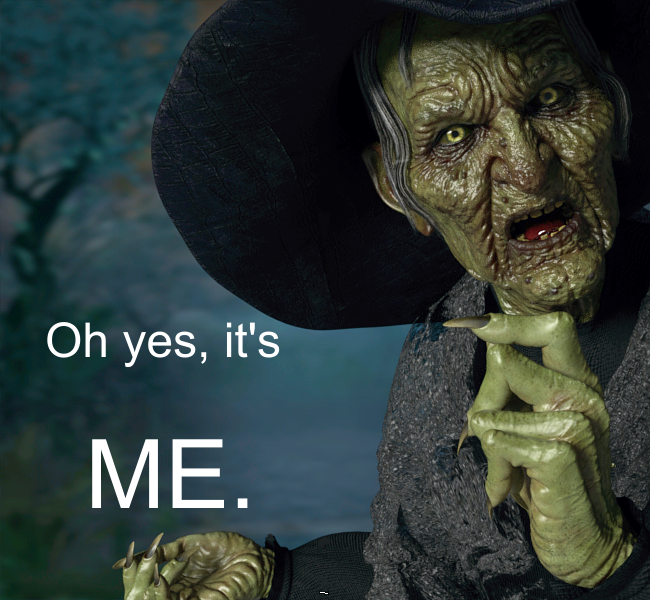 ************************************************************************************************
Observers are asked to refrain from entering the melee as the thread could easily get cumbersome and make it harder for the participants to scroll through and find the latest relevant status of other players. So please watch but do not post. This is a very, very different interactive approach to a contest, it's really a game in action. We need to help the participants keep track of things and also eliminate the possibility of posts which may violate the rules. (You may see a great strategy and want to address several moves, but that's not allowed. We also want to let the participants figure it out for themselves.)
Please do not point out infractions. Let the players handle it. Appreciate it!
Post edited by Novica on