How to Use dForce: Creating a Blanket, Draping Clothes on Furniture, and Much More
RGcincy
Posts: 1,932
This collection of tutorials is also available in PDF format. It is now split into two parts as it was too large to upload to the forum.
Part 1 - Sections 1 to 25 - 91 pages
Part 2 - Sections 26 to 48 - 81 pages
---
Index
dForce Global Environment and Duration Settings (Gravity, Air Resistance, Stabilization Time, Negative Air Resistance)
Using dForce Surface Smoothing Settings (Velocity Smoothing and Velocity Smoothing Iterations)
Various Methods to Correct Poke Through (including Push Modifiers)
Hanging Towel (introduces use of dForce influence weight map)
Sand Trap (footprints)
New! Create a Seat Belt
---
1. Creating and Draping a Blanket Over a Figure.
Back in June I posted a tutorial on using a push modifier to create a blanket to cover a reclining figure (see How to Use a Push Modifier: Creating a Blanket). Although it works, the push modifier approach has a number of issues: (1) it's fairly labor intensive, (2) the results rely on the skill of the artist, (3) the artist has to interpret how gravity and cloth properties affect the draping, and (4) it grows the polygons of the mesh so that the edges of the blanket do not pull in as they naturally would.
With the new dForce simulator available, I decided to revisit the idea of a simple blanket. The default settings of dForce didn't give a good result but a few simple parameter changes make it work well.
Here's a render of the final result:
Compare it to the result from using a push modifier:
As you can see, dForce gives much more natural draping of the blanket and instead of the mesh polygons growing, the edges of the blankets pull in. Using dForce, all the polygons remain square: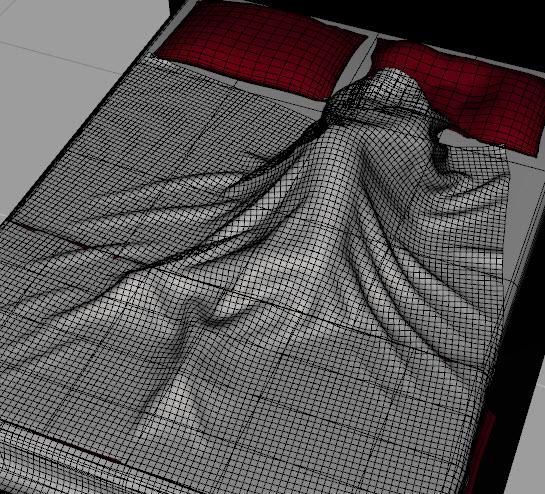 Using a Push Modifier, the polygons above the figure have stretched to become rectangular and the edges of the blanket remain extended and do not pull in as a real blanket would do:


dForce blanket final with air.jpg


pdf

pdf

How to Use dForce - Create a Blanket and More - Part 1 Sections 1-25.pdf
pdf

pdf

How to Use dForce - Create a Blanket and More - Part 2 Sections 26-48.pdf
Post edited by RGcincy on