Pointless Prizeless Challenge #12: Render A (Stupid) Story Title

3dcheapskate
Posts: 2,674
(Edit: I've only just realized that there's a genuine, serious Book Covers thread here. But it seems far too serious for the rubbish I'm coming up with ! )
Today I'm not bored, I'm inspired ! Yes, there's no escape - it's time to inflict another one of these on the unsuspecting sensible people of the forum...
(If you don't know what a Pointless, Prizeless Challenge is... well, you should be able to work it out for yourself, shouldn't you? Hint: The key is in the two adjectives - 'Pointless' and 'Prizeless'. The word 'Stupid' also comes to mind, but it doesn't begin with P and would ruin the alliteration. For more information see the Pointless Prizeless Challenge Index and the previous challenge - Pointless Prizeless Challenge #2,486: Render the building of an Interociter)
A while back I did a cover for the pulp magazine "Unbelievable Stories" illustrating the story "The Cement Jungle" and came up with a few additional story titles for the cover: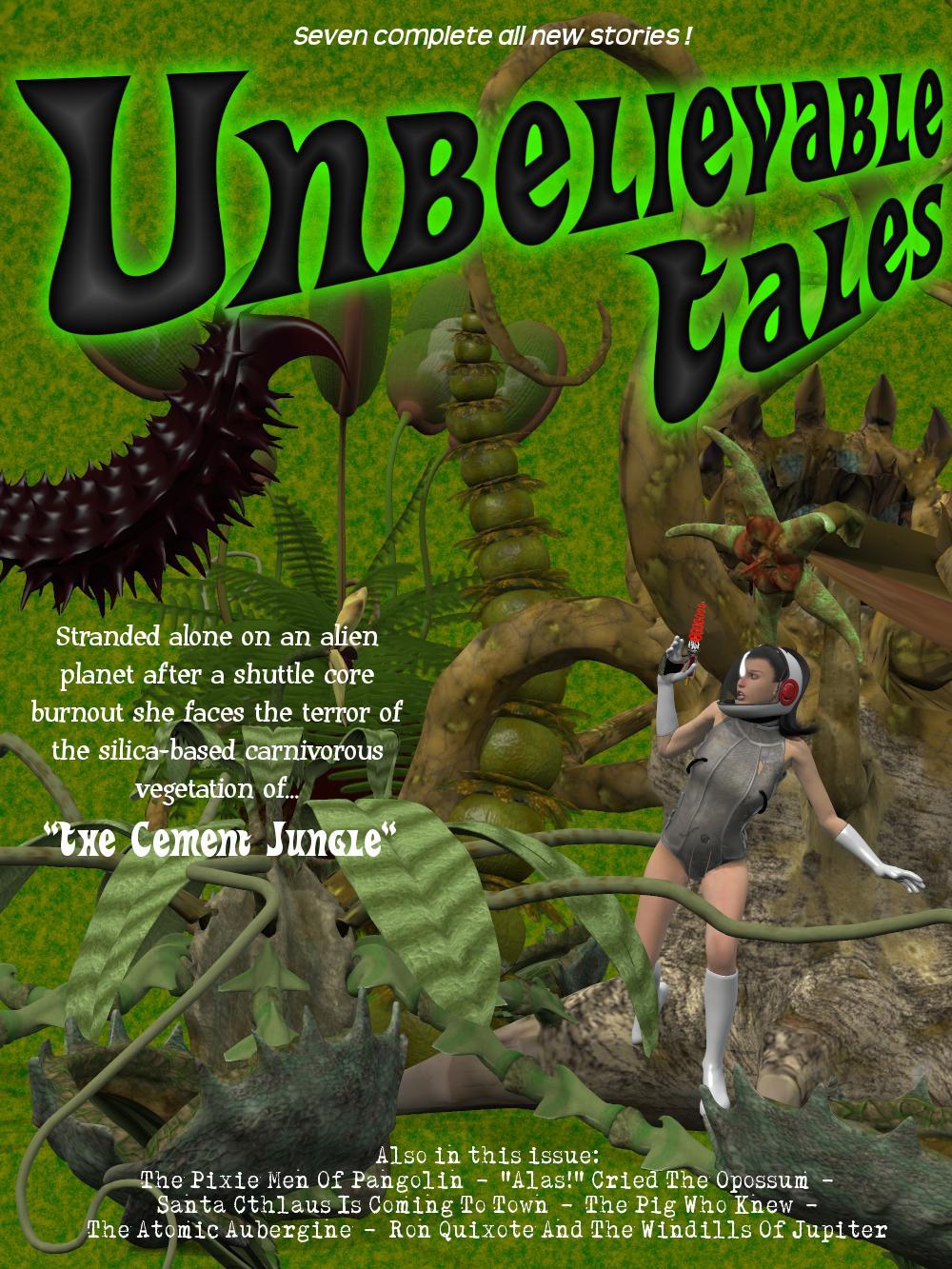 For people who can't read pictures the other stories listed on the cover are:
The Pixie Men Of Pangolin
"Alas!" Cried The Opossum
Santa Cthlaus Is Coming To Town
The Pig Who Knew
The Atomic Aubergine
Ron Quixote And The Windmills Of Jupiter
The challenge is to render a teaser image for one of the story titles above*
The teaser image can be a magazine cover, a movie poster, a plain old picture.In fact whatever you want.
*.If none of those titles get your creative juices flowing, then try one of the story titles listed in the next post**
**If the story titles in the next post don't do it for you either, then go ahead and come up with your own story title.
Post edited by 3dcheapskate on