Pointless Prizeless Challenge #87: Render A Ridiculous RPG Character

3dcheapskate
Posts: 2,675
(Pointless Prizeless Challenge Index | Next challenge: Pointless Prizeless Challenge #53: Using 3D models in unusual ways (stop giggling at the back!) )
Note: a lot of this thread probably won't make much sense unless you've been following since the thread started, because the panel of serious gamers and the were-Squeakums have been messing with the posts...
A word to the wise: If you're totally confused by all the rubbish I'm talking in this thread, here's the simple version. The challenge is simply to do a render of a ridiculous RPG (Role-Playing Game) character. You can either make up your own name for a character, or choose one of the official names in this thread, and then render a character to match the chosen name. You can include as much/little detail about the character as you want when you post the render, but you MUST include the character's name (and the name MUST be ridiculous). Either the character's appearance or something in the characters back-story (or both) must be ridiculous too. So you can render a sensible-looking character if you put something ridiculous in the back-story. If you've just got an idea for a ridiculous name and would like to see what other people do with it then that's fine, you don't need to post a render - just the name (and some character details if you want) will do.
Any RPG related renders, pictures, or conversation are also fine, but silly stuff is preferred over serious stuff !
*** Warning: The Panel Of Serious Gamers are liable to make stupid comments about any render you post here***
As a quick taster here are the four entries so far (clicking on an image takes you to the post containing that entry - nice to see that displaying the images in a row here works seemlessly)...
"What's the point of a challenge without prizes?" I hear you ask. Well...there isn't any, which is why I said it's pointless ! But looking on the bright side, without prizes there are are no losers - so everybody's a winner !
(of course you could argue that without prizes there are no winners so everybody's a loser, but that would make you a pointless nihilistic pessimist, so yah boo sucks to you! )
So without further ado (or adon't if you're that way inclined) it's on to the challenge.
Did (or do) you ever play one of those tabletop Role-Playing Games (RPGs to the cognoscenti) such as D&D™©☠, T&T, M&Ms, GURPS, RQ, CoC (we/they/you surely loved acronyms didn't us?), etc?
Were (or are) you one of those individuals who, when you sit down for the start of a new adventure, can see that look in the eyes of your fellow gamers ? You know, that "You're not going to spoil this adventure by having a stupid character again are you ?" look ?
If you are then this challenge could be for you. (If you're not you might still want to have a go.Even if you know nothing about RPGs and couldn't tell a gelatinous D12 from a mimic masquerading as a D20.)
~~~~~
I'll start with a little bit of background to the challenge. Last month's(September 2017's) freebie challenge inspired me to do an RPG themed render and the first thing I did was to create a traditional (at least (or more accurately, only) in terms of character class) D&D™©☠ party comprising consisting of with a cleric (Gotterdammerung Battletank), a magic user (Pussywillow), a thief (Dilbo Daggins), and a fighter (Cybersonja).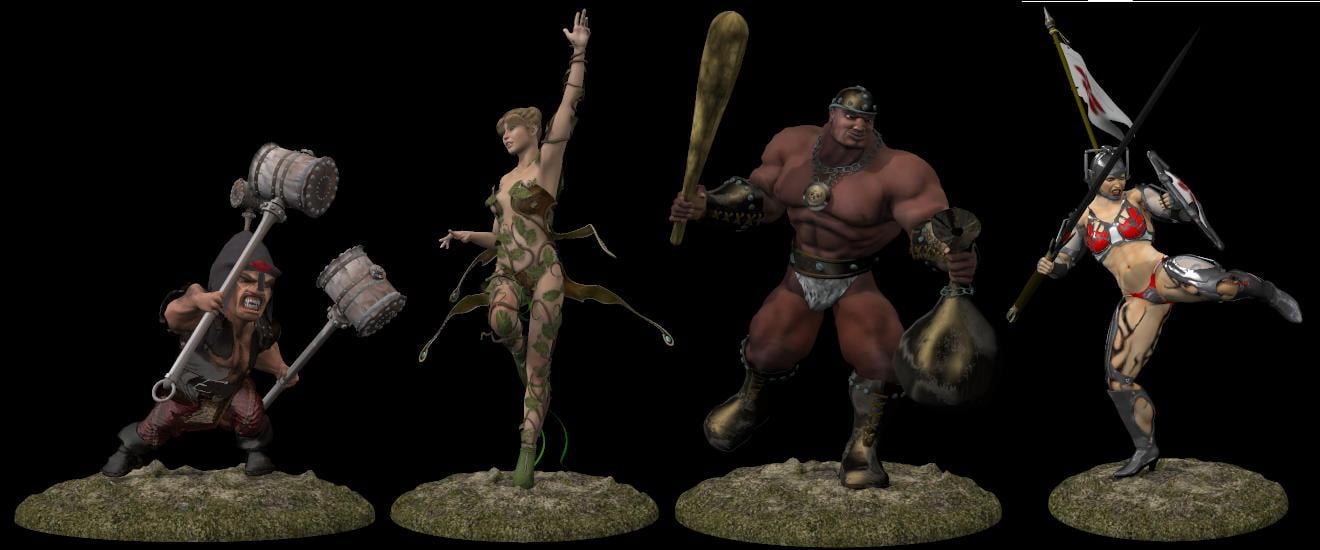 The names really came first*, and the characters themselves just seemed to develop from these names.
So the idea of this challenge is to render an RPG character who is your interpretation of one of the names given later in this thread. You can render the character either as an individual model on a base (like each of my four above), as a character in a scene (with or without model bases), or in whatever other setup you can imagine.
To help you here's a summary of the official names so far (no guarantee that it'll be kept up-to date though):
Gotterdammerung Battletank
Pussywillow
Cybersonja
Dilbo Daggins
Penitenziagite Thwackmallet
Torquey Mulder Tounguetwister
Grizhelda Gray-Grackles
Sir Smuggly Smuggins
Weirdwulf Weaslewhiskers (or any of the alternatives from the associated stream of conciousness)
Nocan Dizlectiqus the Bearabrain
Sir Fartsalot
The next few posts will contain a few names to get you started, including the four characters already noted (yes, feel free to render your versions of those names).
The second part of this challenge is to come up with your own character names. Post them here in a similar format to my next few posts (i.e. typing "Name: [Your Ridiculous RPG Character Name]" at the top of your post and applying the 'Heading 1' font style to it (see the screenshot below showing how to apply 'Heading 1 font). By posting a name here you're inviting all and sundry (they'd make a couple of interesting characters...) to render their own personal version of a character with that name. You can give notes on how you think that character should be, but nobody is under any obligation to pay any attention. You can also include a render of your version of the character, but that's not obligatory.
Answers to FAQ that nobody's asked yet:
1) No, you're not restricted to fantasy RPGs. You can do Science-Fiction, horror, western, historical, superhero, etc - whatever you like.
2) No, we're not going to be overly strict on the "clerics can only use blunt weapons" rule.
3) I'm using 'Heading 1' format (from the 'Normal' drop-down to the right above the Leave A Comment pane) for the name when I make apost with a new Ridiculous RPG Character name. Using the same format when you post makes it easier for challengees to spot the posts with challenge names. Here's a screenshot: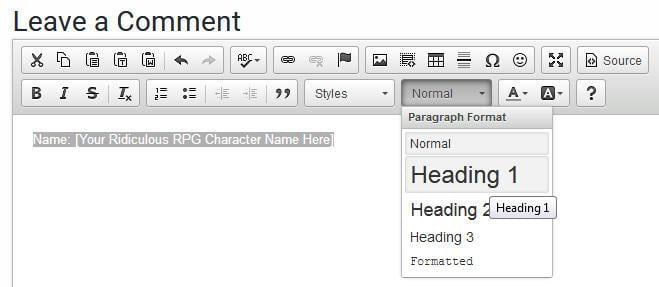 4) That's a difficult one and it's really a matter of personal opinion, since one person's sensible is another person's ridiculous. So for judgements on ridiculousness (is that a real word?) I turn to my panel of totally imaginary sensible gamers. I look mainly at the expressions on their faces. Personally I think the best names are the ones that, when spoken out loud, provoke an immediate "Oh no, that's such a stupid name!" reaction; but then you can see a look of hope in the serious gamers' eyes ("Ah! I see, that's actually quite clever - this could actually be a good character!"); and then you deliver the coup de grace - you place your lovingly painted ridiculous model on the table, and the serious gamers burst into tears! Double whammy!
5) No, you don't have to stick rigidly to the names exactly as they're given - you can modify them as you wish. This is especially true where a name appears to be gender-specific.
6) Yes, I added that bit specifically to allow myself to post more stupid pictures, and to recycle some of my old ones.
*I vaguely recall writing a program in BBC Basic to come up with character names based on the random selection of four words (not necessarily real words) from four predefined lists**, and having hours of fun just generating names. Eddie Izzard's take on 'how they came up with the name Engelbert Humperdinck for Gerry Dorsey' is a good laugh along those lines
**Not a novel idea - I'd seen something similar and simply did my own version of it.
If you're wondering how you missed Pointless Prizeless Challenges #1 to #86, well you didn't. It's a ploy- known in advertising circles as "lying". This is actually the first (and probably the only) Pointless Prizeless Challenge.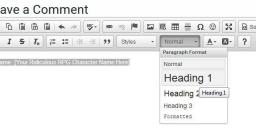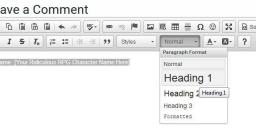 HowToSetNameAsHeading1.jpg
Post edited by 3dcheapskate on