Pointless Prizeless Challenge #53: Using 3D models in unusual ways (stop giggling at the back!)

3dcheapskate
Posts: 2,666
I'm really bored, so... yes! It's time for another one of those things that you've all been eagerly snoring for.
( Pointless Prizeless Challenge Index | Previous challenge - Pointless Prizeless Challenge #87: Render A Ridiculous RPG Character : Next challenge - Pointless Prizeless Challenge #2,486: Render the building of an Interociter : and remember that since the challenges are prizeless there is no closing date )
"What's the point of a challenge without prizes?" I hear you ask. Well...there isn't any, which is why I said it's pointless ! But looking on the bright side, without prizes there are are no losers - so everybody's a winner !
(of course you could argue that without prizes there are no winners so everybody's a loser, but that would make you a pointless nihilistic pessimist, so yah boo sucks to you! )
So without further ado (or adon't if you're that way inclined) it's on to the challenge !
Errr...I can't think how to explain this challenge in words. So here's two examples.
Example 1: Here's the DAZ Zubarra...
...but if you stick it's head in the ground it can become a wonderfully unusual claw-type thingy...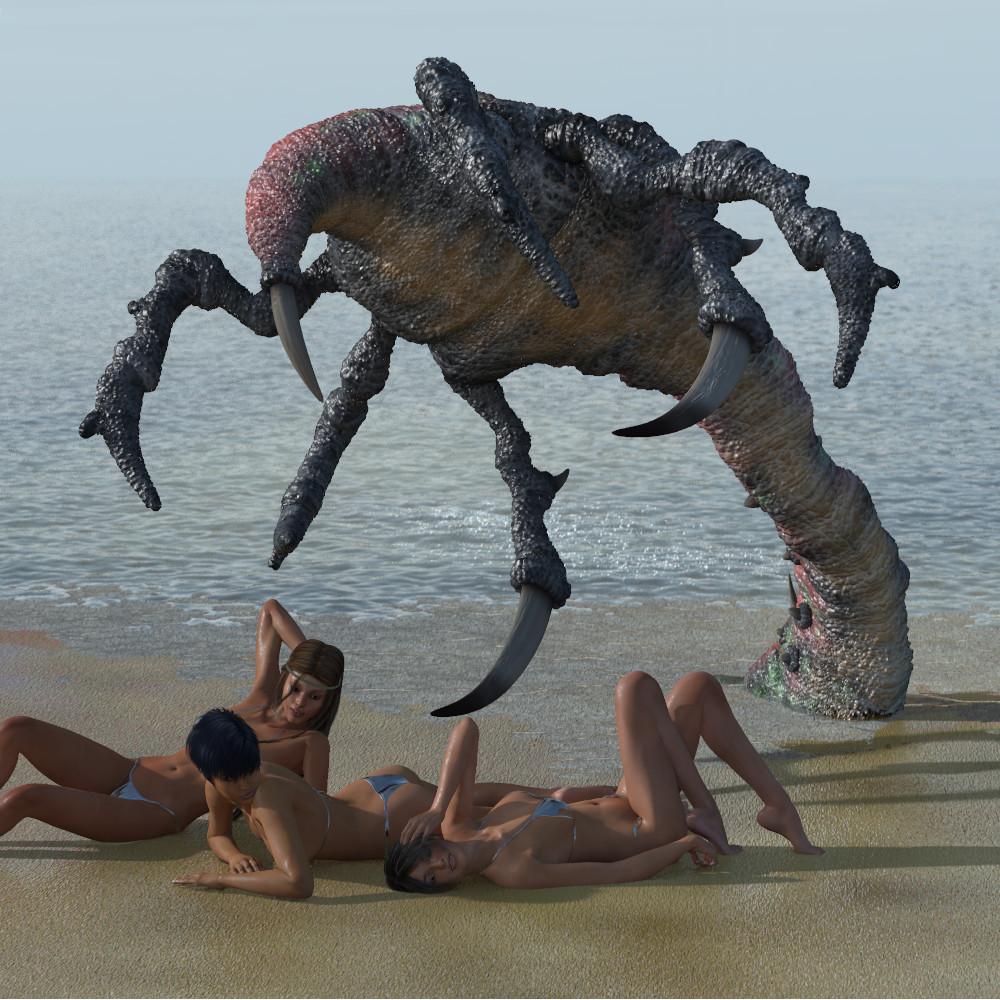 Example 2: Here's the DAZ Crypta Sepultus...
...but if you just take the ceiling, duplicate it, rotate the duplicate so that it becomes the floor, and fit the original ceiling and rotated ceiling together you get a beautifully unusual monolithic interior...
Do you get the idea ?
So this pointless prizeless challenge is basically to use a 3D model thingy (I understand that the preferred terminology nowadays is "3D Asset" - stop giggling cheapskate!) in an unusual, unexpected, clever, lateral thinking sort of way.
Ideally, when you post your image here also include, for comparison, an image of the 3D model thingy (3D Asset) used in an ordinary, boring, humdrum-thinking sort of way. Also a link to the DAZ* product page might be good. That way we can all copy your idea and pretend we thought of it ourselves.
*I think links to freebies at other sites are also okay (that's what the DAZ Freepozitory forum is for).
Post edited by 3dcheapskate on