Books For Those Empty Virtual Bookshelves (wobbly stacks?)

3dcheapskate
Posts: 2,668
*** Sat 10 Aug 2019: DS4 native version of the 64 book row/stack thingy... See this post on page 2 of this thread ***
Mon 14 Jan 2019: "More Of The Cheapskates Books" now uploaded. See this post on page 2 of this thread.
Mon 7 Jan 2019: TEST prop (PP2) of a single 86 face closed book with a few morphs uploaded to this post
Sun 30 Dec 2018: 41 more dubious pulp fiction titles and 41 dubious classics now available as textures for the original 41-book prop
Mon 29 Oct 2018: ​3DCheapskate's Six-Bookrows Prop is now uploaded at ShareCG. Also see this post on page 2 of this thread.
Mon 10 Sep 2018: New texture for the first bookrow prop (25 Aug) now with 41 different books - in this post
Sun 9 Sep 2018: illkirch has uploaded a couple of 'Rows of books' props to ShareCG here http://www.sharecg.com/v/92122/browse/11/Poser/Rows-of-books
Wed 5 Sep 2018: mCasual's script is done ! See this post
Mon 27 Aug 2018: With luck mCasual will be posting a script for creating random blocks of books and a morphing book prop as mentioned in this post below.
Mon 27 Aug 2018: Two morph targets to make the bookrow a more realistic stack of books uploaded to this post below.You need to download the two TXT files attached to that post, rename them as OBJ files, and then in Poser/DS apply them to your prop as a morph target.
Sat 25 Aug 2018 : The first book row prop is available - see the third post on this thread for details. (N.B. If you do a texture set for this prop you're very welcome to post details, pictures and links to this thread. I'll then add the links up here too)
---
Still to do:
A 'Lean' morph - it would be nice to have some gaps in the bookrow with adjacent books leaning over

Rotation morphs - if the bookrow is used as abook stack it looks odd with the bottom side allperfectly aligned)

Done

Single prop with 6 rows of books, for filling a complete set of shelves in one go

Done 29 Oct 2018
Individual book props (in progress)
Geometry-swapping multi-bookrow figure to easily change one row of books for, say, a stack of atlases.
Note: There's a lot more details regarding the development of this project in this thread over on the Smith Micro Poser forum (until that forum disappearsof course), as it started as a Poser project.
---
(Original post starts here)
I'm currently playing with a rather simple freebie for populating bookshelves. Six vertices, two faces ! (That's the very,very simplest variant- there are others with more polys, but my goal here is low poly)
It's not quite ready yet, but I've done a first 2048x2048 texture JPG for testing. Yes, the books are duplicated - I said it's a test!
Since I tend to lose stuff that's on my PC I'm posting the JPG here for starters.
I'll post again as and when I make progress.
(Yes, you can use this JPG however you like)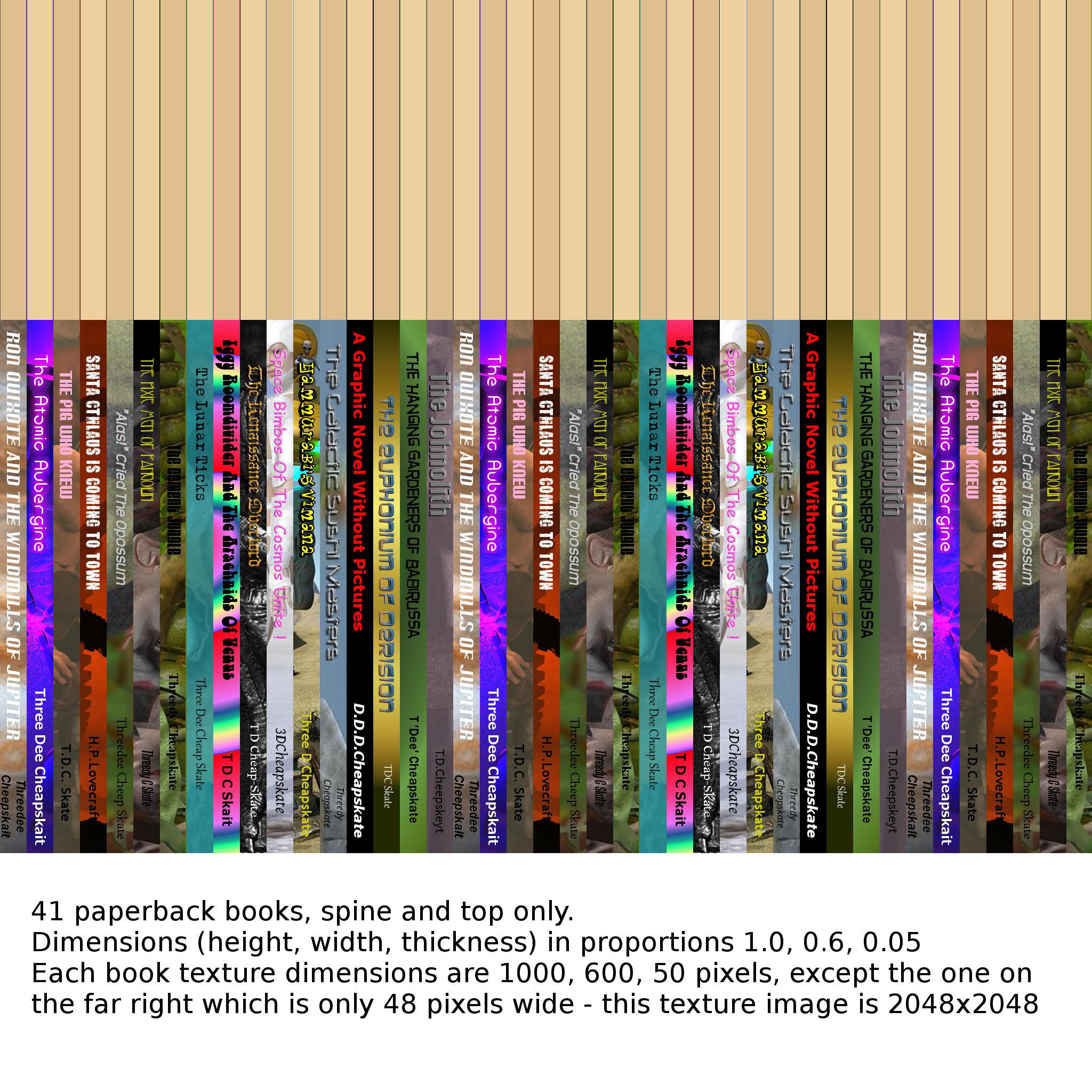 Edit: Added a couple of renders of this texture applied to a 6 vertex/2 face and an 8 vertex/6 face prop
Edit2: With a few vertices and faces for each book (6v/2f for just spine and top, 8v/4f for spine+top+covers, up to 8v/6f for all six sides) there's a lot more flexibility.41 books of different sizes using about 287 vertices/123faces. Still using just the attached JPG for texture. You can probably tell that the covers aresimply UV-mapped to a small section of the spine.The intention was to grab a similar colour swatch - but of course there's sometimes text too.
Edit3: A couple of simple morphs for each book ('bigger','thicker', and 'lean') would add to the fun. 'Bigger' only affects that book. 'Thicker' and 'Lean' require all books to the right to be moved too. 'Lean' won't combine nicely with the other two.Also with 41 books in the prop, theorganisation of the morphs on the UI needs a bit of thought. Maybe a 'Gap' morph would be better than a 'Lean'? A single book prop,leaning, could then be put in the gap.
I'm expecting to do normal/bump (and maybe displacement, for micropolygon-displacement renderers 3Delight and Firefly) maps when I get around to doing hardbacks. Maybe need them for well-readpaperbacks too?










Post edited by 3dcheapskate on