A Few Books (Hardbacks) For DAZ Studio 4

3dcheapskate
Posts: 2,666
Now available for download:
ShareCG - https://sharecg.com/v/94268/view/21/DAZ-Studio/A-Few-Books-Hardbacks-For-DAZ-Studio-4
DeviantArt - https://www.deviantart.com/3dcheapskate/art/A-Few-Books-Hardbacks-For-DAZ-Studio-4-809084773
Renderosity - https://www.renderosity.com/mod/freestuff/a-few-books-hardbacks-for-daz-studio-4/82979
Renderosity - A Few Books (Hardbacks) For DAZ Studio 4 (renderosity.com) ...reuploaded 11 May 2022
The Poser version will be available shortly (errr... apparently not. Apathy got the better of me). An earlier Poser version of this (but only the rows, not the stacks) was uploaded about six months ago - see this post on my main books project thread.
(This is the first DAZ Studio 4 native, i.e. DUF-based, freebie to come out of my books project. And yes, it includes metadata for Smart Content)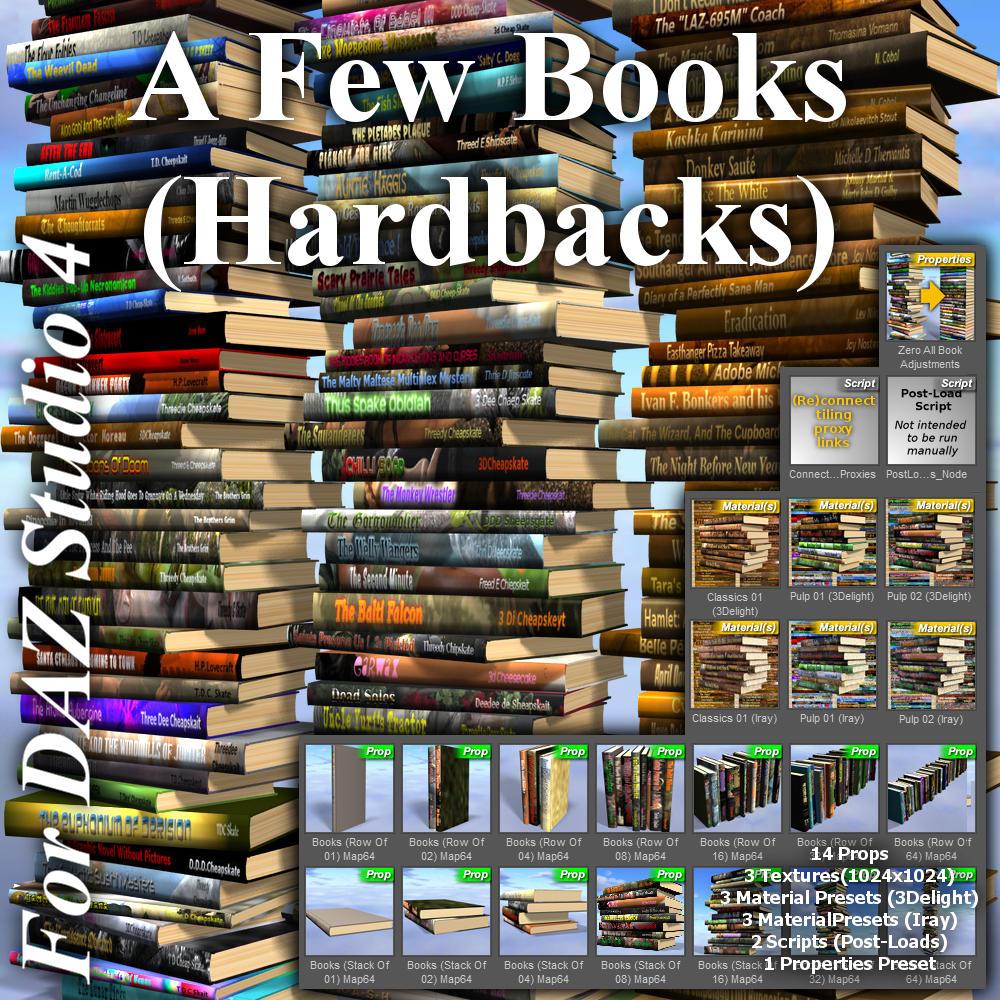 Seven rows and seven stacks of books, with some adjustment sliders to give a bit of variation.
Both the rows and the stacks come in 64, 32, 16, 8, 4, 2, and 1 book sizes.
Each book is a mesh of 88 vertices/86 faces, so the 64 book row/stack each contain 5504 faces.
Three different 1024x1024 texture maps (64 books per map) giving 192 different books in total.
3Delight and Iray material presets to apply each of the three texture maps.
I've also included (in the 'Extra Stuff' folder in the ZIP) a GIMP XCF file (and a Photoshop PSD) containing a template and notes for creating your own textures, plus the text and colours for the three included texture maps on separate layers.

The two included DAZ scripts are run as post-loads every time you load a prop or material preset and simply ensure that the 'Texture Row/Column' integer sliders correctly change the tiling offsets on the material.
Installing The Metadata
(aka Getting the books to appear in the Products section of the Content Library pane and on the Smart Content pane)

This is quite straightforward and is explained in the readme.
The relevant section of the readme is duplicated later in this thread along with a couple of helpful pictures.
Note that a spurious icon will appear due to a mistake I made when creating the metadata. That's also covered by the link in the previous sentence.
---
Other released freebies from my books project (all currently in Poser format only, but can be imported into DAZ Studio):
- A Few Books By The Cheapskate... - a row of 41 paperbacks,with adjustments. This was the first release, and was made obsolete by the next...
- More Of The Cheapskate's Books - rows of 64, 32, 16, 8, 4, 2,and 1 books using 5 different base book models ranging from an 8 vertex/6 face paperback to the same book 88 vertex/86 face mesh I'm using here.
- Six-Bookrows Prop - a single prop containing 384 books (8 vertex/6 face per book) designed to be used to fill empty bookshelves.
- Proof Of Principle - Poser ERC Opening Book - just playing around with some mathsand trying out the first step of a new idea...
(Cross-reference link to the associated post in the "Books For Those Empty Virtual Bookshelves" thread )
Post edited by 3dcheapskate on