Daz to Unreal guide for "newcomers"(The famous "before your buy" or Limitations)
Ellessarr
Posts: 1,385
ok guys since it's now official which daz is giving a little more "support to unreal and we have a official tool to expor daz stuffs to unreal and maybe in the future if this proof to be profitable for daz we can have a really amazing source/library to work but for now let's focus on the beginner, since probably many peoples are "newcomers and gonna make some experiences, then i feel which is important to help those peoples to know how to "proper start" they works,
ok this not gonna be a tutorial about "how to use the daz bridge or install and bla bla bla, but it will be more centered about "what really work or can work inside unreal", because while the tool will allow us to use all daz stuffs inside unreal, truth need be told, "not everything will work on Unreal or not will work in in the same way it work's on daz, aways having in mind daz and unreal are 2 different tools which initially had 2 different paths to work, where one is more specifically for render and the other started just a game enginer and now is evolving to be a "jack of all trades" tool, to be used not only for game, but film, render, and others stuffs, but even with that in mind they still different tools were "somethings which work on "one tool" not gonna necessary work in the other, or will work in another way, then is important have this in mind when start to buy daz stuffs to use in unreal or trying to use what you already have.
well let's begin with some basic info, about what work and what don't work and what "work but not exactly in the same way as it work on daz, well before that we must learn some basic stuffs from daz products, like how can we classify some daz stuffs;
Basically in daz we have 5(6 when counting old vic4 generation and older) different type of stuffs on daz
1 - rigged meshes: are the "basic meshes" which does have or not a skeleton and it can be combined to a daz mesh and in most of the cases imported to unreal without any issue, inside that category we have most of the daz base characters(from even vic4) to most of the outfits(excluding old outfits from vic4 generation or lower because they were "rigged" in a way which is almost the same as the props which don't proper work inside daz), most of the hairs and some acessories and anatomic elements
this is they "icon" inside daz
2 - props: basically the "non rigged and some attached stuffs, while those stuffs can be "normally exported without any issues to the character, they not gonna "follow the character" since they are not really attached to the character in the proper way, they will be just levitating around the place they are while you try to animate or pose the character in order to proper attach it to the character you must create a socket and attach that prop to the bone socket you created, even if you have place the prop inside daz in the place you wanted like a "weapon be proper attached in a hand in daz, it now gonna work in unreal the weapon not gonna follow the character and will remain levitating in the place you attached it, you need to export the prop alone to unreal then attach it inside unreal using sockets, once you learn how to do it, it will be pretty fast and simple.
here a image:
some cases of props like hats or hoods you can fix it following this:
http://davidvodhanel.com/daz-to-unreal-fixing-accessories-that-dont-animate-with-the-character/
this not gonna work on all the cases, specially in the case of attachments, but will work in many.
3 - "attachments", those are stuffs which some PA vendors place's in some outfits or body parts, which normally are not supposed to "strech" in the same way of the body when you are applying a morph, like a buttom which the vendor don't want the buttom become large when making a character superfat" or something like that, then those objects to keep they "original form" are "attached to the outfit or even in some cases characters, but they follow the same rule as the "props" since many of then are props too", and when exported to unreal they will have the same issue as the props and will be just 'floating around the body when it is moving, they not follow the body.
the only way to "fix" it would be you follow the same principle of maybe socket(never tested) or exporting the mesh to a 3d editor like maya or blender and changing the mesh to proper rig or parent/combine the attachment to the "body"(outfit) its was supposed to be part.
here a picture of it:
they need to be combined to the outfit mesh in a external way to make then work, otherwise i would recommend export the "outfit(or other stuffs which do have it) without it, just click on it and remove) you will be able to export the outfit but it will be missing those stuffs in some "outfits cases it will be not a big deal but in others it can make the outfit loose like 60 to 70% of it original look, a good exemple of it can be this outfit:
https://www.daz3d.com/dforce-victorian-butler-for-genesis-8-males - almost of the details, like buttoms, clock even the ribbon are attachments when you start to remove all the stuffs the outfit start to look really ugly then be ready for things like that
4 - geoshell elements: the famous "non polygon stuffs which are supposed to be a more light way to add stuffs to the mesh, ok while it can be exported to unreal, it not gonna work as it work in daz, when exported to unreal it does become a full "mesh" with geometry and polygons and like the props and attachments it will be not "rigged to the body", which means a float object, which in this case don't work on unreal, we have 2 possible soluctions for this issue(which i do know):
A - open a 3d editor like maya or blender and rigg it to the character like a normal outfit or other stuff
B - in some cases like a "geoshell body armor, if it follow the same "uv" as the character body mesh like in some cases you can just export the "texture" of the geoshell and apply it direct to the body "material" as the "base material instead of the skin texture or do a lerp and combine it with the body material, it can work on some cases like painted body hairs or mustaches or some painted armor suits" don't know if it can work on all the cases you need to check on the geoshell element you are working on and see on the texture if it can be applied direct to the body mesh or no.
here a exemple of geoshell outfit
5 - "dforce stuffs: let's make clear "dforce outfits in most of the cases, are a different case from "true dforce stuffs like hairs or furs, while almost any dforce outfit will be exported to unreal without any issue, the "dforce stuff not gonna work" you must use unreal cloth simulation tool to make it work as you want, the case of hairs and furs which were made full using the dforce tool, not gonna be exported to unreal or not gonna work in anyway, because it is a daz only tool and unreal don't have any support for dforce tool, then becarefull when you trying to export your "furry character" or your fur outfit" and check if the "fur stuff" is a full dforce created or a dforce applied, which is the big different, in outfits most of the cases they are just applied a dforce weight material to create the "cloth simulation" they were not dforce created, in case of hairs and furs in most of the cases they were created using the "dforce tool" then no "real geometry being used" other than the daz editor, ofcourse you can find some 'rare cases' of dforce hairs or fur were the "effect is being applied" rater than being created then in that cases the hair or fur can exported and will work on unreal, but again you need to apply yourself the "fur and hair effects" using unreal tool or you can use the cloth simulation or you can use the new "alembic way to work on hair and fur, here a video about it:
new groom hair tool for unreal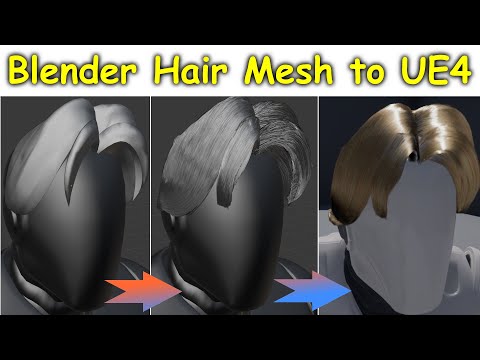 old unreal way to simulate hair using the cloth simulation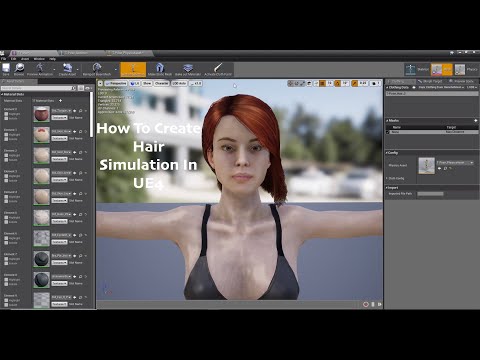 choose the one which fit better your taste
here the image for a dforce hair example:
6 - optional for old outfits and stuffs from victory 4 and lower, while they can be "exported" to unreal almost without any issue, they do have the same issue as "props", for some reason the way they were rigged in old characters don't work in unreal it will read then as if they were "props" and will be floating around the character or move but not "proper deform if needed, well will be a mess then in this case i really don't know how to fix it because what i did was just using some compatible tools or applied then direct to "new daz characters" using the autofit then it changed how they are handled from the "old way" to a "more new" which work with unreal, well what i means which they can work with any generation above victoria 4 (genesis, genesis 2, 3 and 8) while not proper work on victoria 4 or under, here a image to know when dealing with then:
ok those are the most "basic info" about the comon type of stuffs you will be dealing with daz, now we are gonna for some more "extra info" about some specific stuffs, specially regards "poly count".
While in daz having a 1 million or more polygons(vertices) character or multiple characters with 1 million or more are not a big deal "aslong you have the "nasa pc" lol
, because the render will not be in real time and you can sleep, eat, watch tv while your pc is "dying" or suffering in have to handle this "monster", the same can't happen in unreal since it is a "real time render" you have to have some "limitations" abou what you are loading and while you can inside unreal have let's say a big open world with billions and billions of polygons being loaded, not all of then are being rendered and in order to have a "fast render" for all objects you need to have "low poly stuffs being rendered to have a fast render in real time, i means which while unreal can let's say render fast a scene with let's say 10 objects with 100k vertices each, with a total of 1 million, the same is not true when rendering a single object with 1 million polygons, the singe object with 1 million will take more time and effort in the engine than the 10 objects with 100k each.
why i'm saying that, well it's because some (if not most) of the PA's specially the ones working on hair, like to use "heavy dense meshes, where a single outfit or piece of outfit or even a hair can have alone near 1 millon polygons or more, then pay attention when using those stuffs, in some cases unreal can't just import those "too heavy stuffs", it too much, then things like "fibermesh or strand based" hairs can be very problematic if you don't proper pay attention and make sure you are not loading "monsters", the same goes for some pa artists which love to make some "ultra realistic mega detailed outfits where even the "small buttom" or fur is a very complex mesh with hundred of polygons, then for the users which want max realism and ultra max details using Unreal to render will not be a good option as long it don't make it have to deal with millions of polygon in single character or stuff.
The good news is which Unreal is "working on tha front" and they have plans for the next big version of the unreal , Unreal engine 5, to be able to handle heavy dense poly objects as we already saw in they annoucement and trailer, they are working a new version to be able to handle singe stuffs with millions of polygons, but for now it still on the future (next year) and the current version are still not able to handle it, then if really want high realism and details a option would be "bake material" which i means get a "reduced version of the mesh" and using the high version create a baked normal which will have most of those details, it can work to make your "not high poly final model, look "almost like the same as the high one, have in mind which it don't work on all the cases, but can work in some of then.
then be carefull when loading a scene from daz to unreal to see if all the stuffs are not "too heavy" and if the unreal can support what you are trying to load.
i hope it can help anyone trying to use or deciding if they gonna use daz stuffs in unreal, to be clear not everything talked on this thread is 100% set in stone without any changes or possibilities but for now those are the "lmitations" when using daz inside unreal.
have a nice day and week and have some fun playing with daz stuffs on unreal, i can't promise have a answer to everthing but any question inside my knowledge i can try to answer.
ps: srry for bad english in case peoples are having any issue in reading my post, i swear i'm trying to learn and improve.
Post edited by Ellessarr on