The Material Zone~ Geometry Tool Tutorial & Shaders

Novica
Posts: 23,848
If you've ever experienced these thoughts about material zones, materials, or shaders- this thread will be fun for you...
"Oh great. That's not a separate material zone."
"There's got to be a better way. What tool though?"
"That stupid thing's in the way, I'll just hide it. Wait...why did the polygons get selected anyway?"
"Uh oh. Didn't mean to do THAT. Now what?"
"Wow, that shader did great for clothing."
"Who knew that would work!"

So welcome to The Material Zone!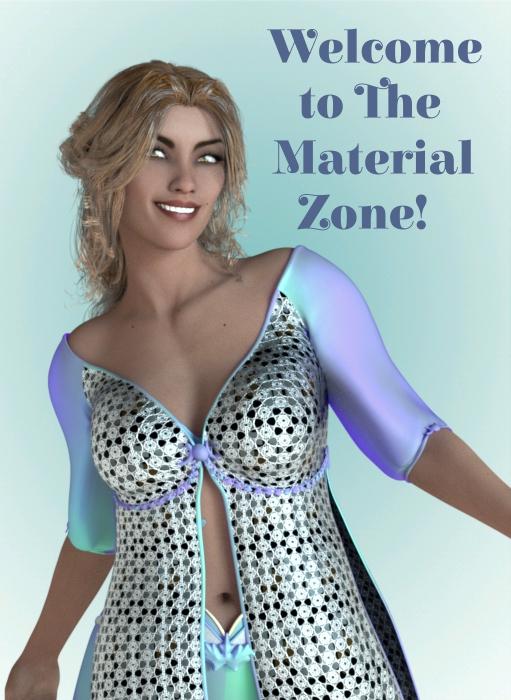 I'll start the thread with a tutorial on creating material zones, and keep it simple. The tutorial will be different, however. I am deliberately going to create two errors so you can see how to fix them. There are 22 screenshots, and it is step-by-step. For those who have zero experience with the Surfaces pane, I have you covered with a post explaining the Surface Tool and Surfaces pane. I'll also address why material zones are found there, and not in the Scene tab.
Why I started this thread- Simple. I was using an outfit called Artemis Moon (pictured below) and both of the forearm sleeves were the same material zone. Well, that works fine until you're trying to use a shimmery shader, then you can end up with one arm pink and the other arm blue. (Any pearlescent shaders will go wonky.) So while I was changing the sleeve to it's own material zone, I decided to show you how to do it, and what pitfalls to avoid. (Turned in to an entire day thing LOL)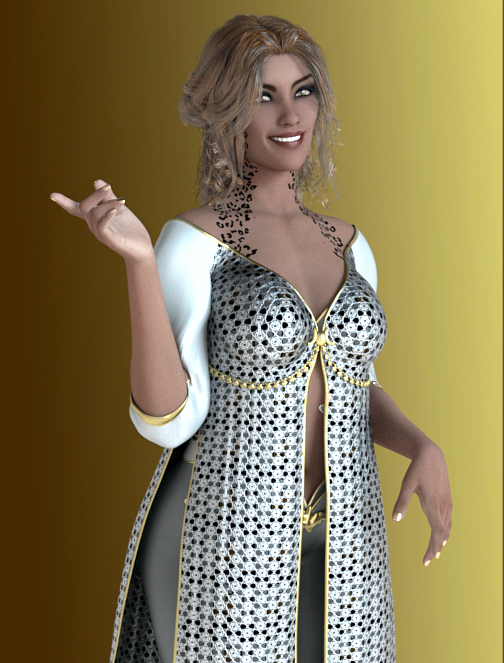 So the first goal was to get everyone up to snuff on how to create zones, in the most basic way. If you have any questions on using Geometry Editor, creating material zones, or anything else related to that, feel free to ask. Tips? Post those too.
The second goal, which will be fun if people take the time to share- is showing each other the great shaders in the DAZ store. The third goal- showing shaders outside their designated use. For example, in the images above, you are seeing the Costume Jewelry Shaders for Iray used on the dress, and the Pearlescent ones from that product on the sleeves and pants for the first render. (The Welcome to The Material Zone.)
So share (with links to the products) what you've discovered, and also show us your renders with the shaders in use!
Guidelines:
In your post: Link to the product(s) but please use the New Window option so people can simply X out. See instructions below if you don't know how to do links. Next, provide the render or a link to your render (including the DAZ gallery) so people can see how the shader or materials were used. Please be specific for us so we don't have to guess. The shader(s) or material(s) should be prominently used, easy to see.
Tell the vendor! Share the love. PAs who do characters and sets get attention, while these artists, it's hit or miss. If you put the product name and @ the vendor, they'll possibly come take a peek. It's always nice to see how your product is used. And PAs, feel free to share examples too.
If you're commenting on what someone posted: when you reference their post- instead of just hitting quote and reposting the entire thing again, (which clutters up the thread with repeats) click on the image they posted, and go up to the image icon (the mountains and sun) and put 300px or so in either the height or width. That's a good reference image size.
How to do links: Type the name of the product. Highlight the words by holding down your mouse, go up to the link icon that is to the right of the ABC checkmark, directly above this textbox. Click it. Enter the URL.(You highlight the URL by holding down your mouse and going over the URL words. Then right click/copy. Then in the URL text line, right click/paste.) Then click on the second tab while the popup is still open (called Target) and in the dropdown, select New Window (_Blank)
Post edited by Novica on