Pointless Prizeless Challenge #1138: Space Opera ! ( May The Fourth Be With You )

3dcheapskate
Posts: 2,675
Yes, anybody can enter this challenge and post images and/or comments to this thread.
And yes, you're allowed as many entries as you want !
(It's not intended to be just a monologue, although that's often how these challenges end up.)
Just to be absolutely clear - only entries that specifically request 'appreciation' by the Criticizer-General will be appreciated... meaning, of course, that they will be found to be 'artless' and vapourized, along with their creator and perhaps its/her/his home planet.
Entries not specifically marked for 'appreciation' will be considered 'sensible' (and/or 'proper art'), will be treated with respect (well...sort of), and will not be shown to the Criticizer-General.
The challenge is simply to render a 'Space Opera'... a complete 'Space Opera' ! One image should tell the whole story...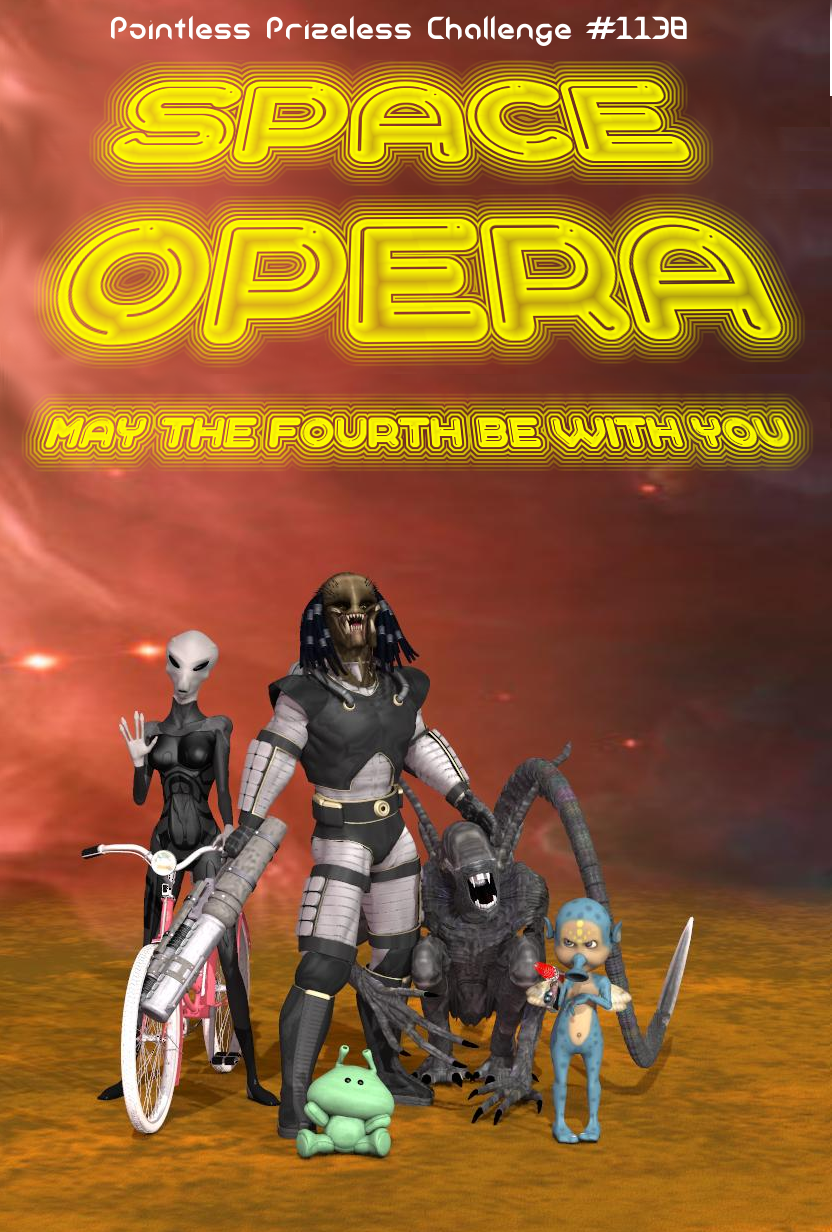 With Star Wars Day fast approaching I realized that it's been far too long without one of these*...

But we can't dive straight into the Pointless Prizeless Challenge because many of you probably don't even know what 'Space Opera' is !
So what exactly is 'Space Opera' ?
?
Why are you looking at me ?
I'm not going to explain all of the key features of one of the greatest subgenres of syfy sci-fi...
Go and look it up on Google !
(Phew ! That was a close call, but I think I got away with it!)

'Space Opera' IS adventure !
'Space Opera' has fencing, fighting, torture, revenge, giants, monsters, chases, escapes, true love, miracles...
...humiliations galore !
?
...errr, hang on a mo' - that's something else isn't it ...
?
But 'Space Opera' has all that anyway !
And 'Space Opera' has spaceships too !
(And cowboys with springs in their boots ! Well mine do)
So, now that we all know exactly what 'Space Opera' is, we can get on with the challenge...
The challenge is simply to render a 'Space Opera'... a complete 'Space Opera' ! One image should tell the whole story, just like my example above does... ;o) That's it, no other rules... easy.
Answers to FAQ that haven't been asked:
0) Yes, anybody can enter and post stuff to this thread. The main requirement is that you don't take anything too seriously.
1) No, it does NOT have to be Star Wars.
2) Yes, you can have opera singers etc if you must, but that's not compulsory. Definitely not compulsory.
3) I like the idea of a traditional 'Space Opera' picture - hero, heroine, etc front and centre, spacecraft and planets etc in the background. Typical movie poster / book cover sort of thing.
4) Yes, I do have lots of spacecraft in my runtime. I just thought that using a ladies bicycle instead had a certain je ne sais quoi to it. Also my render-beast ran out of steam and almost keeled over when I tried to add a spacecraft. But that's definitely not compulsory (spacecraft I mean, not render beasts falling over).
5) No, I'm not going to tell you who the characters in my picture are and how they relate to each other. You should be able to work that out for yourself ! Anyway, your version's probably better than mine !
6) I used 'Heading 3 'in this post to make text big because 'Big' does nothing.
7) Okay, you can also use some words to tell the story.
*If you don't know what a Pointless, Prizeless Challenge is... well, you should be able to work it out for yourself, shouldn't you? Hint: The key is in the two adjectives - 'Pointless' and 'Prizeless'. The word 'Stupid'** also comes to mind, but it doesn't begin with P and would ruin the alliteration. For more information see the previous challenge - Pointless Prizeless Challenge #12: Render A (Stupid) Story Title and the Pointless Prizeless Challenge Index . Note that since all these Pointless, Prizeless Challenges have the property of Prizelessness, that also means that they are ipso facto Closing-Date-Less. So if you have an (extremely late) entry for any of those earlier Pointless, Prizeless Challenges they are all still open - post away and resurrect the thread !
**The challenge I mean - not you the reader. Well, not necessarily... ;o)


Post edited by 3dcheapskate on