DS: Creating a slider on the Parameters tab that can ONLY have integer values (+follow-on stuff...)

3dcheapskate
Posts: 2,572
Edit: Simple answer - it's easy to create a new integer, boolean, float, etc slider as explained in Richard's first response. What you can't do (and what I wanted to do) is change an existing float slider to an integer slider.
Links To Follow-On Stuff Posts In This Thread:
- Using ERC Freeze To Create Dependencies: Since I had to create new sliders, I than had to recreating the dependencies from my existing non-int sliders I ended up doing this using ERC Freeze, and working out that part starts here.
- Slaving A Slider From The SURFACES Tab To A Slider On The Parameters Tab: The first step was to set up proxies on the Parameters tab using someof the sample scripts, and then using ERC Freeze again to set up dependecies. Playing with all that starts here.
Original post begins here:
I've created a Poser prop PP2 that has two parameter dials which are restricted to integer values

When I load this prop PP2 into DAZ Studio the dials are displayed (by default) as percentages, which can easily be fixed from the 'Settings' cog of the slider.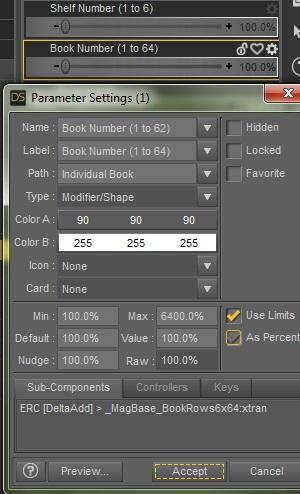 Once I've fixed that the 'Nudge' controls (the '-' and '+' at the ends of the slider) work as I want, i.e. integer steps (as used on the 'Shelf Number (1 to 6)' slider below).. However, if I drag the slider there's no such integer restriction (as shown on the 'Book Number (1 to 64)' slider below), and subsequent use of the 'Nudge' controls adds/subtracts 1.0 to/from whatever the value now happens to be. I can't see anything on the 'Parameter Settings' pane that would fix this.

So the question is:
Q: Is there a way to restrict a slider on the 'Parameters' tab to ONLY have integer values ?
Here's the definition of the dial from the PP2 for anybody who's familiar with that. It's fairly clear that the 'trackingScale' which sets the finest resolution that the Poser dial will work to is being used for the DS 'Nudge' controls. But it appears that the finest resolution of the DS slider is fixed, probably at 0.01 (1%).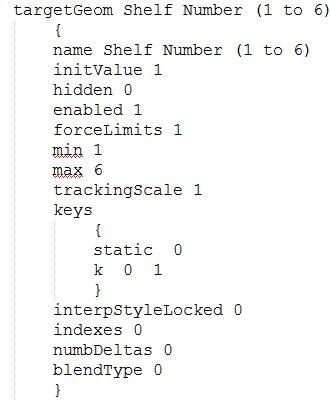 I'm guessing that perhaps there's a parameter in the .DUF that isn't exposed on the Parameters tab ?








Post edited by 3dcheapskate on