Carrara Challenge #36 - Pinups and Cheesecake and Hunks - Oh My! - WIP Thread --Meet Ringo Monfort!

UnifiedBrain
Posts: 3,569
This is the Work-In-Progress thread.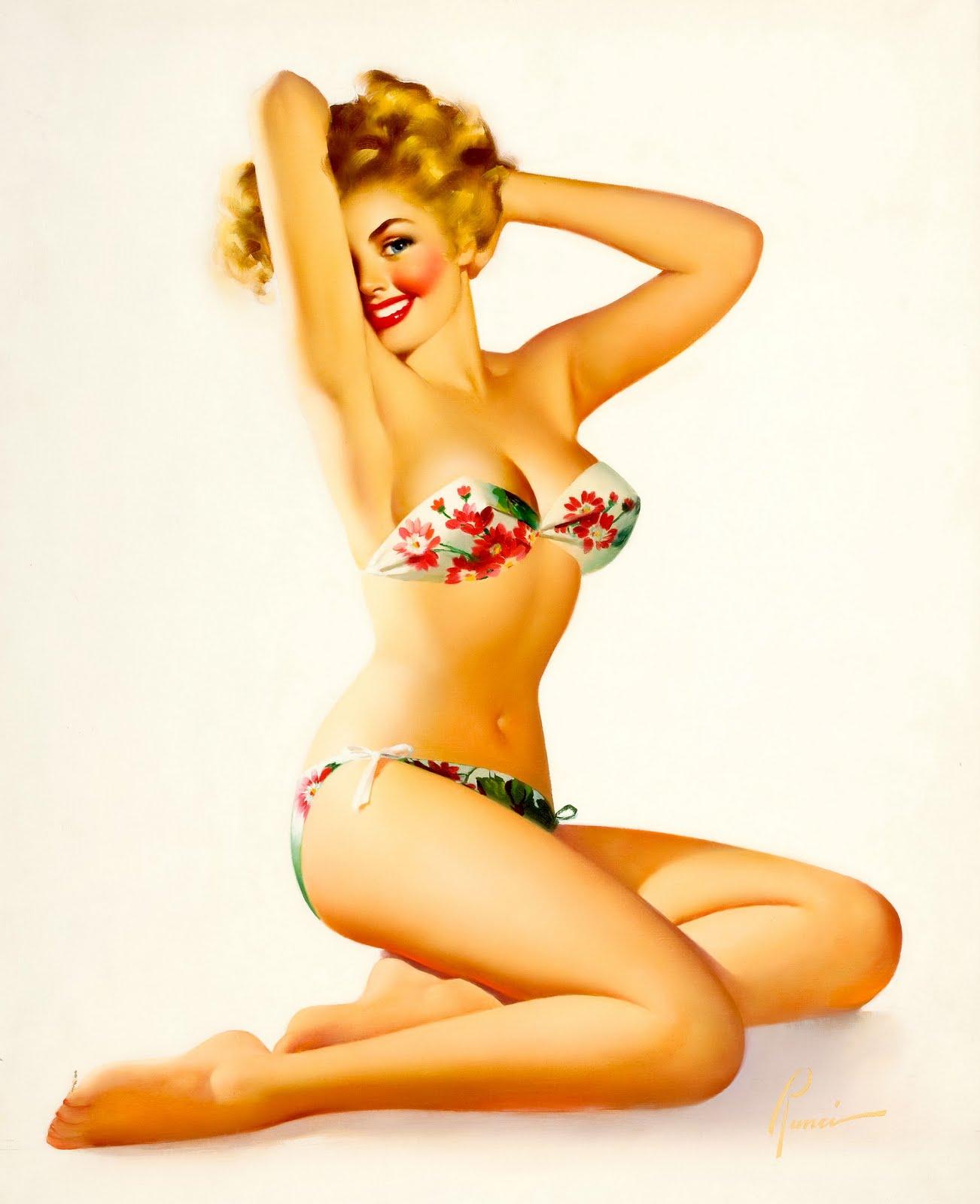 "Eyecatcher" by Edward Runci 1955
1. Introduction
Pinups or cheesecake (or beefcake) are images of men or women designed with an undisguised element of sexuality. These images, often highly idealized, display or mimic the human form in a way that focuses on - and draws your attention to - its inherent sexual attractiveness. In other words, a pinup is not just another pretty face. :)
However, even though the "classic" pinup - as defined for this Challenge - has a definite sexual component, the sexuality in such an image is more suggested and implied than it is explicit. Although the attitude of the model may be coy, saucy, flirtatious or even seductive, all such invitations are just suggestions or hopes for the future - more of a tease for your imagination than a "done deal."
Of course, what is considered as sexuality acceptable in a pinup image is largely determined by the aesthetics of the era. For example, there were pinup images printed in the early 20th century which look very mild today, yet they were considered shocking in their time. In the current Challenge, we are not looking to shock, but we do want to stretch boundaries and show how awesome that Carrara is in helping artists create pinups that "catch the eye." However, you can push the limits only so far. Please remember that we must follow the Daz TOS, which prohibits nudity.
To summarize, in a classic pinup, there is undeniable eye-catching sex appeal. And yet, even though a lot of skin may be showing (or not), there is usually a bit of an eye wink present as well.
In that spirit, we begin Carrara Challenge #36.
(Further pinup examples and explanations will be offered in the next post.)
2. General Rules:
1. Each participant may submit up to 3 images, but they have to be in at least two different Challenge categories. The three Challenge categories are PR, NPR, and Halloween. (see Sponsors and Prizes below).
2. Images must be new (previously unpublished).
3. Images must be "mostly" set up in Carrara.
4. Postwork is allowed, but it must not be the dominant part of the image. Posting images of before and after postwork is encouraged.
5. At least one WIP (work in progress) image of the Carrara setup must be posted to the WIP thread
6. The winner of the "Best Participation" category becomes the next Carrara Challenge host, and sets the rules for the next competition. But should the winner decline this honor, the winner of the next category (Best Photorealistic Render) will then get the opportunity to step forward and fill the role.
3. LATE-BREAKING SPECIFIC CARRARA REQUIREMENT
This Challenge started on last Friday, the 13th of October. On the following Monday, Philemo released the G'MIC pluging for Carrara, free for everyone.
To encourage exploration of the new plugin, I'd like to add the following requirement in Carrara Challenge #36 - if you enter all three render categories (PR, NPR, and Halloween), at least one of your renders must include the use of the G'MIC plugin. It can be used anywhere in the process, and not necessarily the final render.
If you only enter one or two categories, this rule does not apply - unless you just want to have fun exploring the new plugin.
4. Sponsors and prizes
Once again Daz will generously sponsor the monthly Challenge.
Our Carrara PA sponsor this month is - drum roll - Ringo Monfort!! Details to follow.
Once again, I propose a slightly different prize format this month (and it has again been OK'd by DAZ). For this contest, there are different categories, much like the Academy Awards (Oscars) and the prizes are all more-or-less equal. An artist can win only one of the Daz prizes, but can win both a Daz prize and a PA prize. Comments about this are again welcomed. I explain the process in more detail in THIS THREAD. Please read it if you have questions.
The four categories are:
Best Participation (cumulative images from a single artist)
Best Photorealistic Pinup (hoping for some ultra-realistic pinups)
Best Non-photorealistic Pinup ( hoping for some classic illustrative style pinups)
Best Halloween Pinup (a no-brainer, this Challenge opened on Friday the 13th!)
This translates into:
Most votes total for one artist: $50.00 towards DAZ 3D owned item(s)
Most votes single image (Photo-real): $50.00 towards DAZ 3D owned item(s)
Most votes single image (Stylized or Non-photo-real): $50.00 towards DAZ 3D owned item(s)
Most votes single image best Halloween pinup: $45.00 towards DAZ 3D owned item(s)
Dates to Remember:
All dates are Daz Utah Time http://www.timeanddate.com/worldclock/usa/salt-lake-city
WIP Thread Opens: Friday October 13, 2017
Entry Thread Opens: Friday October 27, 2017
Entry Thread Closes/Voting Begins: Monday midnight (end of Monday) November 13. 2017 (DAZ Mountain time)
Voting Ends: midnight Monday (end of Monday) November 20, 2017 (DAZ mountain time)
Promotions
An announcement-only thread has been made in the Commons. Moderators have made it clear to not place a mirror thread there.
An edited version of this thread has now been added in the Art Studio forum. Please feel free to share your entries there as well.
A quick summary of the variety of entries you can create for this Challenge:
Past-Present-Future - for example, what will a pinup look like in the year 2200?
Military - recruiting posters and bomber nose art.
Advertising - Every type of product under the sun has used pinup models for ads.
Calendar art, movie posters, and regular decorative posters.
Fantasy art. For a small example, Google "Orc Pinups."
Holiday pinups (A Halloween pinup is one of the official entry categories).
Pinups in traditional airbrush cartoon style (Petty, Vargas), or as photorealistic images (Farrah Fawcett, Betty Grable)
Feminine or masculine pinups. This is an equal opportunity Challenge.


Eyecatcher_1955_Edward Runci.jpg
Post edited by UnifiedBrain on