Carrara Challenge #36 - Pinups and Cheesecake ---final days to vote...would appreciate your help

UnifiedBrain
Posts: 3,337
Announcing Carrara Challenge #36. The main work-in-progress thread is here in the Carrara forum.
DAZ3D and Carrara Professional Artists sponsor a monthly art contest to:
Build community spirit
Share tips and tricks
Highlight the creative potential of Carrara 8.5 software
Carrara is a full-featured 3D software suite. It has robust tools for 3D modeling, particle effects, landscape design, hair creation, texturing, animation, high-quality rendering, and more.
But one of Carrara's most unique features, is that it easily accepts most Daz and Poser content! So, not only can you create your own content, you can also load and pose content from the world's largest 3D library.
The current theme: Pinups and Cheesecake and Hunks - Oh My!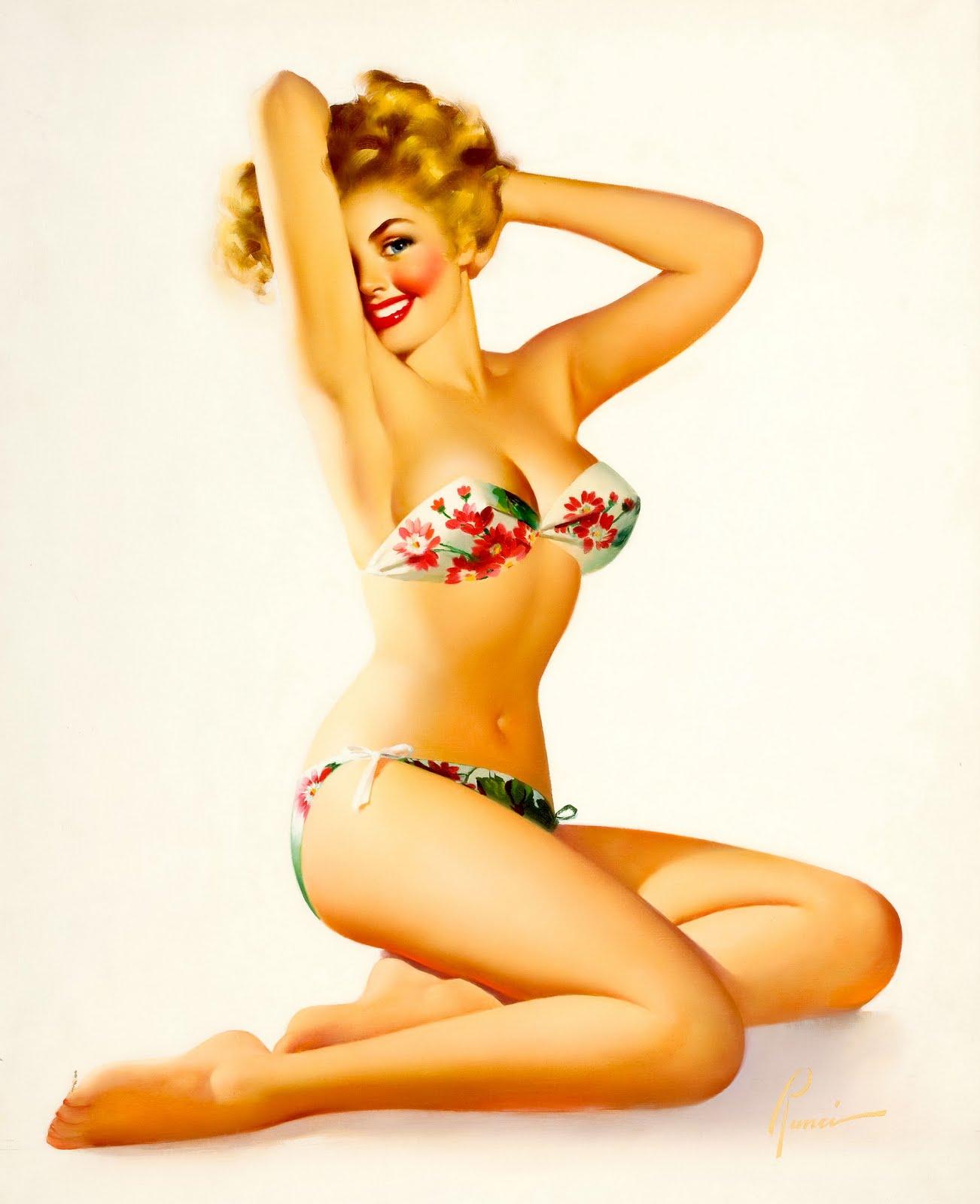 "Eyecatcher" by Edward Runci 1955
Introduction
Pinups or cheesecake (or beefcake) are images of men or women designed with an undisguised element of sexuality. These images, often highly idealized, display or mimic the human form in a way that focuses on - and draws your attention to - its inherent sexual attractiveness. In other words, a pinup is not just another pretty face. :)
However, even though the "classic" pinup - as defined for this Challenge - has a definite sexual component, the sexuality in such an image is more suggested and implied than it is explicit. Although the attitude of the model may be coy, saucy, flirtatious or even seductive, all such invitations are just suggestions or hopes for the future - more of a tease for your imagination than a "done deal."
Of course, what is considered as sexuality acceptable in a pinup image is largely determined by the aesthetics of the era. For example, there were pinup images printed in the early 20th century which look very mild today, yet they were considered shocking in their time. In the current Challenge, we are not looking to shock, but we do want to stretch boundaries and show how awesome that Carrara is in helping artists create pinups that "catch the eye." However, you can push the limits only so far. Please remember that we must follow the Daz TOS, which prohibits nudity.
To summarize, in a classic pinup, there is undeniable eye-catching sex appeal. And yet, even though a lot of skin may be showing (or not), there is usually a bit of an eye wink present as well.
In that spirit, we begin Carrara Challenge #36.
(Further pinup examples and explanations are offered in the 2nd post in this thread in the Carrara forum)
Rules and prizes are posted in the official Challenge thread in the Carrara forum. Sample images from that thread will be posted here as they become available.
Post edited by UnifiedBrain on