[Released] IBL Master - Image Based Lighting control for both renderers & a new IBL for 3Delight

Parris
Posts: 392
Hi Everyone. Today is a day a day of victory, and I'm so excited be able to share this news with you! IBL Master has just made it through QC to Final Review! I think it will be a real game changer for Image Based Light in Daz Studio. I have so much to tell and explain, but I know not everyone has time to read a dissertation. So for those of you in a hurry, I have the bullet point features below and I also recommend you look at the pics.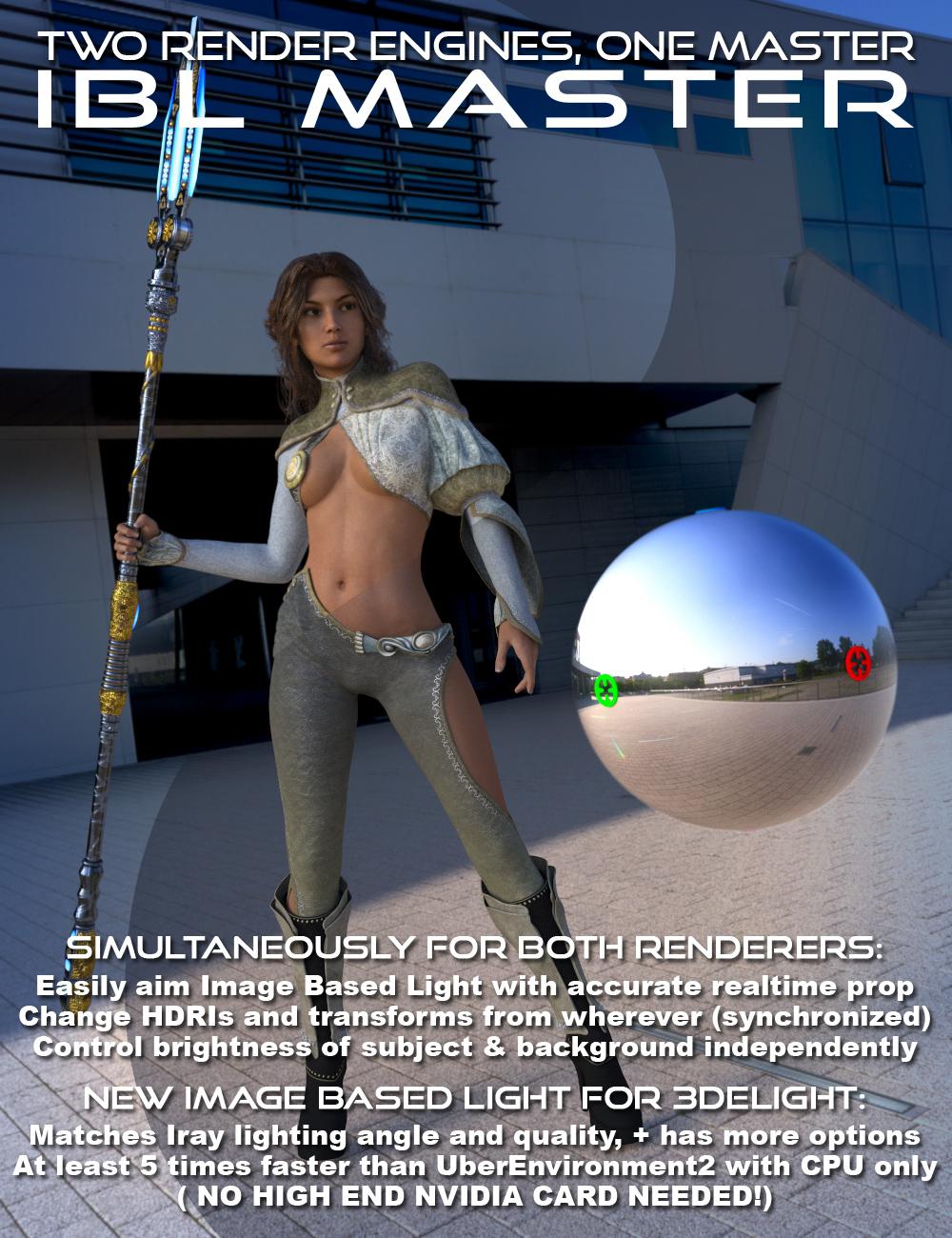 Key Features
Compose scenes with Image Based Light faster than ever
First 3D viewport utility to control Iray Environment Dome
First IBL product to support both Iray & 3Delight (synced)
First IBL for 3Delight to handle lighting direction correctly
First 3DL shadow catcher to gather shadows from the HDRI
Control brightness of subject and backgound separately
HDRI products made for Iray Dome now work in 3Delight
Render IBL at high speed without high end GPU (3Delight)
Greater realism in 3Delight renders with new IBL functions
Composite renders from both engines like never before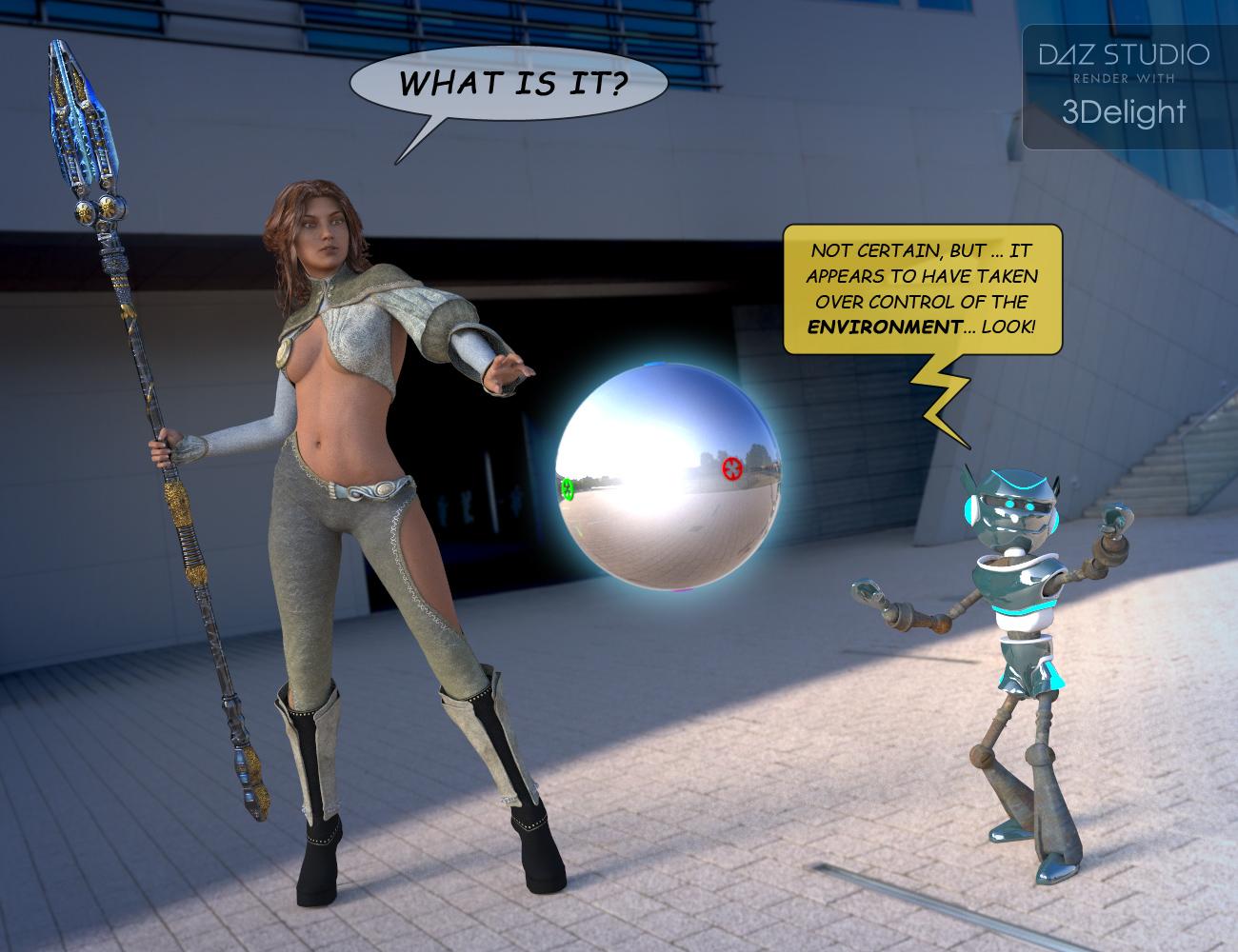 IBL Master is a lighting control that loads as a figure in the viewport and hooks directly up to the Iray Environment Dome in Render Settings, making it easy for you to preview your HDRI in the 3D viewport in realtime (as a sphere) and orient the Iray Dome in scene just as you would any object. It also serves up a new breakthrough IBL shader for 3delight that makes renders not only more realistic but faster than ever before. Building from there, IBL Master debuts bidirectional links between the Iray Dome, the control in the viewport, the new 3delight IBL, and a new HDRI background sphere for the 3delight side. This means that you can change HDRIs and transforms in one place and they all stay synchronized.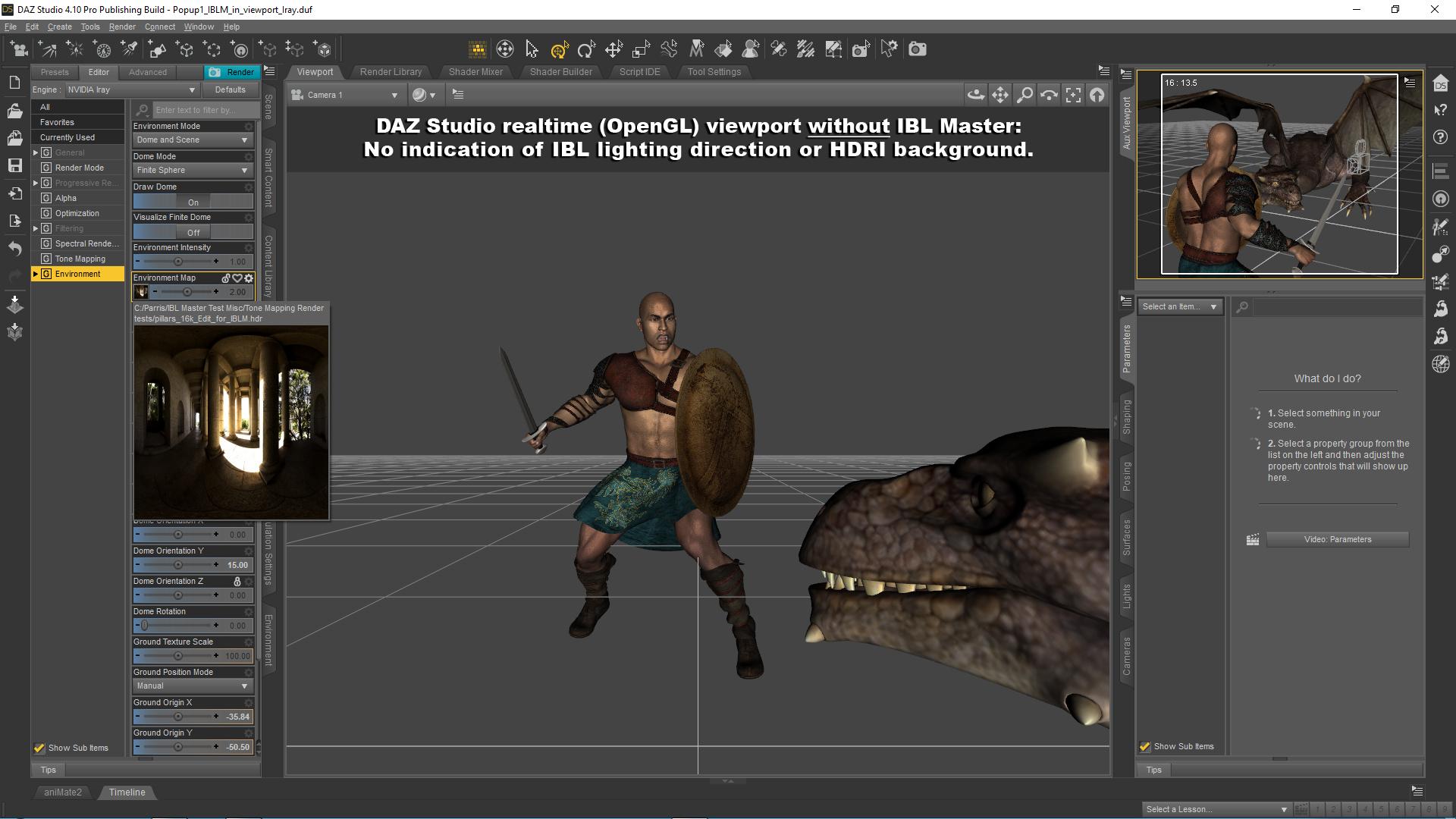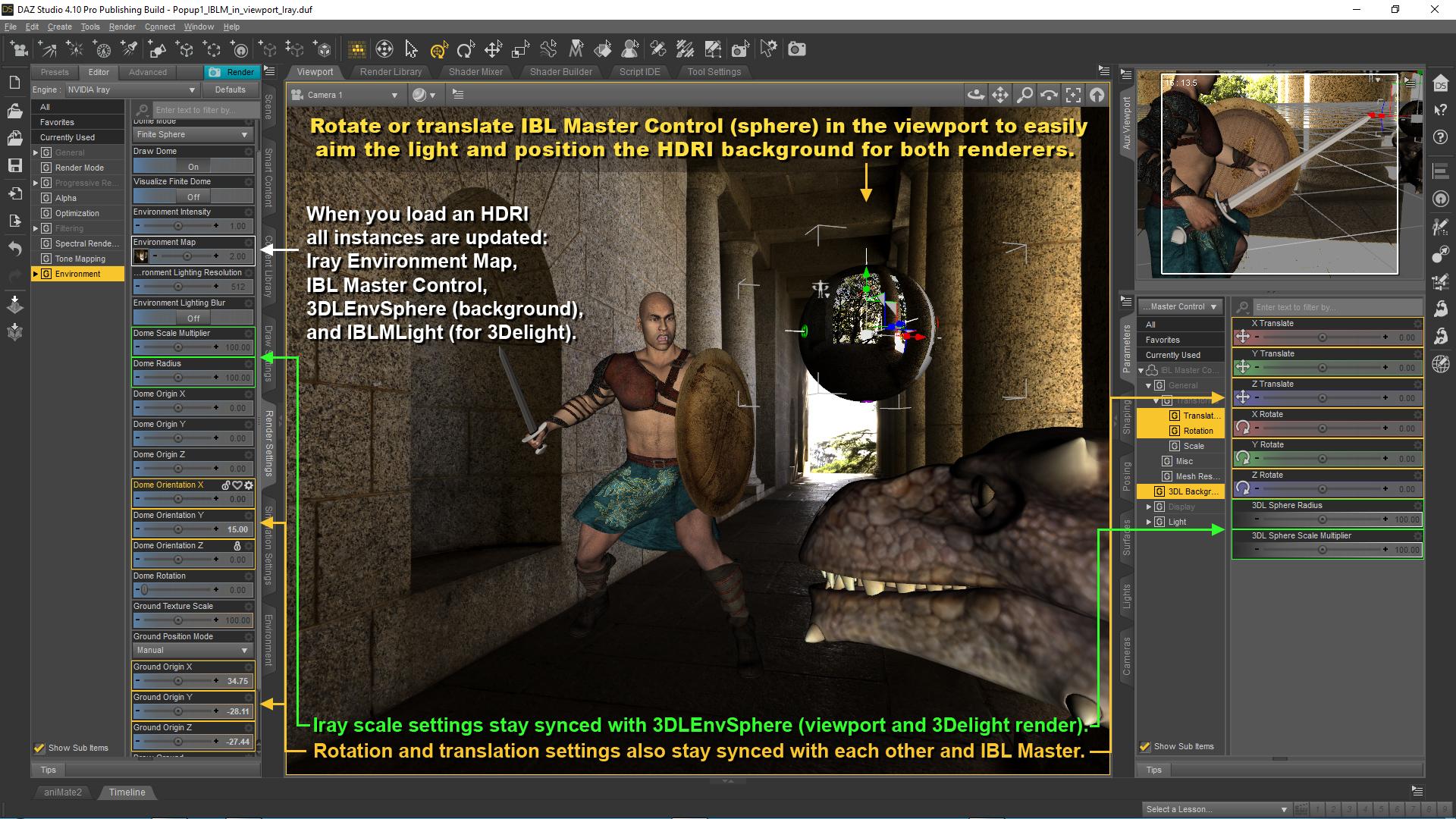 Every part of this product was designed with synchronization in mind. This means that for the first time, you can pick and choose what you like about both render engines and composite them together without having to fudge the lighting.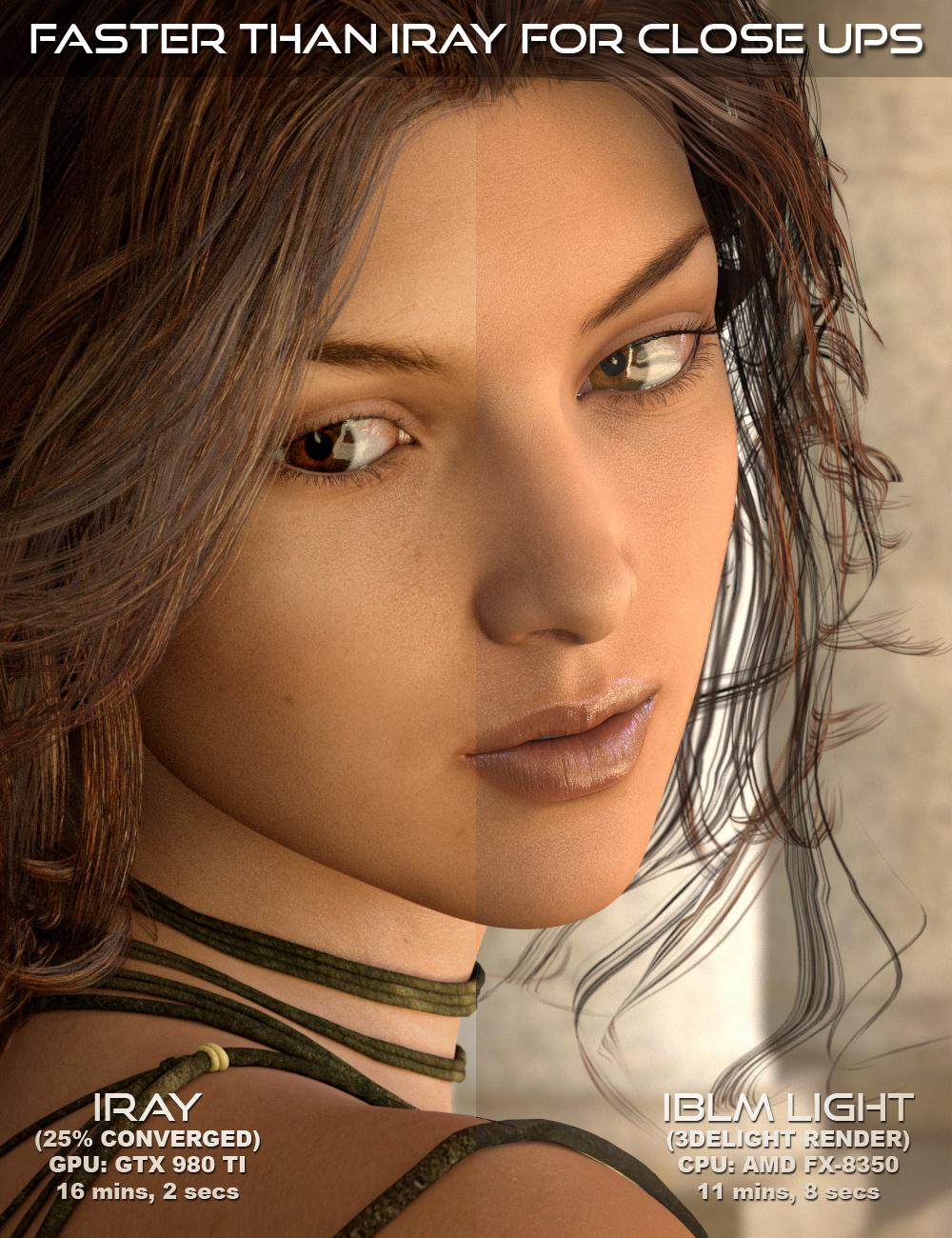 Now all that might sound complicated, but for the user it's not. It's dead easy to use! If you know how to load a product, apply a preset, and rotate an object, then you already know how to get great lighting with IBL Master. If you are new to any of that, I've provided step by step instructions. Oh, and when I say preset, I mean that any presets you have that load an HDRI onto the Iray Environment Dome now instantly work for 3delight because of bidirectional remote control. So IBL Master doubles the value of those products as well. And if you open a scene that has an HDRI assigned in Iray, IBL Master will pick that up when it loads.
With IBL Master, Image Based Lighting is now seamless between Iray and 3delight because light angle, light quality, and background orientation are now consistent across both engines. The IBLM Light is the very first to properly convert coordinate space differences between 3Delight and Daz Studio. And unlike Uber Environment 2, this light is a full fledged IBL with specular as well as diffuse, ray traced reflections, and ray traced shadows. So you don't need to add other lights that might diminish the realism of your lighting.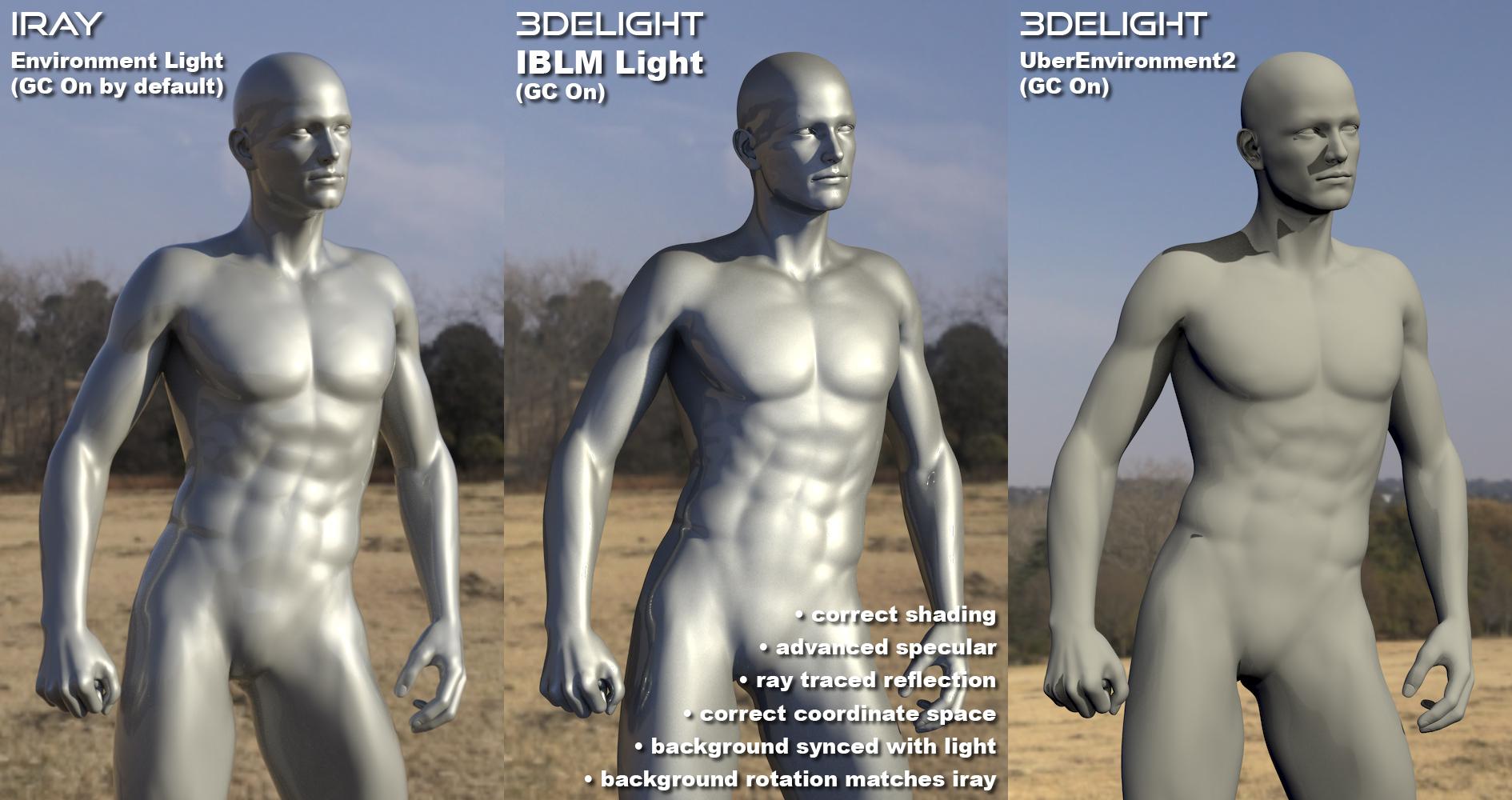 That said, there are times when you mays still wish to add more lights, so take a look at the next feature.
Ever wanted to adjust the brightness of your subject separately from the HDRI background? I've addressed that issue as well. The IBL Master Control has six ghost lights rigged to targets on the preview sphere, making it easy for you to match up lighting angles to hotspots (like the sun or other lights) on your HDRI. I call these Boost Lights because you can use them to boost the light on your subject, and no one will ever know that you had another light in the scene. Additionally, on the 3Delight side, you can adjust the brightness of the background in Surface settings or turn off image syncing and use a different HDRI for the light and background.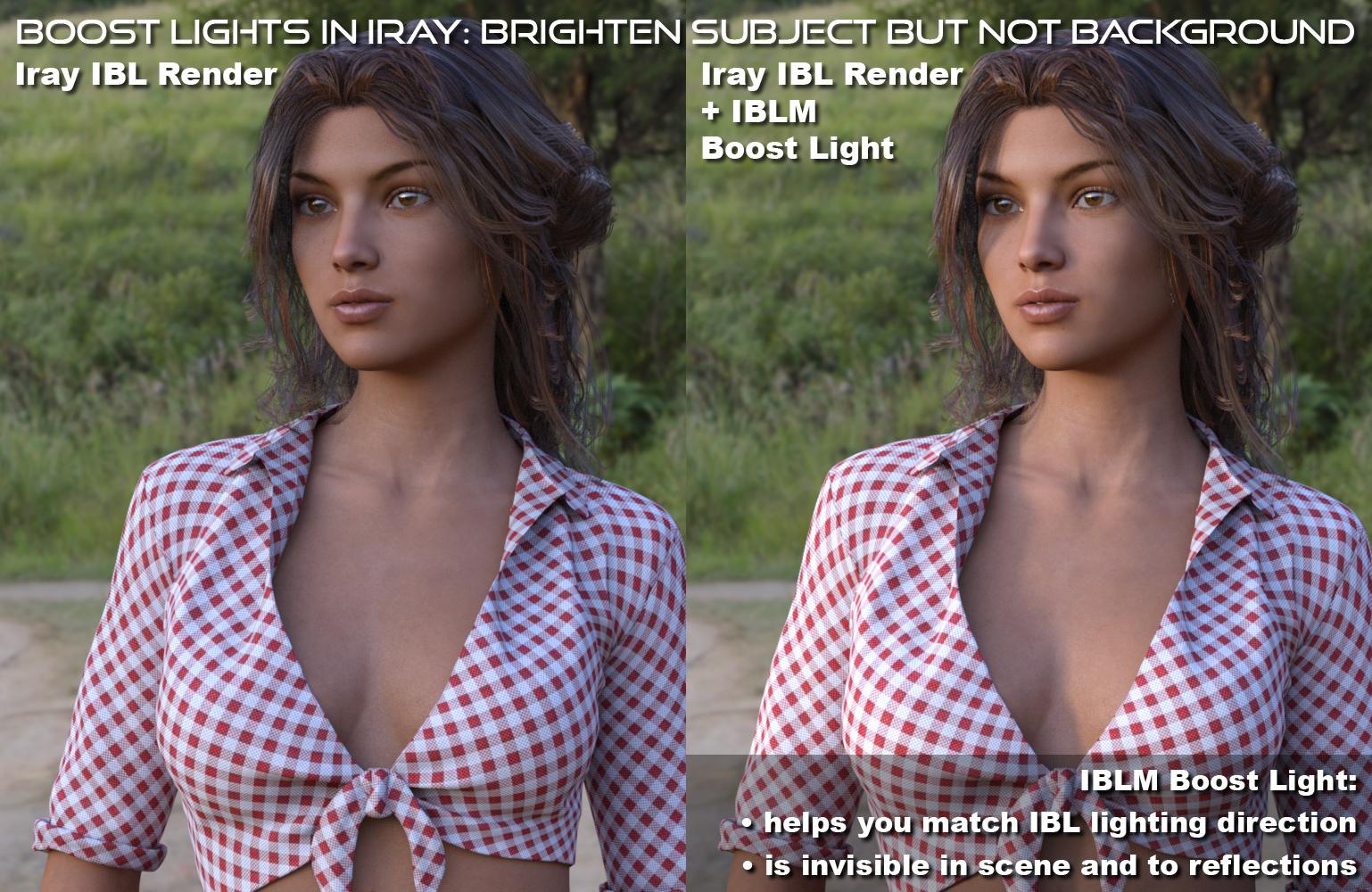 To further match function between Iray and 3Delight, IBL Master also has a ground plane for 3Delight with a shadow catcher - the first ever on the 3Delight side to catch ray traced shadows from the IBL.
As if that were not enough, with IBL Master rendering with Image Based Light in 3Delight is significantly faster than ever before. For the better part of a decade the popular opinion has been that 3Delight slows to a crawl when IBL and transmaps share the same scene. But as it turns out, it's a glitch in our surface shaders, not the render engine. The IBLM Light shader bypasses this glitch. So, if you have been wanting to get more realism and speed, but have not been ready to shell out thousands for a high end Nvidea system, this product may be the next best thing. Take a look at the comparison renders I've done and see what you think.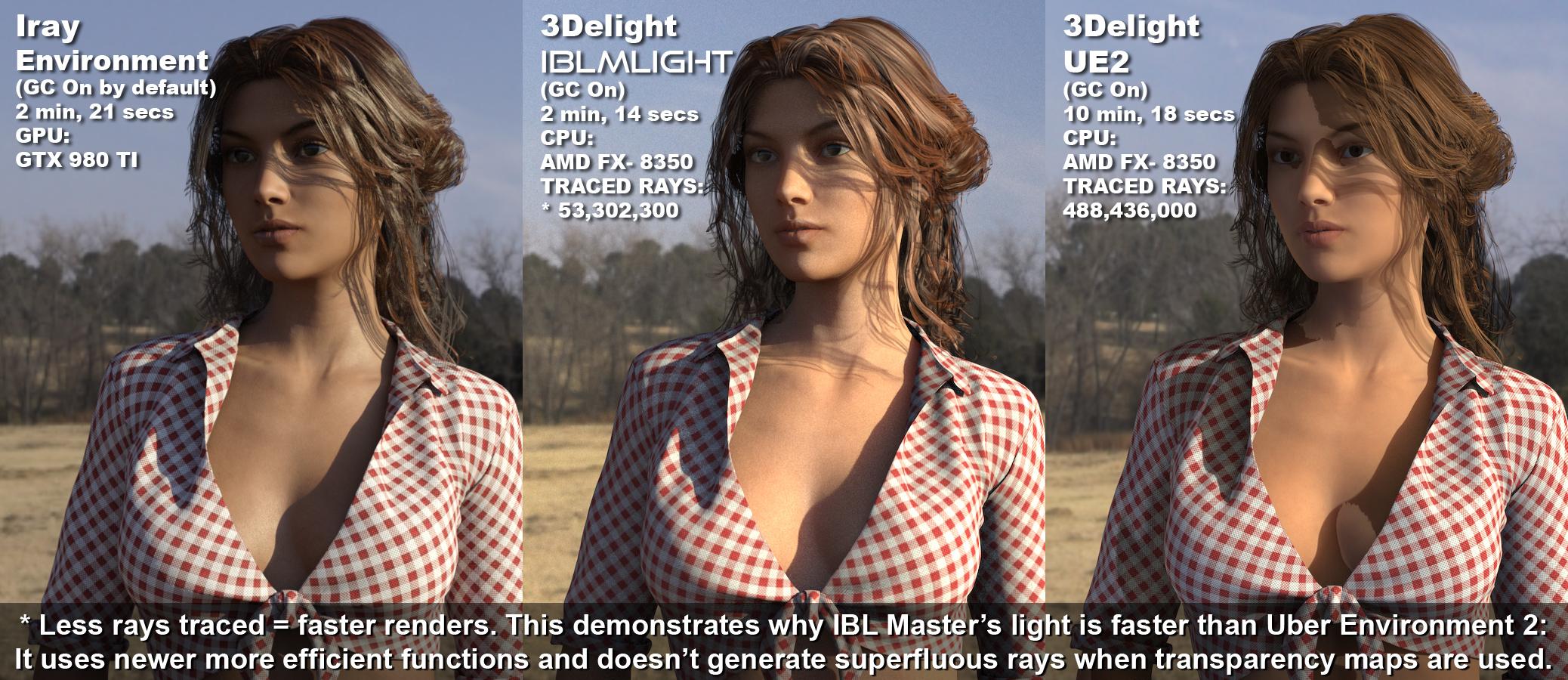 Food for thought: Although there are differences between Physically Based and Biased render engines, fundamentally there are 3 components that commonly contribute to realism. These are linear workflow (gamma correction), global illumination and physically based surfaces, all of which are present by default in Iray but also already features in 3delight as well. We just haven't had full access to some of what 3Delight can do in Daz Studio. But that is changing! So:
1). Iray has gamma correction on by default, so you just need to turn it on for 3delight (Render Settings tab > Gamma > Gamma Correction > On and set Gamma to 2.20).
2). Get IBL Master and you now have global illumination via IBL that equals that of Iray.
3). Cross your fingers about physically based surfaces. I know what I'll be working on next if all goes well. But as my renders demonstrate, number one + number two will get you darn good results!
Are your creative juices flowing yet? Is the mathematician in you crunching the numbers in dollars and cents? To me this seems like a no brainer, but of course I'm biased. Let me know what you think! Thanks.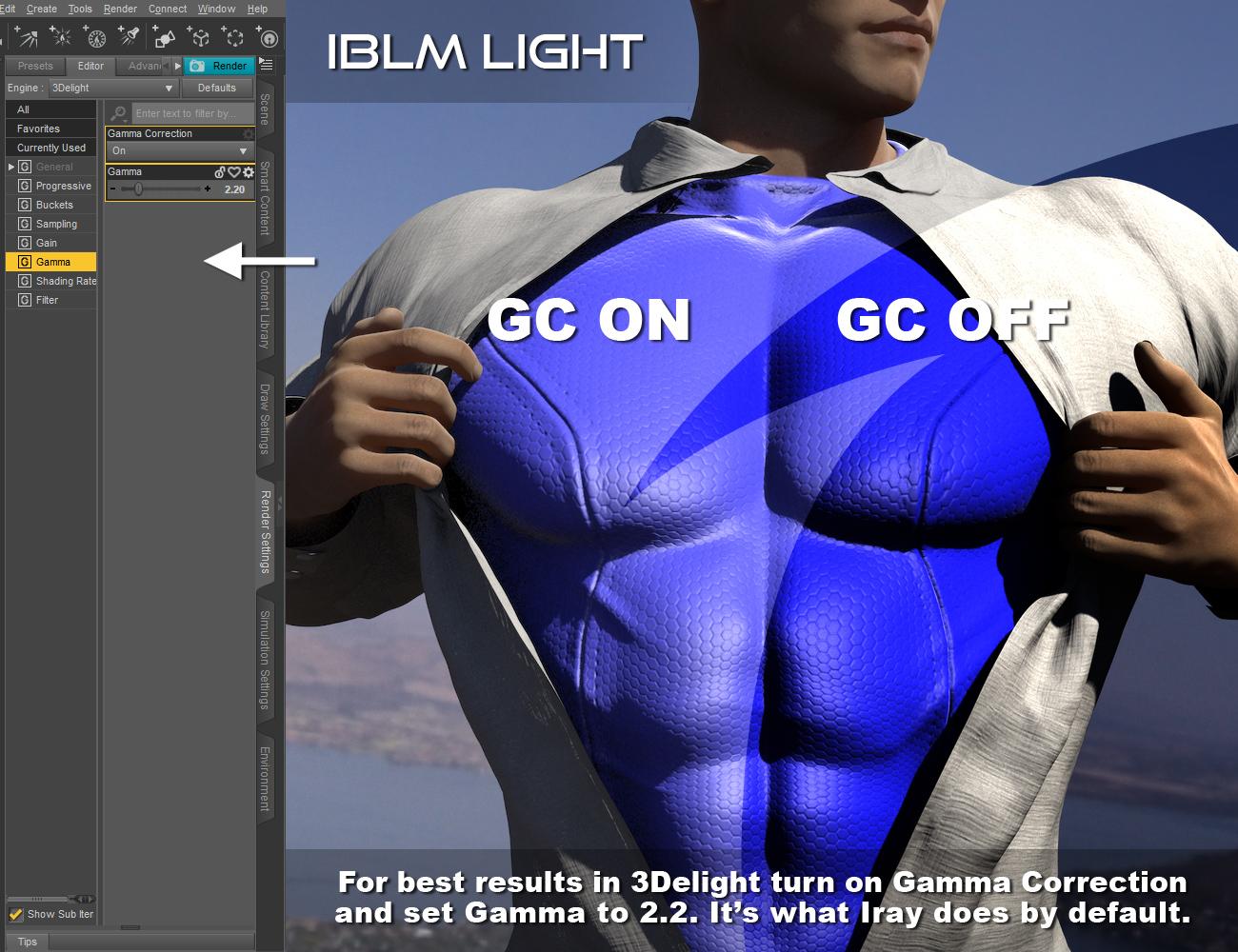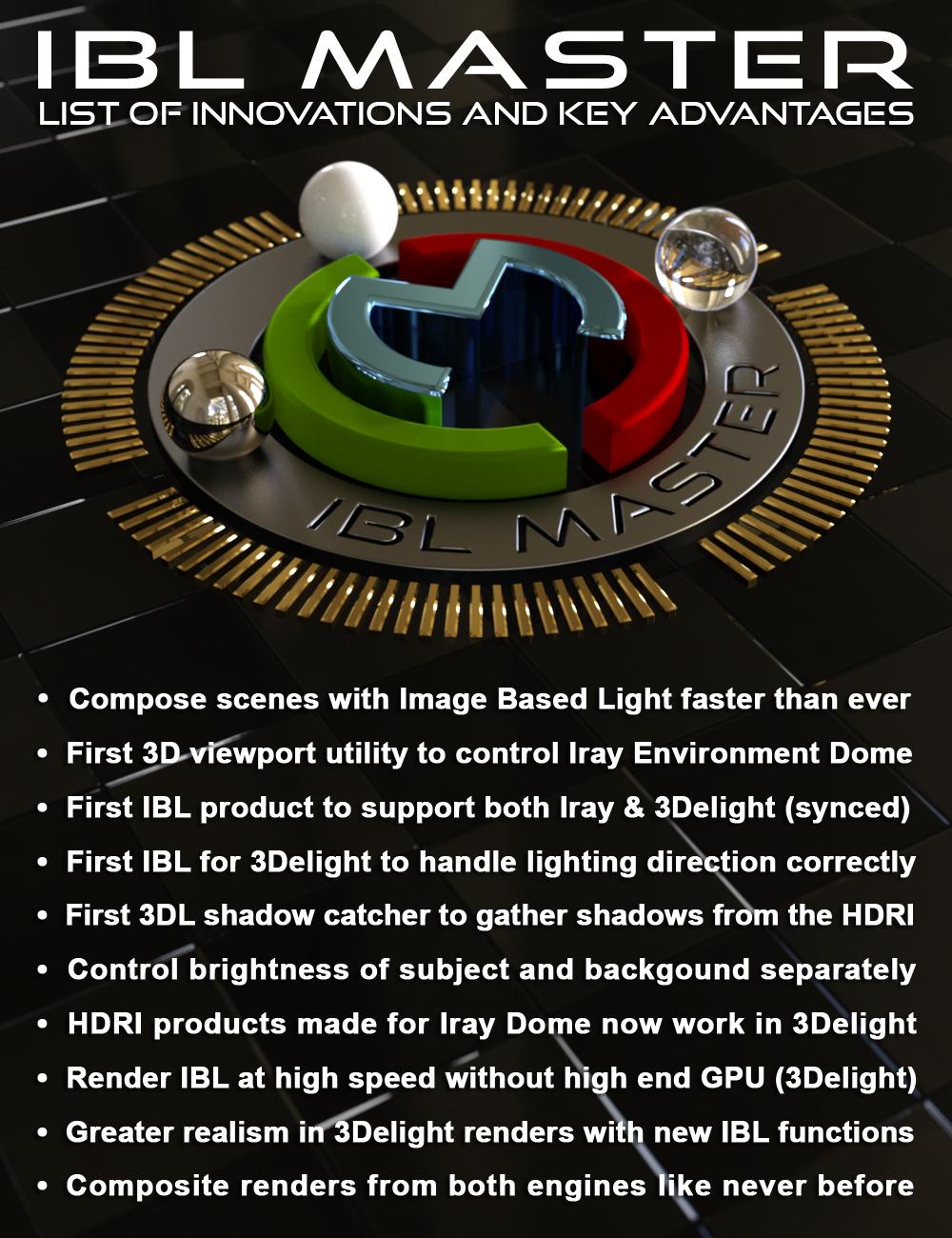 Post edited by Parris on