Legacy UVs for Genesis 9 [Commercial]

Cayman Studios
Posts: 1,107
Update: 26 January 2023
Released today: Legacy UVs for Genesis 9: Genesis 3,8 and 8.1 Male
https://www.daz3d.com/legacy-uvs-for-genesis-9-genesis-3-8-and-81-male
Update: 25 November 2022
Released today: Legacy UVs for Genesis 9: Genesis 3,8 and 8.1 Female
https://www.daz3d.com/legacy-uvs-for-genesis-9-genesis-3-8-and-81-female
PDF User Guide:
http://docs.daz3d.com/lib/exe/fetch.php/public/read_me/index/87928/87928_legacyuvsforgenesis9userguide.pdf
Original Post: 22 November 2022
Legacy UVs for Genesis 9: Genesis 3,8 and 8.1 Female will be released shortly.
This will work in the same way as previous "Legacy UVs" releases for previous generations. The geografts with their own UVs will carry the textures that the main mesh cannot due to the incompatible inter-generational mappings. A script will load the geografts, create new Surface Selection sets so that the old surface names can be recognised by the new mesh, and select Genesis 9 and the geografts so that they are ready to take the legacy textures. Then the "Apply UVs" icon will set the appropriate UVs.
Now it looks like the majority of material presets for Genesis 3, 8 and 8.1 are Hierarchical Material presets, which means that they will not work on Genesis 9, so you will have to re-save these as ordinary Material presets before applying them to Genesis 9. Of course, once the MATs are on Genesis 9 you can save a new Hierarchical preset for Genesis 9 for extra convenience, if you wish.
I have included two separate UVs for the Anatomical Elements, one which carries the Torso/Body textures, and one which carries Anatomical Elements textures for characters which have them. The script will, by default, apply the Torso/Body UVs. If you want to use the AE UVs you will have to apply these separately and then set the UVs manually.
I should add that the Genesis 3 UVs included are for the "Base Female", not for the Daz Original 7-series characters, which have their own UVs. The vast majority of ordinary Genesis 3 characters use the Base Female UVs, but if you want to use the 7-series textures on Genesis 9 you can use the Map Transfer facility to convert them to Base Female.
The PDF includes further detailed information for further eventualities.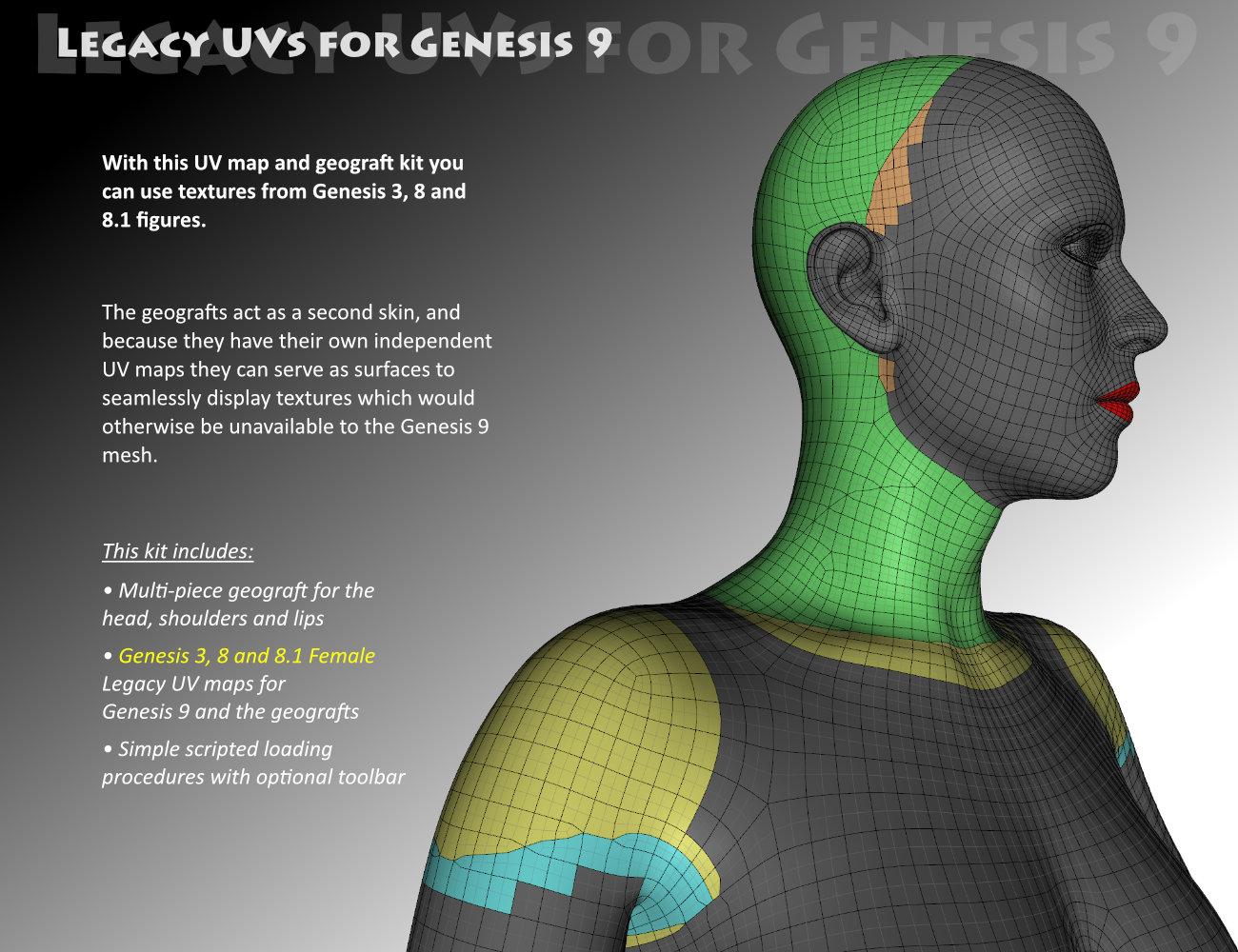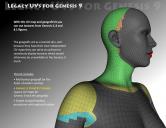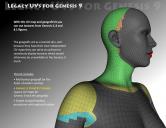 Post edited by Cayman Studios on