LUXUS FOR CARRARA - Initial Experiments

FENgari
Posts: 1,104
Dealing with Matt Colours:
In this image, you will see that getting a particular colour as mixed in Carrara to read correctly in LuxRender needs a bit of juggling to get it right. My initial experiments show that by mixing the desired colour and then mixing in 80% Black seems to do the trick with red... I've yet to experiment with other primes before moving on to textures and the like.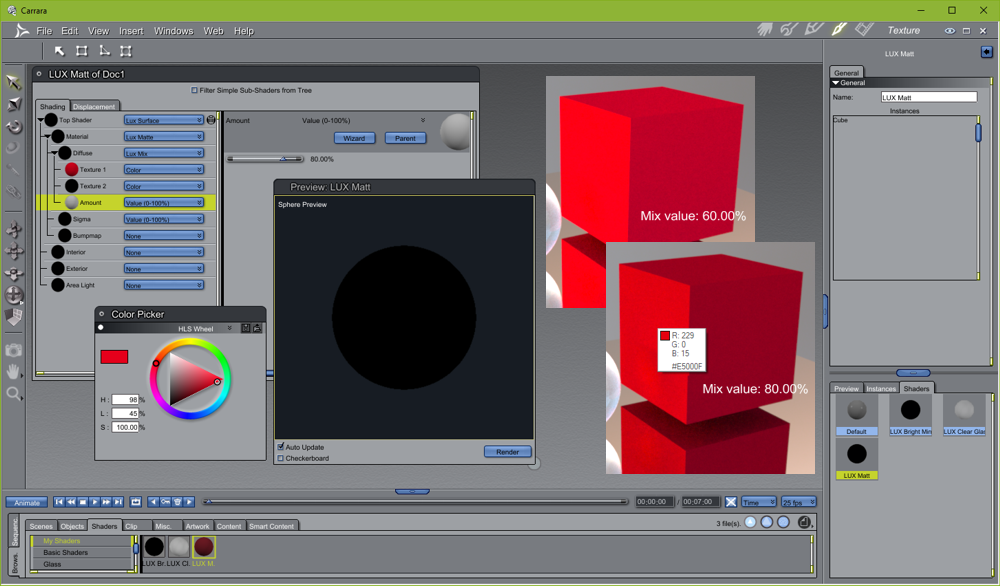 Here's what we are looking at:
In Carrara a red is mixed with a RGB value of 229,000,027 and applied as a LuxMatt meterial to a cube which is rendered
A LuxMixer node is applied to add a percentage of Black to stop the LuxRender looking as though it glowed
An initial value of %60 black was tried and the resultant values checked
A final value of %80 was hit upon and as you can see the sampled colour is close enough to Carrara's original colour value
The acutall render is lit with a LuxInfinity light and an HDRI environment map.
MODS: If this shouldn't be a new thread but put somewhere easy to find then I kindly ask one of you to move it or delete it if it is redundant.

​Selina
Post edited by FENgari on