From 18 year ago, "oh my God"

FlashGarcia
Posts: 395
I was browsing through a file folder of completed images that I made years ago using Bryce as my construction and render program for them. When I looked at the year date that I made the images I almost dropped to the floor.
The images I attached here were made from 2000 to 2002. My God, that is getting close to 20 years ago. The Grim Reaper is starting to creep about in Bergman style. I believe in omens, and some kid shot a metal tipped arrow through my front window which freaked me out. Everyone I mention it to replies at first with, "What!!" Call it chance, call it coicidence, I call it a "message". Time to get moving with new art work before the "Last Tango in Bryce" arrives. My gravestone/tombstone will be a huge white marble hand giving "the finger".
I am not feeling sorry for myself, but rather giving myself a Patton like "swift kick in the butt" message to get going. Come on everybody a collective "swift kick in the butt" for Flash to make him create new stuff.
The images attached were inspired by the 1960s film, "Fantastic Voyage" based on the novel by Issac Asimov.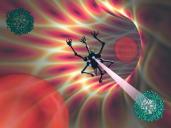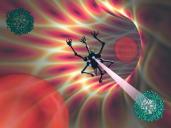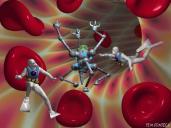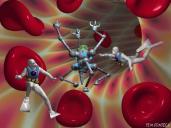 Post edited by FlashGarcia on