Carrara Challenge #38 - Cartoons and Other Guilty Pleasures - Welcome our PA sponsor, Phil Wilkes!

UnifiedBrain
Posts: 3,497
This is the Work-In-Progress thread.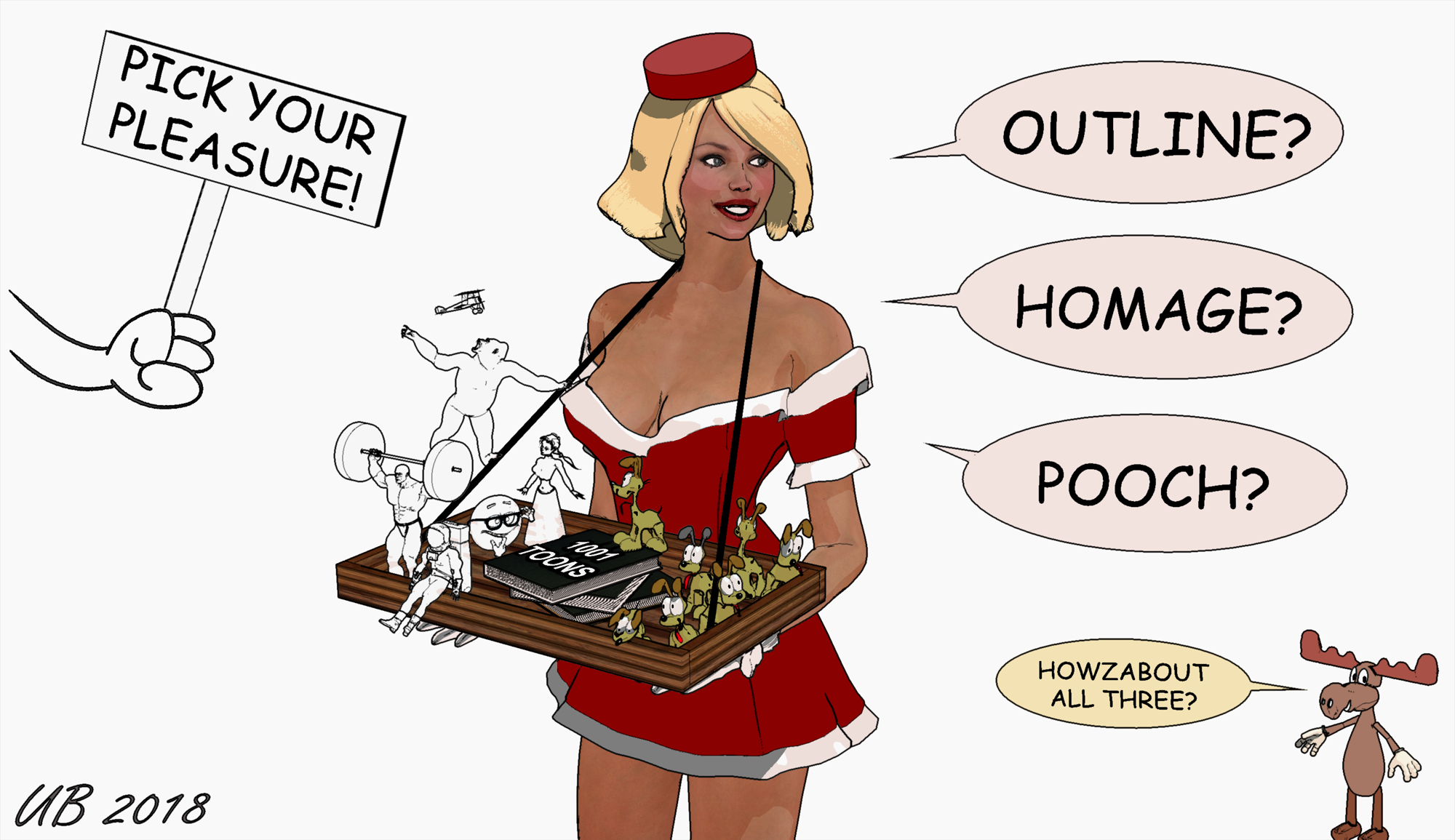 guilt·y pleas·ure
noun
Something, such as a movie, television program, or piece of music or art, that one enjoys despite feeling that it is not generally held in high regard.
Are comics and cartoons a guilty pleasure? To me, it is apparent that most artists enjoy cartoons, but that "toons" are usually not held in the same regard as "real" art. Instead, they are more frequently considered as a welcome reprieve from more serious work.
If that is true (and there is room for debate) then this Challenge is one big reprieve!
So, sit back and take your shoes off. Forget that serious stuff.
Choose your cartoon pleasure and let your creativity be your guide.
Below is a quick summary of the three entry categories and general rules. If you want to know why I picked cartoons for the topic this Challenge, or if you want examples of the entry categories, please go to the 2nd post of this thread.
The Outline:
Make a render which is driven primarily by the Toon! part III filter (from this point, it is simply called Toon 3). It can be in a comic book style, a traditional cartoon, are just a cool image (PR or NPR) with some sort of an outline. :) You can enhance it with other filters and tools which work in a Carrara environment, such as G'MIC, but no postwork is allowed.
The Homage or Original:
The point here is to create a classic single-frame cartoon. To do an Homage, pick out a classic single-frame cartoon that you think is funny or clever (or both). Your task is to model that cartoon, and to create something similar by using Carrara alone or with postwork. You can choose to attempt to duplicate the cartoon exactly, or alter it in any number of ways. For example, you can change the style to photoreal (PR), use slightly different wording, or even populate it with different characters. But the gist of the cartoon must remain the same. You are using your creativity to honor the original artist. Your "version" must clearly reflect the spirit of the original. Postwork allowed.
On the other hand, you have a clever original idea for a cartoon that you want to create, and it is not based on another cartoon, then you can certainly do that as well. I have tried to anticipate people who may resist entering in this category because they "can't think of anything funny." In that case, the Homage is the easiest route. But, if you already have a funny original cartoon idea, go for it! Again, in this category postwork is allowed.
The Pooch:
Stezza recently modeled a wonderful dog character, and made it available to everyone. Your assignment is to make a render using Stezza's dog. You can render this in any style. Postwork allowed.
Note: Stezza has just recently modeled a familiar-looking cat, as a companion to the dog. It is available here, free for everyone to use. Thanks Stezza!
General rules
1. Up to 3 renders can be entered. However, if you enter more than 2 renders, at least one of them must be in "The Outline" Toon 3 category (which has the "no postwork" rule).
2. Images must be new (previously unpublished).
3. Images must be "mostly" set up in Carrara.
4. Where postwork is allowed, it must not be the dominant part of the image. Posting images of before and after postwork is encouraged.
5. At least one WIP (work in progress) image of the final Carrara setup must be posted to the WIP thread
6. The winner of the "Best Participation" category becomes the next Carrara Challenge host, and sets the rules for the next competition. But should the winner decline this honor, the winner of the next category (Best Cartoon Homage) will then get the opportunity to step forward and fill the role.
Sponsors and prizes
Once again Daz will generously sponsor the monthly Challenge.
Phil Wilkes has agreed to be the Carrara PA sponsor! His profile and PA prize will be revealed towards the end of the Challenge.
Yet again, I propose a slightly different prize format this month (and it has again been OK'd by DAZ). For this contest, there are different categories, much like the Academy Awards (Oscars) and the prizes are all more-or-less equal. An artist can win only one of the Daz prizes, but can win both a Daz prize and a PA prize. Comments about this are again welcomed. I explain the process in more detail in THIS THREAD. Please read it if you have questions.
The four prize categories are:
Best Participation (cumulative images from a single artist)
Best Cartoon Homage (hoping for some guffaws and sniggers, and maybe even a chortle!)
Best Toon 3 Image ( hoping that everyone gives a go to creating their own cartoon render)
Best Use of Stezza's Dog (a terrific model, perfect for this Challenge)
This translates into:
Most votes total for one artist: $50.00 towards DAZ 3D owned item(s)
Most votes Cartoon Homage: $50.00 towards DAZ 3D owned item(s)
Most votes Toon 3 Filter: $50.00 towards DAZ 3D owned item(s)
Most votes Stezza's Dog: $45.00 towards DAZ 3D owned item(s)
Dates to Remember:
All dates are Daz Utah Time http://www.timeanddate.com/worldclock/usa/salt-lake-city
WIP Thread Opens: Friday February 2, 2018
Entry Thread Opens: Friday February 16, 2018
Entry Thread Closes/Voting Begins: Monday March 5, 2018
Voting Ends: midnight Monday March 12, 2018
Promotions
I just added an Art Studio thread so you can share your entries with others outside of the Carrara forum. I will post there regularly, but I will not attempt to post every render. You are free to add whatever you like.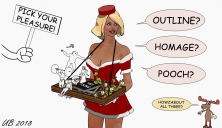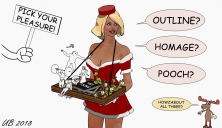 Post edited by UnifiedBrain on