[Solved] Is there a way to re-orient an object's axis rotation?
Kitsumo
Posts: 946
I'm modeling a bubble type chair that hangs from the ceiling. So once I modeled the circular part I attached the bracket slightly at an angle because that was the closest flat surface I could use. But when I send it to Daz Studio, it is still tilted at that angle. No matter what way I orient it in Hexagon, it still shows up that way in Studio.
Sure I can re-orient it once it's there, but it's a pain, especially because it's only off by a few degrees on the z-axis. I can rotate it in Hex of course, but the bounding box will still be tilted at an angle as shown in the picture. Is there any way to fix this?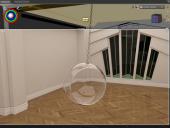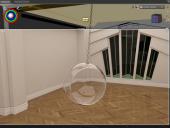 Post edited by Kitsumo on