Hair Tutorial for DS4 Users

Scott Livingston
Posts: 4,317
Introduction
This tutorial is intended for DAZ Studio 4.5 users who work primarily with Genesis and/or with the 4th Generation figures (Victoria 4.2, Michael 4, etc.). Most of the information also applies to DS4.0. The objects of the tutorial is to familiarize you with basic concepts involved with using hair in DS4, to address common hair-related problems, and to give advice on optimizing the appearance and rendering performance of your 3D hairstyles.
Several months ago, I posted a message in the New User forum, asking if anyone knew of a good tutorial or general advice on hair. While I got a great deal of helpful advice, I didn't find any tutorials, so I decided to write my own, compiling the responses to my question together with other information I've learned about hair. In this endeavor I'm greatly indebted to those individuals—including (in no particular order) fixmypcmike, Jaderail, adamr001, Frank0314, DWG, Indigone, Wiseavatar, RAMWolff, Lindsey, kitakoredaz, and others—who have helped me and other forumites with hair-related questions. I've provided links to several of these threads in the Additional Resources section at the end of the tutorial.
***
Contents
Post 1 of 5 (this post)
Introduction
Contents
I. Types of Hair
1.1 Painted hair
1.2 Conforming hair figures and hair props
1.3 Other types of hair
Post 2 of 5
II. If the Hair Fits…
III. Parenting 101: Not Just for Moms and Dads
Example 1: Using Mitsu Hair for Aiko on Genesis
Post 3 of 5
IV. Fits, Morphs, and Poses
V. Dye Jobs, Mat Poses, and Surfaces
5.1 Changing the color in Smart Content
5.2 Changing the color in Content Library (materials or mat poses)
5.3 Changing the diffuse color
VI. Using Morphs and Poses to Find Your Style
Post 4 of 5
VII. Rendering
7.1 Basic rendering settings
7.2 Uberhair
7.3 Fantom occlusion (phantom shielding)
VIII. Special topics: hats, elf ears, beards, body hair, and more
8.1 Hats and Hair
8.2 Elf ears, lash distortion, and other unusual shapes
8.3 Facial and body hair
IX. Additional Resources
Post 5 of 5
Reserved for additional Q&A
***
List of hair products used for examples in this tutorial:
Mitsu Hair for Aiko (prop/hr2) from the (currently) free Anime Star Fighter bundle: http://www.daz3d.com/shop/anime-star-fighter
Taylor Hair (figure/cr2; dsf): http://www.daz3d.com/shop/taylor-hair
Gia Hair (Genesis/dsf; prop/hr2): http://www.daz3d.com/shop/gia-hair
You don't need to own these same hair products to use the tutorial, though: you can follow the examples using any hair of the same type (keeping in mind that some of the finer details might be different). The principles described in the tutorial should apply to just about any hair.
***
I. Types of Hair
1.1 Painted hair
"Painted hair" usually refers to a skin texture in which the scalp is painted to look like hair. Probably the most familiar examples of this are the default textures of Victoria 4 and Michael 4, but plenty of other textures contain options for painted hair as well, usually alongside bald options. Some good examples include Chablis for Genesis/V4 (http://www.daz3d.com/shop/chablis-for-genesis-v4/) and Stefan for M4 and Genesis (http://www.daz3d.com/shop/stefan-for-m4-and-genesis/).
The advantages of painted hair are numerous: it allows for faster renders, it usually has realistic fine detail, and it makes it easy to use hats or other headgear since there's no separate hair prop or figure to get in the way. They're also matched to a specific character, since they are part of the skin texture, so you don't need to worry about finding the right hair prop or figure to go with the character you're rendering.
However, there is one big disadvantage to painted hair: the shape of the character's head is the same as if they were bald, meaning that the outline of the head gives the effect away. Some characters (like Stefan, mentioned above) do come with special hair-head morphs that can help to an extent with this issue.
Another, less common meaning of the term "painted hair" is hair that is painted on in postwork, using Photoshop or another program. Basically this means rendering the character without hair, then taking the rendered image and painting hair onto it. This can be a good solution if you have strong 2D art skills, but it's beyond the scope of this tutorial.
1.2 Conforming Hair Figures and Hair Props
Hair that is a distinct item, rather than painted on, comes in several varieties, which can be distinguished by the file type: .dsf, .duf, and .cr2 are conforming hair figures, .pp2 and .hr2 are hair props. The distinction between .pp2 and .hr2 is that the former can be found in the Props folder under Poser Formats, in the Content Library, while the latter can be found in the Hair folder, also under Poser Formats in the Content Library. Conforming hair figures with a .cr2 extension can be found in the Figures folder.
With some exceptions—short hair just needs to attach to the head and is likely to be a prop, while long hair also needs to respect the rest of the body and is likely to be conforming (so that you don't have long tresses sinking into the shoulders, for example). Conforming hair is analogous to conforming clothing—at least in theory, it can conform to the body without causing pokethrough or other issues.
In general, conforming hair should be fit to the figure (covered in section 2), while prop hair should be parented to the figure (covered in section 3).
Hair for use with Genesis in DAZ Studio will have the .dsf extension (or .duf for files designed to work in DAZ Studio 4.5). Genesis hair should easily fit to Genesis, but if you want to try using it on another figure, you may need to parent it rather than fitting it.
So how do you tell whether you have a hair prop or hair figure? There are several ways. One is to find the product page or readme documentation for the hair product, and scan it for the file name and type. Another way is to tell based on where you found the hair in the Content Library (if you found it in Smart Content instead, and have Genesis selected, there's a very good chance that it's Genesis-type hair). If you found it under "Poser Formats" in the Hair folder (or the Props folder), then it should be a hair prop. If you found it in the Figures folder, it should be a conforming figure. If you found it under "DAZ Studio Formats," it's probably Genesis hair. Another method is to click on the Edit menu, choose Preferences, click on the Content Library tab, and check the box for Show File Extensions.
Regardless of whether the hair you are using is a prop or a figure, it probably falls into one of two categories: transparency mapped (transmapped) or fibermesh. More rarely, you may encounter some hair that's neither; these will likely be highly stylized rather than realistic (Nata Toon Hair is one example). Think of transmapped hair as a series of ribbons attached to a skullcap. The ribbons are textured to look like locks of hair, with transparent stripes and sections for the gaps between hair strands. The last promo image of Pure Hair: Catwalk gives a good illustration of how these ribbons look without the textures and transmaps. Fibermesh hair is more like real hair, with each strand (fiber) represented—although the fibers tend to be somewhat thicker and not as dense as real hair. Fibermesh hair usually has a very high polygon count, so it's memory-intensive. Transmapped hair can also take a very long time to render, due to the transparency maps. Later in the tutorial, I'll discuss strategies for rendering hair more efficiently.
The render below shows, from left to right, fibermesh hair, transmapped hair, and a geometry-based hair without transmaps. It was rendered in DS4.5 with basic, non-Uber lights. The character is Candace for S5 mixed with Young Teen Julie.
1.3 Other Types of Hair
There are other varieties of hair you'll hear about, such as procedural hair plugins, dynamic hair, and shader-based hair. True dynamic hair can be found for some programs like Poser and Carrara, but it doesn't exist for DAZ Studio at this time. It's similar to dynamic clothing in that it has realistic movement with a sort of gravity to it, and it can even be combed and styled in various ways.
Shader-based hair is basically a fur shader (like the one found in the Supersuit Fantasy Pack or Furify) applied to a figure's scalp, or to a bodysuit covering the scalp. It can yield results like the mohawk seen in the image at the bottom of this page: http://www.daz3d.com/shop/products/genesis/genesis-michael (although as far as I know it has not been confirmed whether or not that was the method actually used to create the mohawk in that image). This is an unconventional method and not one that this tutorial will cover in any more detail…if you wish to try this, I'd recommend getting the Supersuit, the Supersuit Fantasy Pack, and finding a good tutorial on shaders.
While most if not all hair products will include an .obj file, you may encounter hair that's in .obj format (without an associated .hr2, .cr2, etc.). Like any .obj file, it can be imported into DAZ Studio. This type of hair would fall into the category of hair props, but it's rather unusual and will not be discussed in more detail here.
Two new hair plugins for DAZ Studio offer additional options for realistic hair: Look At My Hair and Garibaldi Express, both now available in the DAZ 3D store. You can find out more information about these from their official sites (LAMH | Garibaldi), forum threads (LAMH | Garibaldi), and other sources, but the bottom line is either plug-in offers users the ability to create, grow, and shape their own hairstyles. I haven't used either, but I have admired the results I've seen from other users. These aren't truly dynamic (the hair doesn't behave dynamically in DAZ Studio) but within the plugin it works much like dynamic hair—it can be combed, cut, grown, etc.
Illustration (below) - Paul Hair by Neftis3D, Pyrit Hair by SWAM, Anime Hair by Mec4D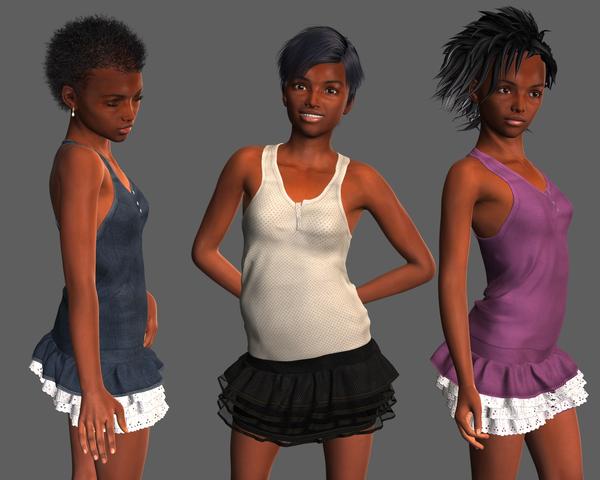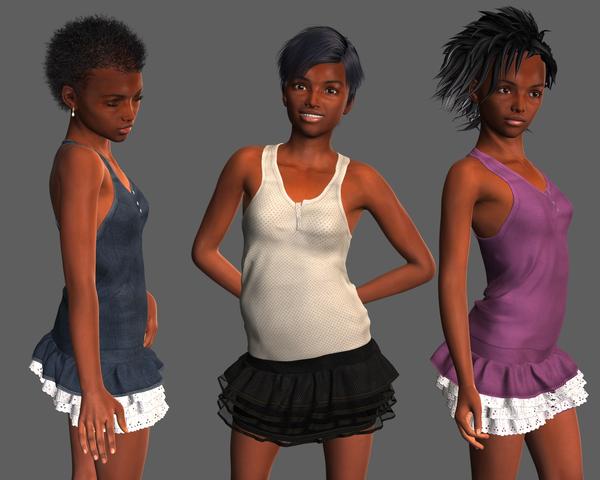 Post edited by Scott Livingston on