The Mac FAQ

Totte
Posts: 12,375
DAZ Studio on Mac OS X FAQ
I will try to keep the FAQs short but descriptive, and in a Q/A format. The list will grow over time.
Installers wont run
Q: I download installers with content from the DAZ store, but when I have unzipped them they will not run, why?
A: Most likely you are using a not so intelligent third party unzipper and not the built in unarchiver. Many third party unzippers do not only unzip the zip-file containing the installer, but also unzips the installers payload which ruins the installer.
DAZ Studio just keeps crashing
Q: DAZ Studio 4 or 4.5 constantly crashes on Mac OS X, specially when I click in smart content or in the content browser. How can I make it stop doing that?
A: Those crashes are caused by a bug in the CMS connection API. You ca see of you have those crashes if you see the word Valentina or fbl:: in the crashreport/crashdump. The best solution to keep those crashes at bay is to use the Content DB Maintenance panel (found in the menu for the content tab. Check the Mark all content as seen, Condense Database and Process Metadata queue. Do this when you have added more content. If you make this a habit until the problem is solved, you will see much less crashes.
Update: This was fixed in DAZ Studio 4.5.2.40, no need for this any more if you run that version or newer.
Starting / Stopping the DAZ Content Manager Service
In Programs/DAZ 3D/DAZ Studio (32 or 64)bit is a folder named service.
It holds two Applescripts:
Start DAZ Content Management Service
Stop DAZ Content Management Service
Use them to Start/Stop the content manager, do not use the terminal or the Activity Monitor or Force Quit dialog.
I cannot find my Library folder under Mac OS X 10.7 or 10.8
Apple decided to hide some folders for the common users are they contain things the normal user very seldom needs to peek in, among those are ~/Library, the Library in your home catalogue. If you need to peek there, in Finder use Command+Shift+G (go to folder), and enter ~/Library and you will see it.
If you don't want it to be hidden, you can start the terminal and type:
chflags nohidden ~/Library 

which will make ~/Library visible in the Finder again.
Added: DIM + DS content setup help.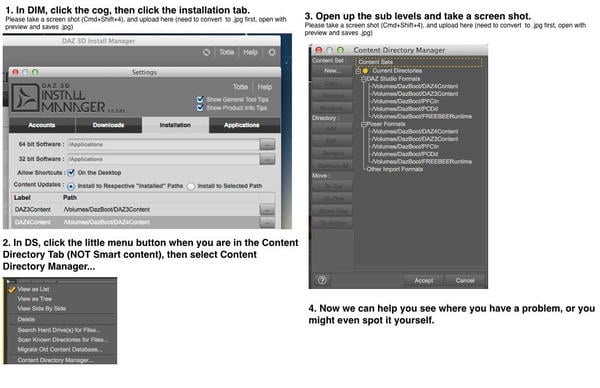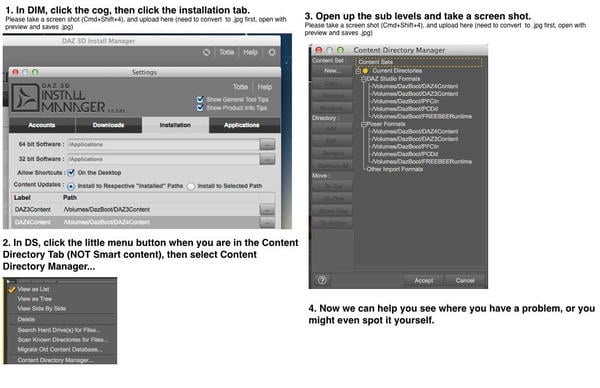 Post edited by Chohole on