Free! Genesis 8 Male Casual Clothing (re-mapped jeans update)
Compared with his female counterpart, Genesis 8 Male as very few freebie clothing packages out there! So continuing in my modeling practice, I made some dforce clothes using Hexagon. Contains 2 shirts (one long sleeve v-neck sweater, one short sleeve polo), 2 pairs of jeans (one normal buttoned up, one with an open fly so if you want to dforce his pants falling down, you can), a couple deformers for the legs so they sit a bit nicer over shoes, a pair of shoes with optional laces (not dforce).
Some caveats:
They're pretty low poly, which means they may tear a bit in dforce. But that's perfect if G8M gets attacked by a zombie.
I only created a texture for the sweater and the pants. The polo I just used a silky standard shader from default Daz Uber shaders.
I'm still having a hard time with UV maps tearing at the edges. (Looking for a good UV mapper tutorial for Hexagon if anyone knows of one.) This means jean seams don't match up, and it makes texturing the shoes a complete nightmare.
You'll need to create your own dforce modifier weight nodes if you don't want the open fly pants falling completely off.
I doubt this will work in Poser, but Poser is currently broken for me so I couldn't test it.
I learned a lot in modeling this outfit, about Hexagon, DS and texturing. I learned how challenging it is to take good pictures of my husband's jeans - good enough for texturing, that is. I also learned what a pain it is to save deformers as a morph so they are separate from the actual models.
Good luck!
https://www.deviantart.com/perlk/art/Casual-clothing-for-Genesis-8-Males-886384407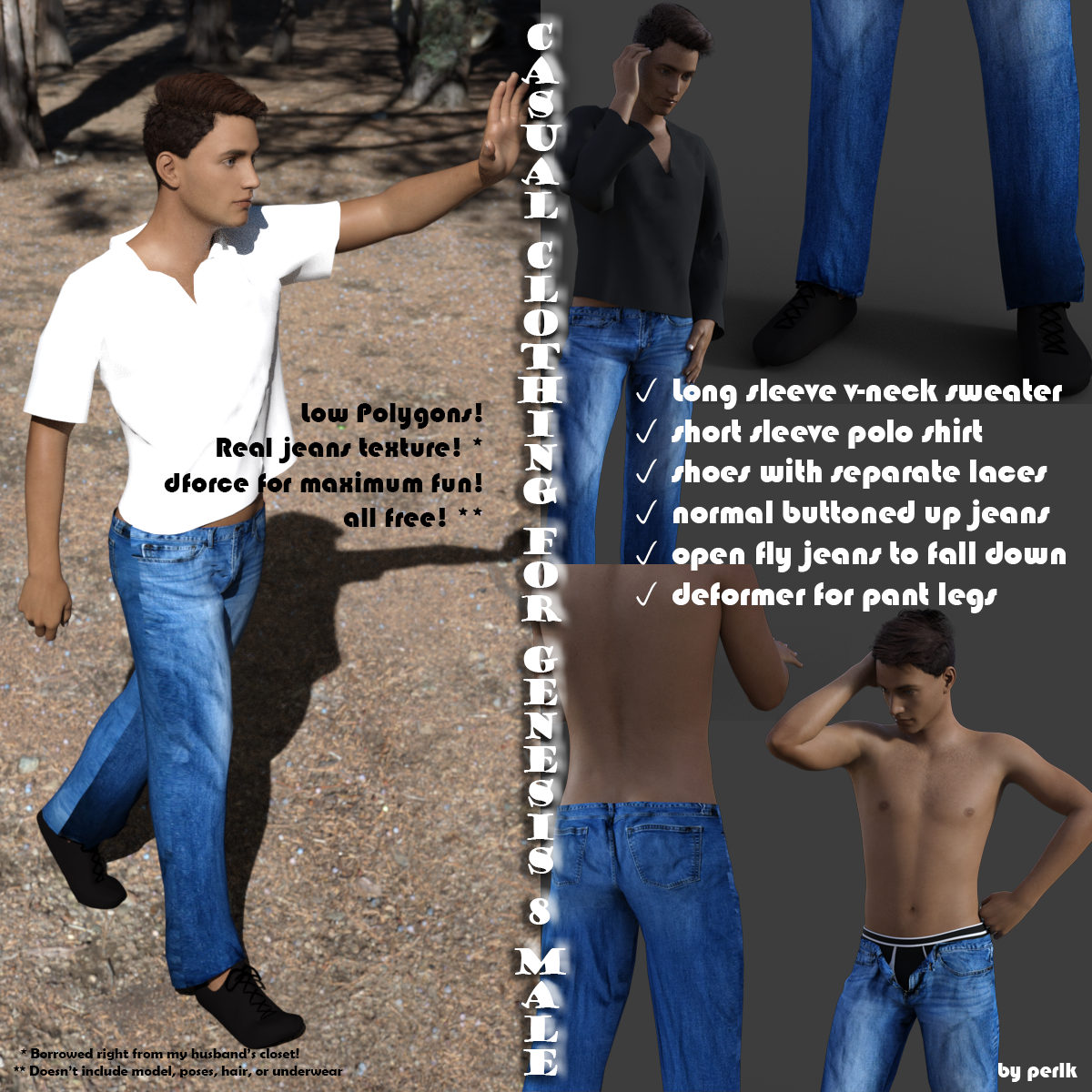 Post edited by perlk on