Medina Cityscape Generator [Commercial]

V3Digitimes
Posts: 2,727
Medina cityscape generator is a script allowing you to create very fast and easily cityscape using randomly all the elements (houses, trees, minarets, souks) of the product "Medina Cityscape Generator", which can be found here : https://www.daz3d.com/medina-cityscape-generator
The style of city you can reach is timeless, since it can be used from medieval to modern scenes.
It was conceived to be very easy to use, and to use the minimum of memory possible. All the elements are pretty low resolution and they are only loaded once by the script, all the rest being instances of these elements. It is very easy, one button to click to generate a group of streets, but also very customisable, since you can change with simple dials the relative amount of the different elements, and the way the elements are aligned inside a street, and the way the streets themselves are aligned.
The elements can be dropped on the provided terrain (checkable option) and were designed to support the slopes of the terrain. They can be dropped on any terrain which you would name "Cityscape Terrain", but high resolution terrain will not be accepted.
The product also comes with all made big cityscapes for those who don't feel like creating a city and prefer working with "something already ready".
Once created, the cityscape can be populated by low resolution human beings, also included stand alone in the product. The "Add Human" script includes a button which will add a random human being randomly placed in front of each element selected when you launch the "Add Human" script. Click 10 times this button and you will have 10 human beings in front of each of these elements.
EDIT 03/28/2017: The human added will take the altitude of the house they a placed in front off. It it is not sufficient (if the human is not enough dropped on the terrain), you can select the ones which must be dropped on the terrain and use the script "Precise Drop Selected Human Beings On High Rez Terrain.dse" joined to this post. I'll submit the re-drop script as an update as soon as I'll have users feedback (and more tests on my side).
The best is maybe now to see the video :)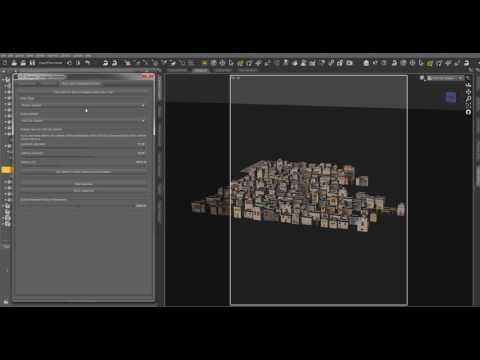 Post edited by V3Digitimes on