Why is it so hard to connect two vertices with an edge in hexagon?
lamoid_5f20d3e469
Posts: 76
This seems like it ought to be the most elementary task possible in a mesh modeler: Select a vertex on a mesh. Select another vertex on the mesh. Connect the two vertices with an edge. Nothing I try works. In keeping with the tradition and spirit of Daz3D's approach to documentation, the documentation for hexagon is either completely wrong or wrongly incomplete.
For example, the hexagon manual says, "
I am about crazy with frustration trying to learn how to use this program. And yes, I am R-ing The F M (which is, AFAICT 10 years out of date.) And I am searching the web with google. And I am searching the DAZ forums and reading the many pages it spews that have absolutely nothing to do with hexagon or the problem I am trying to solve. Would someone who knows how to do this please tell me?
Thank you.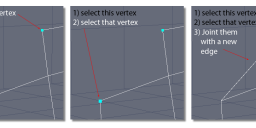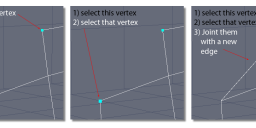 Post edited by lamoid_5f20d3e469 on