Knittingmommy's Laboratory

Knittingmommy
Posts: 8,110
Okay. So, I've held off starting my thread for a long time. For those who don't know me, I love experimenting. I love DAZ, but I will never be a great artist. I do, however, love the process. Unfortunately, I have a lot of experiments that I'm not comfortable putting up in my gallery as I do have some rather interesting flops. I love taking a product I've gotten and putting it through its paces. I love the process of making things work the way I want and not necessarily in the way they were intended. I just put one such image up in my gallery and it really shouldn't be there as it isn't my best work nor does it show off the great work of the PA who created it. Since I would still like to have the image around, but don't want to keep it in my gallery, I'm starting my own thread. Anyone entering this thread should be warned, you won't always appreciate what I do with a product, but it might make you think. This thread is in no way intended to always show off a product in its best light so don't make any buying decisions based on my flops. I apologize to any and all PAs in advance for anything I may do to your product.
So, I'm starting with the image I want to get out of my gallery. I've recently been playing with MortemVetus products that I had purchased over at RDNA (link is to their DAZ storefront) before the merger. They have all managed to make it into my Product Library and into DIM. Now, I have nothing against M4 characters. I managed to get M4 quite cheap when I first started out and there are a lot of quality characters for M4. However, I do love all of the toys that I have to go with my Genesis 2 figures. I have muscles, veins, shaping, and conversions. Tons of things I don't have for M4. So, I had to try out converting Daemones (one of my favorite MortemVetus characters) to G2M. The conversion did not go without problems. I, however, think I've gotten most of the issues solved. The main problem I had to deal with is that the skin didn't exactly work straight onto G2M. I had to load it onto M4 and save it as a .duf materials preset so it could be loaded onto G2M. If anyone knows of another way to do this, please tell me. The original skin is in a poser format and I couldn't get it to load directly onto G2M.
Second issue is that I loaded the expression INJ in with the other morphs while doing the conversion with the GenX Converter by Dimension3D. There was a major squinting problem that isn't in the M4 version of Daemones. I have since redone the conversion without the expression INJ and it looks much better. I'll be doing a render with the new version soon. Overall, I like how Daemones looks on G2M. One just has to be careful of those eyes and any facial expression you add to him. I'll have to do some more experiments with him, as I think, if the eyes can be deselected and the squint put in manually on G2M, the figure will work much better. But, it wasn't a bad first try.
So, first image is a side by side comparison of the two figures. G2M is on the left and M4 is on the right. G2M looks slightly slimmer to me, but overall very close.
Second image is the one I put in my gallery and wanted to remove. I put a different skin on the G2M Daemones figure when I was having issues getting the original skin to work. The skin is one of my favorites, Jepe's Madoc with Iray presets. Unfortunately, he definitely has an unintended sleepy eyed look that gets worse when you dial in any kind of expression. He is a little too pretty in this image and looks much younger. I absolutely love the original skin that comes with Daemones so will have to do more tweaking to get it looking great in Iray.
edited to add links and vendor information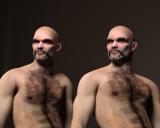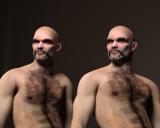 DaemonesG2M-MadocSkin.jpg
Post edited by Knittingmommy on