I have lost the ability to browse to file locations
fred mertz
Posts: 25
I use Daz Studio 3 and Daz Studio 4 on a PC with Windows 7 and 8 gigs of ram. Suddenly, both of my systems have lost the ability to Browse to File Location, a choice on the context menu in both programs when you right click on the icon of a piece of content.
I get the "DAZ STUDIO APPLICATION HAS STOPPED WORKING" and the file instantly crashes.
Here is the end of the log entry for every session:
Total class factories: 713
WARNING: 3DConnexion Plug-in Error: Could not create Device, CoCreateInstance failed
3D mouse support library could not be loaded.
Creating interface
Successfully created OpenGL viewport for view1.
Successfully created OpenGL viewport for view2.
Successfully created OpenGL viewport for view3.
Successfully created OpenGL viewport for view4.
Executing startup script...
+++++++++++++++ DAZ Studio 3.1.2.32 starting +++++++++++++++++
DAZ Studio Raw Version: 50397728
Qt Version: 4.5.2
Running on Windows Unknown, Build 7601, Service Pack 1
Total Physical Memory: 7666 Mb (8039231488)
Available Physical Memory: 4862 Mb (5099028480)
Total Virtual Memory: 8388607 Mb (8796092891136)
Available Virtual Memory: 8388446 Mb (8795923701760)
Current Memory Usage: 36%
Thu Aug 9 12:56:25 2012
Temp folder: C:/Users/Chris/AppData/Roaming/DAZ 3D/Studio3/temp
Total temp disk size: 1413489 Mb, Available: 766041 Mb
This just started happening. I would appreciate any suggestions.
I store content in the standard Studio 3/content and studio/my library locations for the two programs.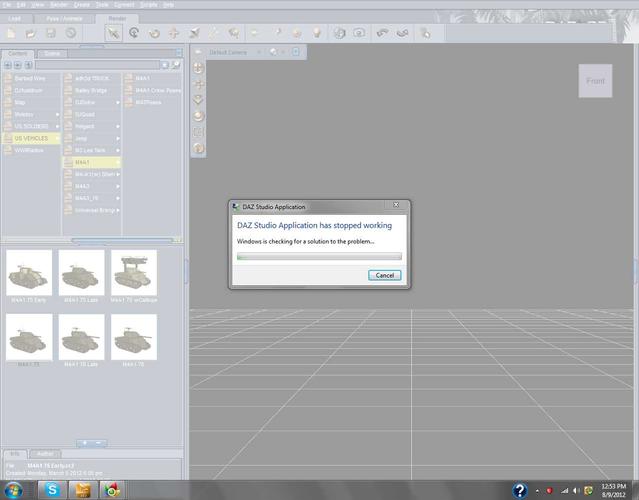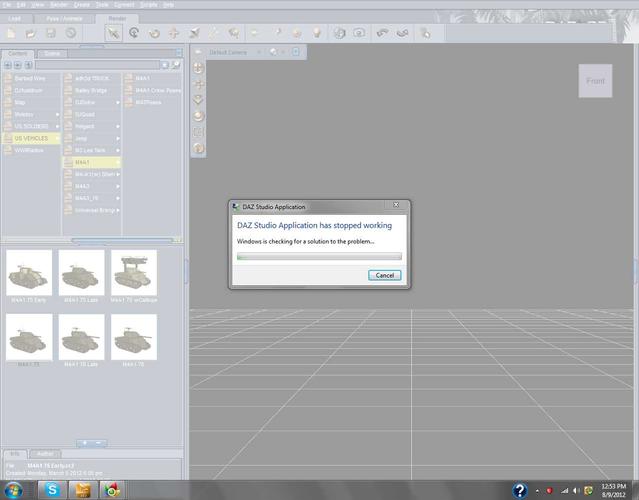 Post edited by fred mertz on