DAZ Studio Installation Guide Mac

DAZ_bfurner
Posts: 62
DAZ Studio 4 Installation Guide

Contents:
1. Determining if your computer is 32 or 64 bit
2. Installing DAZ Studio 4
a. License Keys
b. OS 10.8 Security Settings
c. Content Management Service

Determining if your Mac is compatible for 32 or 64 bit

In order to install DAZ Studio 4, you have to determine which installation file to run. Follow these instructions to determine which file your Mac hardware and OS will be compatible with:

1. Select About This Mac from the Apple icon.
2. Select the More Info... button
3. Select System Report
4. Open the Hardware heading
5. Locate the Processor Name
6. Compare your Processor Name to the specifications below to determine 32 or 64 bit compatibility
7. Run the appropriate installation file to begin installing DAZ Studio 4.

Installing and Running DAZ Studio 4

License Keys

Upon running DAZ Studio 4 for the first time, it will prompt you to enter a license key. You may run DAZ Studio 4 without a license key as a demo edition. However this will limit some of the functions and features that the full program will offer.
You may access a DAZ Studio 4 Pro Edition license key free of charge fro a limited time through the online DAZ 3D Store (follow the hyperlink above). After completing the check-out of the DAZ Studio Pro product from the store, access the license key from the My Account page under the My Serial Number menu option.

Copy and paste the License Key into DAZ Studio 4.
Mac OS 10.8 (Mountain Lion) Security Setting

Mac OS 10.8 (Mountain Lion) default security settings prevent unidentified developed applications to be installed on the Mac OS 10.8.

If you do not adjust this default setting in your Security Settings, you will get a warning window when launching the DAZ Studio 4 installation file.

In order to install DAZ Studio 4, you will have to adjust the default security setting.
1. Open System Preferences
2. Select Security & Privacy
3. Under Allow applications downloaded from:, select the Anywhere option

* After installing DAZ Studio 4 you may return the security setting to it's default.

Content Management Service

If you choose the Custom installation option, the install wizard will prompt you to also install the Content Management Service. This program provides many features and functions that make DAZ Studio 4 easier to interact and render with different content packages (plugins, skins, clothing conforming, etc.). If you did not choose the Custom option, then this program is automatically included.

The Content Management Service is not required to run DAZ Studio 4. However it is highly recommended if you wish to enjoy the full complement of features and conveniences offered by DAZ Studio 4.


The following pictures added may be out of order, but they can be helpful in the process. Sorry if they are not appearing in the right order, it is a problem with images in the forums right now.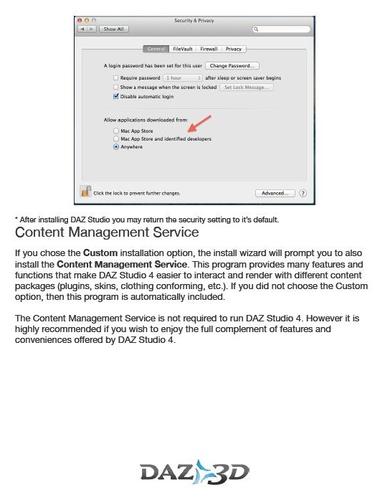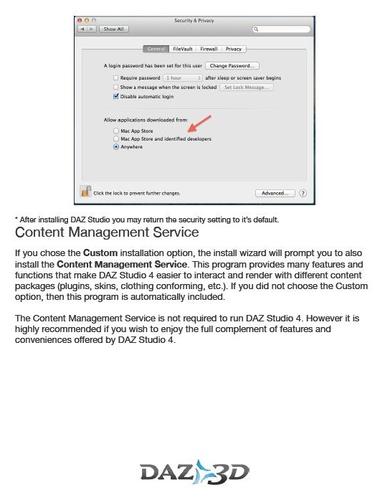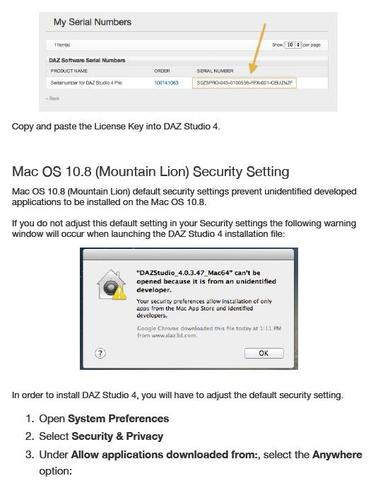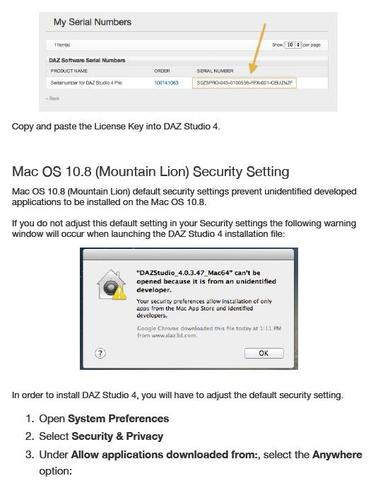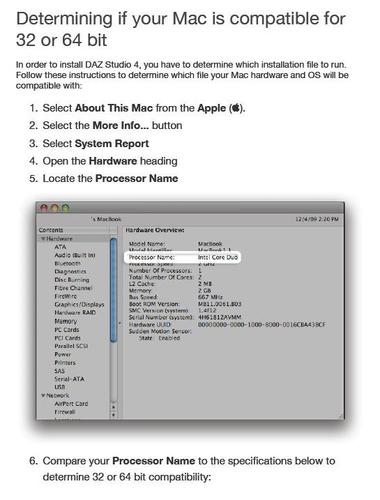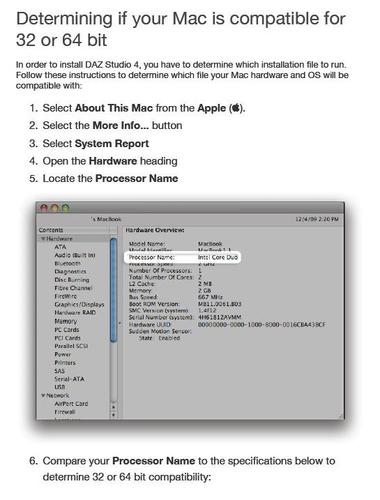 Post edited by DAZ_bfurner on