Q: How to Fit in Place.

Blackbirdx61
Posts: 293
Is there a way to fit a clothing item without it moving. I have been trying to adapt a G3F item to a G1F Charactor. As there is nothing like it in the G1 or V4 Library.
I have turned the object to a prop, Adjusted the Mesh so it fits perfectly. Transfered the G1 Rigging to the adjusted Object. Which follows the movements pefectly,
but the movements have to be done seperately as it is parented not fitted. I have followed this video on how to fit almost any clothing item in Daz with mixed results
https://  www.youtube.com/watch?v=Ugdhxgo_wGU&t=363s
But whenever I try to "Fit" the resulting item, the Pelvis shifts to about a +18Bend. And now the Genesis Figure, not the BodyStocking Distorts massively when moved.
Is there someway to Fit in place and Object the same way we can Parent one in place? If not there should be. BB.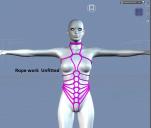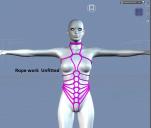 Post edited by Blackbirdx61 on