Jagged edges in IRAY renders (DS 4.15)

denisnormandin
Posts: 154
I have seen proposed solutions for this in the forum, but they were for previous versions of Daz Studio... and they don't work.
I have made many good renders with Iray so far and I had never encountered this problem before.
In the attached image you can see obvious jagged edges on rounded objects but not on the rest of the scene.
The outline of the four closest balls are not round as they should, and more obviously in the gradient shades of the yellow ball and cue ball.
Also on the left arm's sleeve.
But I noticed afterwards that it is not only in the Iray render, even in the viewport, with Filament displayed, the problem is visible (though less obviously).
Is there some tweeking I can do to resolve this problem?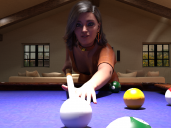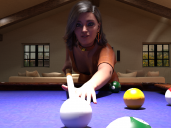 Post edited by denisnormandin on