hear ye hear ye HD morphs for diffeo
Padone
Posts: 1,754
This is exciting news thanks to an amazing addon by Xin that works together with diffeo.
With diffeo we already can import the HD shape, it is converted to multires so to get HD quality together with animation speed. What we can't do, or couldn't, was to import HD morphs, because the blender multires doesn't support HD shapekeys, that is, we can only morph the base resolution mesh.
Now Xin provides an addon to convert HD morphs to vector maps, normal maps, or true HD morphs. This is a work in progress so you can help testing and/or providing your suggestions for things to be improved. We do not want to miss suggestions from the talended daz artist out here.
https://bitbucket.org/Diffeomorphic/import_daz/issues/357/it-is-possible-to-read-dhdm-files-directly
Vector maps are good to be used with multires to get real displacement, so details will bump out of the mesh, and it is good for animation because it's fast. But it only works in cycles because eevee doesn't support true diplacement.
Normal maps are good for eevee, the HD morph will not have true displacement, but the result is good enough for HD expressions and skin details. Of course this is also so good for animation and you get the amazing speed of eevee as an added bonus.
True HD gets the true HD geometry the same as daz, it is also what the daz bridge does. It is not good for animation because it is so heavy, the same as daz. But it gets the maximum quality and can be good to render still pictures and comics.
Below a little example it's G8F with the Angry HD expression in eevee, with normal maps.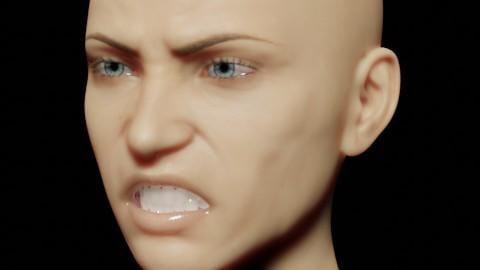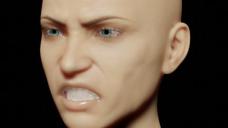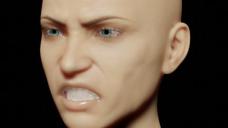 Post edited by Padone on