How to create object in Blender 2.9, then import and rig in DS?
Inkubo
Posts: 700
I have created and rigged many things in the past, but I'm doing it for the first time with Blender 2.9x, and clearly something has changed or I've forgotten something vital.
I have a dresser with three drawers that I want to rig so the drawers can open. Each part of the model has a vertex group--they are named Dresser, Top_Drawer, Middle_Drawer, and Bottom_Drawer. Each parts's geometry has been assigned to the appropriate vertex group, because in the past vertex groups were what DS treated as bones that could be parented for rigging in the Figure Setup tab.
But now I export, and the obj file contains the dresser as expected, and I can apply surfaces to it and render it an whatnot, but when I load it into the Figure Setup tab, the vertex groups don't appear as bones. There's only one group called "(null)" and no way to rig the model.
I have attached screenshots showing my Blender export and DS import options, since that's the most likely place for me to have made a mistake.
Can anyone help me figure out what step I missed or what I'm doing wrong?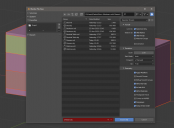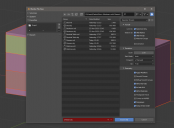 Rigging - Blender Export Options.png


Rigging - DS Import Options.png