CC#54 WiPs ~ What is it that you truly desire? after party Chit Chat

Stezza
Posts: 5,954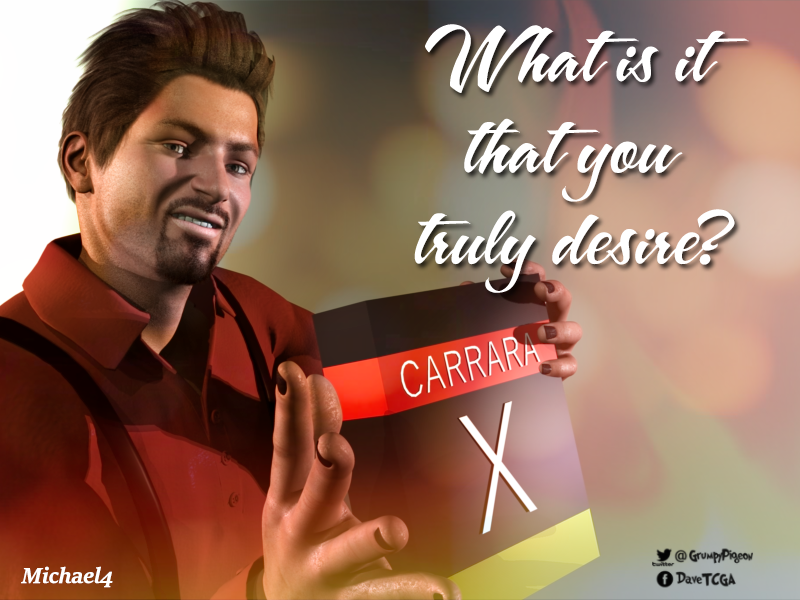 Carrara Challenge #54 or CC#54
What is it that you truly desire?
well, besides Carrara 10
this theme is open to your interpretation of desire as long as it falls within DAZ3D ToS
Rules:
You must use Carrara ( any version ) ~ it is a Carrara Challenge
You can use plug-ins that are/were programmed for use in Carrara.
Postwork is allowed after showing the original in WiP
Need help in interpretations?
https://en.wikipedia.org/wiki/Desire
WiPs ~ you need to show your Work in Progress screen shots so we all can learn stuff about Carrara.
Thankyou to our generous sponsor DAZ3D for offering the following awards to the winners:
Best Artist Participation: $50 towards DAZ 3D owned item(s)
1st Place: $50.00 towards DAZ3D owned item(s)
2nd Place: $50.00 towards DAZ3D owned item(s)
3rd Place: $45.00 Towards DAZ3D owned item(s)
(Can only Win Once)
DATES to Remember-
WIP Thread Opens: NOW!
Entry Thread Opens: Thursday, 1st October 2020
Entry Thread Closes/Voting Begins: Sometime on Thursday, 15th October 2020
Voting Ends: Sometime on Sunday 25th October 2020
of course with me being the Supweme Wacky Weader everything could change ~ it is 2020 after all!
Post edited by Stezza on