Pax's Pretty Boys Thread

Pax Asteriae
Posts: 198
I have this really, really bad habit of buying stuff and not using it. I'm a ridiculous hoarder. My Scenery runtime scares me every time I open it. Uhh... so I figured I'd start a thread and actually try to work through some stuff, with the help of a couple of my aforementioned pretty boys. Who, to be honest, are the reason I keep buying stuff: "this'd look good on ..." or "this makes me think of a scene with ... so I might as well."
So! This is Alex and Milos, freshly transposed from Gen1 to Gen8 through blood, sweat and so much bad language you would not believe.
Alex, on the left, is a government agent with the somewhat unusual talent of being able to walk through walls. (But it's not a good idea because one day it might kill him.) He's been raised from childhood to do what he does. Well, once he survived all the testing and experiments. Milos, on the right, is a dark elf with a bit of a dodgy past, who ended up crossing paths with Alex when Milos's landlord (and mentor, or so Milos thought) was preparing to offload him into the underground government testing scheme because his somewhat overreactive behaviour was becoming a liability. He was taken in, briefly terrified by Alex, experimented on and now his fingers turn into polymetal claws. It turned out this was less of an impediment than he'd expected and now he works with Alex.
This didn't go down so well with Alex to start with, but a few bickering months later and through a slightly blackmail-y series of events involving too much alcohol (Alex) and a desperate wish to just be left alone (Milos), they ended up as a couple. Several years later, and they actually even like each other.
They've had a lot of adventures over the years -- I've written a disturbing about of words about them and am currently avoiding writing more -- so I should have plenty of stuff to think about!
Like the time they both ran away and hid from the government in Scotland for a while... but Alex wouldn't let Milos's training go by the wayside, even if it attracts an audience that spends a lot of time wincing. (Milos's co-ordination is still not that great, it drives his instructor nuts.)
I love these guys, you can kinda tell...
As I'm also having trouble writing right now, I'm also writing wildly self-indulgent stuff about this guy, Vaana. He's a merian from a different story universe, this section of which mostly turned up in my head after I put Fi's texture on a G8M character and grew from there. I don't seem to have many decent (or at least shareable) pictures of him (he spends a lot of time naked, apparently) so it's just a headshot for now.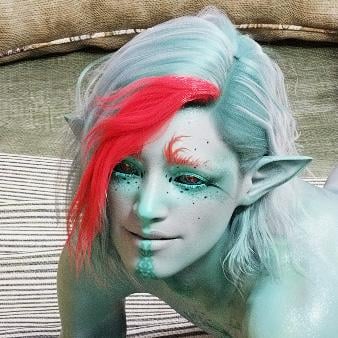 Since 3D is both the ultimate inspiration for my stories and the ultimate procrastination tool, this should be... interesting. :D


Post edited by Pax Asteriae on