Diomede asks for Hexagon help - usually about the interface or a specific tool

Diomede
Posts: 14,142
Greetings
I'm trying to model more stuff in Hexagon. Will be having questions when I encounter obstacles. I have some experience modeling in Carrara. Usually similiar modeling programs, but sometimes a tool name will be confusing, or the interface will do something unexpected, or I can't find how to do something, I will use this thread to ask questions, and I hope you don't mind helping me out.
First question
Topic - Selections not identfied on interface
What view settings should I use to edit a mesh sent to Hexagon through the Daz Studio-Hexagon bridge if the selected polygons are not being highlighted?
In the pic below, I selected two polygons on the lower row of the top, hit loop to select the entire row, and then used shift-plus to grow the selection upwards. At no point have I been able to see my selected polygons change to a different color than the base mesh. I know I have selected the polygons because of the manipulator tool's movement, and because I can delete or alter the polygons. I'm assuming that I must be in the wrong view settings that run along te bottom of the interface, but experimentation has not been successful in identifying the view settings that would allow me to see the selected polygons.
The shirt mesh is an obj that was imported to Daz Studio then sent to Hexagon through th Studio-Hexagon bridge.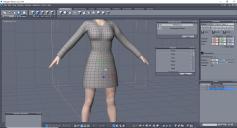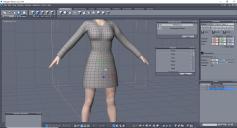 ee01 cant see which polygons are selected.JPG
Post edited by Diomede on