Vertices Ghost Lines

handyman4545
Posts: 381
Frustrating...
Now I have a new issue.
The most frustrating aspect about these issues is that there is no way to research them for correction other than to post them here.
The suport lit is a major disapointment and tech support is woefully slow (days) in responding even in the auto message mode and then slow (more days) to actually give back a response and most of the time they want a friggin video. Really?
Anyway...
Somehow I have apparently adjusted something that has set the screen as shown.
All the verticies are "soft linked" so that any change to them is reflected globally.
I have spent 20 minutes exploring the commands and pushing buttons fruitlessly.
I want the corners of the poly to be chamfered at 0.5 and the corners of the pass through at 0.075
Having set up the verticies for the pass through and "bridged the opening, I chamfered the opening to 0.075
Upon completion of this step, the screen changes and all the verticy lines now apear in ghost white (as opposed to previously black) and all the points appear.
Now, selecting the new corner verticy, "Chamfer" and 0.5 and every chamfer previously established changes to the new size even though no other verticy was selected.
In addition, the ghost lines do not follow the actual item.
I'm trying to draw in the top panel shown below and the selection is a right angel product despite the chamfered edges.
I'm at a complete stand still at this time till I figure this stupid problem out.
What did I do and how do I retun to normal?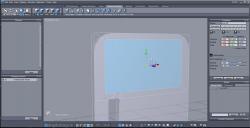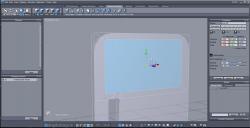 Post edited by handyman4545 on