Bryce can't handle this town scene and crashes :( [ADD new buildings]

launok
Posts: 743
I am quite disappointed but there is nothing that I can do working on this scene of a town.
I have used LAA but it does not help in this event.
Although the objects I am using from Sketchup Warehouse are quite low detailed it seems the textures play a big role in crashing or let Bryce run out of memory! The attached scene I can't complete due to this. The moment I am trying to add another building or object it run out of memory. I have only the few buildings in foreground and an incomplete town!
I was thinking of another solution to add some simple buildings in the far background and render that. Then on another scene delete the first buildings and add more buildings a bit closer and render that. Then afterwards, in Photoshop, doing some cutting copy and paste the second set onto the 1st render and repeating this procedure to complete it piece by piece. Such a schlep way I think it will be! I can't think of another way to complete the town. I have done something similar on a render some time back which actually worked but the scene was not so complex as a whole town scene.
Or are there more ways to do so?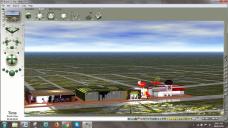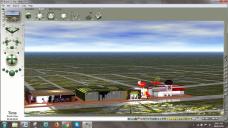 Post edited by launok on