Feet HD Detail (Or Lack Thereof)

Necriseye
Posts: 44
So I should probably make this clear before I procede. This post is indeed a product suggestion, but if you don't like a good debate I humbly ask you leave this post now for your own convenience. I would also like to point out that as a Daz3D customer for many years I do truly appreciate the content this community dishes out on the daily. I'm also not directing this post at the base model creator, it's a base model for a reason so artists like myself can actually customize these kinds of things. Now that being said... I'll get straight to the point...

The feet are TERRIBLE
No matter how you look at it, The models sculpted for Daz3d have always had atrocious foot sculpts. Victoria 4 was probably the closest to being "descent" due to a higher poly count, but even then the posing options were so limited as well as lack of hd capabilities that it still remains in the mundane spectrum. To be more specific in case people want to debate this topic, (Which I hope they do) I'm referring mainly to the soles and shape of the feet not only on the females but the males as well. Now in case you all haven't been paying attention to the foot sculpts in the last few generations, let me give you a comparison (a friendly reminder if you will)



The problem becomes more apparent as the generation goes up. Genesis 3 and 8 suffer with what I like to call the "Shrek Foot Syndrome"
If you're having trouble seeing the issues I'm referring to, here's an even more obvious screen with me pointing out the obvious.




It doesn't stop there, the foot morphs and poses are horrible. There is absolutely no webbing to the feet when toes stretch, and no hd morphs at all for sole wrinkles. There is such a high demand for these features I'm just left wondering what in the hell the devs are thinking. I found at least 16 forum posts on feet detail alone... though hands, collar bone, elbows and knees, and even ears are also neglected. I've tried to do sole wrinkles in the past with displacement, it wasn't a disaster but I wasn't satisfied either...


The detail actually turned out way better than I had hoped but there's a catch to using displacement and normals. First off you pretty much can't animate with them. And second, the stronger you make the effect, the more artifacts and noise comes into the overall effect. In short making a full "foot scrunch" pose just wasn't going to happen with displacement alone.

I've used all sorts of products for daz that enhance the foot a little, stuff like ideal foot shapes back on Victoria 4 was pretty nice, as well as beauty hands and feet for genesis 3 female, but none of them actually accomplish making the foot look really good. There is also not a single foot wrinkle morph, I can't believe someone hasn't just threw one out by now...
So there's my product suggestion, HD foot and hand morphs and poses would sell like hotcakes, and are very much needed on this program even after all these years. It would actually make animating the foot more possible as well as enjoyable. I'm sure there are a lot of other users on here who would agree with me on this subject.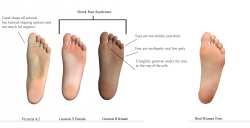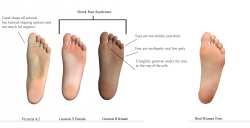 FootproblemAddressing.png
Post edited by Necriseye on