The Line Up - The Ideal Suspects - Now Commercial

V3Digitimes
Posts: 2,322
EDIT on the 23rd of September :
I'm very happy to inform you that the line up is now released.
You can find it here :
http://www.daz3d.com/the-line-up
Please feel free to use this thread for any feedback or questions concerning this product.
Full Product Readme available here : http://docs.daz3d.com/doku.php/public/read_me/index/17044/start

Initial post :
Hello everybody,
while developing my "Briefing Room" (see also : http://www.daz3d.com/forums/discussion/23060/), I needed to create an "under arrest" image. And this gave me this idea of a police line up / police portrait environment (prop).
I always felt like finding my ideal suspect...
For now I have created :
- The line up + lights + cameras + 5 poses for M5 and 5 for M4.
The line up can morph more or less large. The line up pattern is for standard height characters, but I included the material for tall characters (until 7'6'').
The main idea of the prop is really to make line ups scenes, but since I told to myself that people would be annoyed if there was nothing around it, in order to allow wider angles cameras I also decided to add :
- A line-up surrounding room for wider angles shots,
And since I also told to myselt that people may also want to include the cop and witness side, I decided to add :
- An Observer room (to place the observers who have the recognise who was in the gang) with a "two way mirror" (you have to change the material depending if you are on the suspect side or the observer side),
And since these rooms had doors that could opened, but there was nothing on the other side, I decided to add :
- A very simple hall for renders "through the doors" or renders when suspect enter into the room.
For these last elements, I'm finishing the light/materials/cameras for Poser versions right now, before creating the same for DAZ studio.
So before going further with this line-up and the room, I come here to have your feedback and ideas of : "what would really be cool to add in this line up room". I already had good ideas coming from this forum, and it is time for me to come for a "fishing expedition".
Here my first two line ups.
The ones with M5 "Antic" characters is a Luxrender Render, the one with M4 Fantasy characters is a poser Render.
M4FantaysSuspectPoserRender.jpg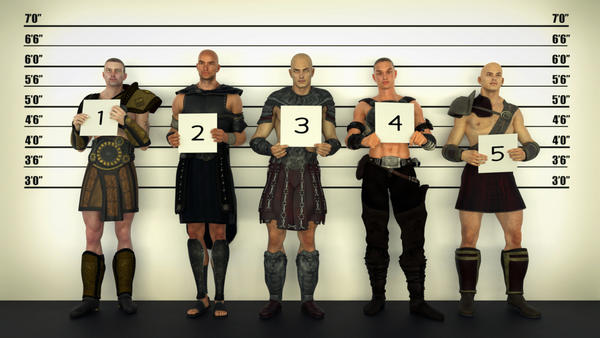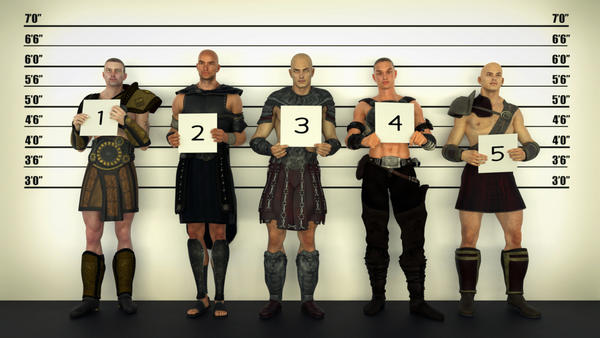 Post edited by V3Digitimes on