Bee's Breakroom - Comics, WIPs and other Ruminations

BeeMKay
Posts: 6,384
Hi!
I finally bit the bullet and started an art thread of my own. (yay!) In here, I hope to show some WIP, and the occasional page of the webcomics I'm working on.
I do understand that I'm still very much a beginner when it comes to 3D rendering, and a complete novice when it comes to comics (at least the creation part)
Any type of feedback is highly appreciated and welcome. And yes, that also means "your art sucks", but in that case, please let me know what exactly is suck-some, so I can improve. And no, "everything" does not count as a valid answer.
I'd like to start out with two recent pages from my comics, "Demon Division" and "The 4th Wall".
"Demon Division" and it's prequel "Demon Division: Dwellers" have been projects for over a decade now. However, the comic thing is a new developement - so far, both stories just existed in shape of a novel (Dwellers) and a concept (Division) my co-author and I were working on.
I always wanted to draw comics, but my artwork with pen and paper is pretty abysmal. A couple of years ago, I stumbled across DAZ Studio, and was hooked. After frying my laptop, I spent some savings to buy myself a proper rendering PC (and a new laptop). I began to think - hey, that could be a way to get a glimpse at your dream - make something visual out of the stories. You know, the next best thing to an actual TV series with real actors and stuff...
Hey, don't laugh, a girl has to have dreams!
Then came along Iray, and some webinars over at Digital Arts, and I finally got over my fears, and posted the cover art for Dwellers. Which, if I may say so, turned out pretty good (at least, for my level of expertise and skill with the programs involved). Fast forward a couple of pages, and Dwellers (which had started out in the present day Division part of the story) got its own comic. because the initial concept didn't work out. Fast forward again, and it turns out that two comics are a bit too much to handle, and Dwellers will go on a temporary hiatus once the current scene has completed.
Then, you might ask, if two comics is too much, why did you start another one?
Simple. First of all, the 4th Wall is a Behind the Scenes. It will be a lot of screenshots, with single figure renders of characters from the comic plus my author-avatar narrating the bit. It also doesn't have a schedule, updating irregularly. I hope that the readers will enjoy it as much as I do creating it, and ask the questions they want to know. If anything, it is something I can point people to when they ask me about "How's this and that done", with visuals rather than dry words.
Talking about words, I've babbled enough, so I'll share the two pages now. Like I said, feedback is welcome. The current workflow is DAZ Studio 4.8/4.10 BETA (for renders), Comic Clip Studio Paint Ex 1.7.2 (composition and lettering), Photoshop (QS and resizing).
EDIT: I mistakenly wrote Comic Studio, but I am using Clip Studio Paint Ex, formerly Manga Studio 5 Ex. The stuff is on sale regularly (Right now, at $69), and worth the investment, i.e. if you are also doing drawings.
Demon Division -- Page 18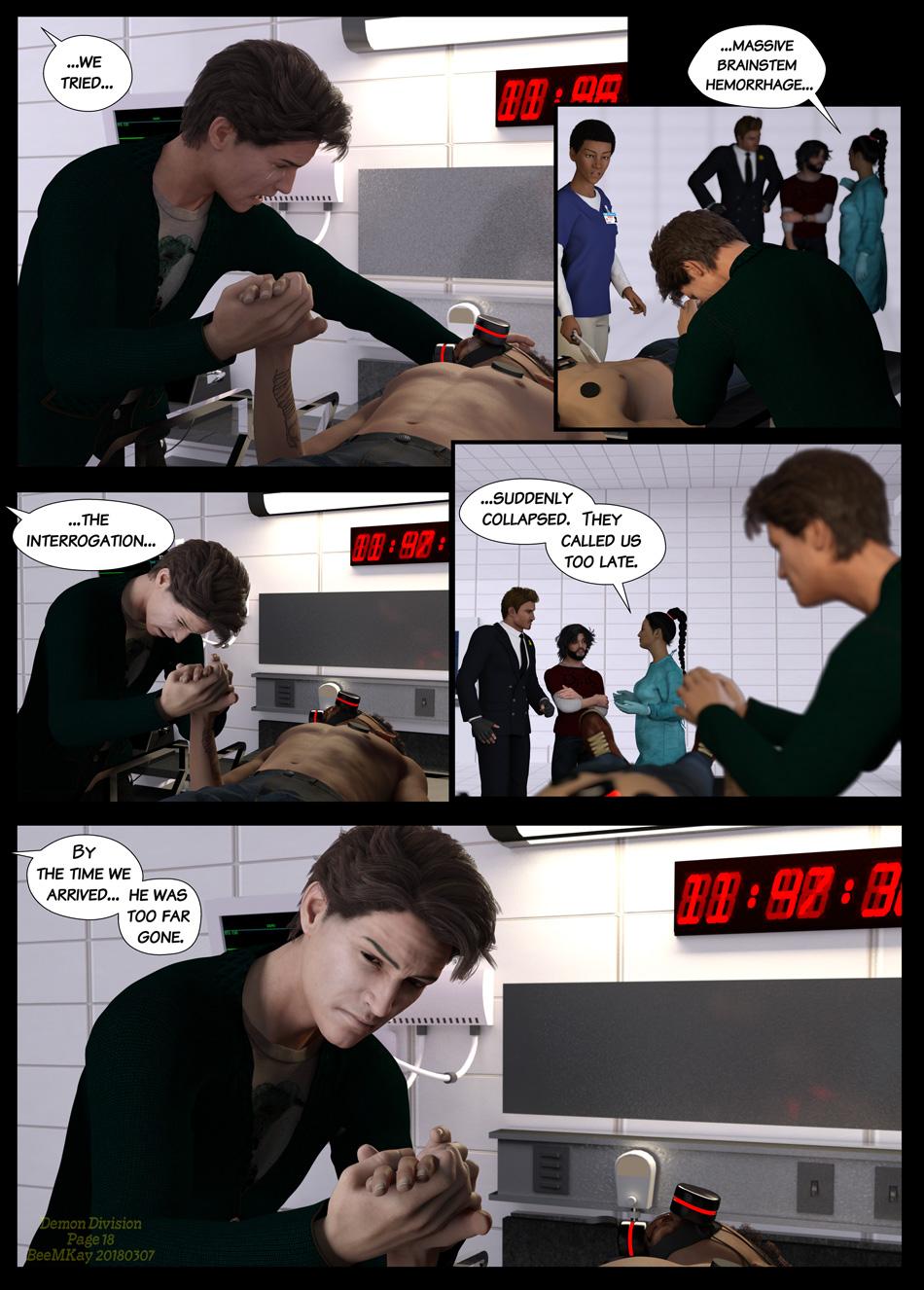 The 4th Wall -- Page 3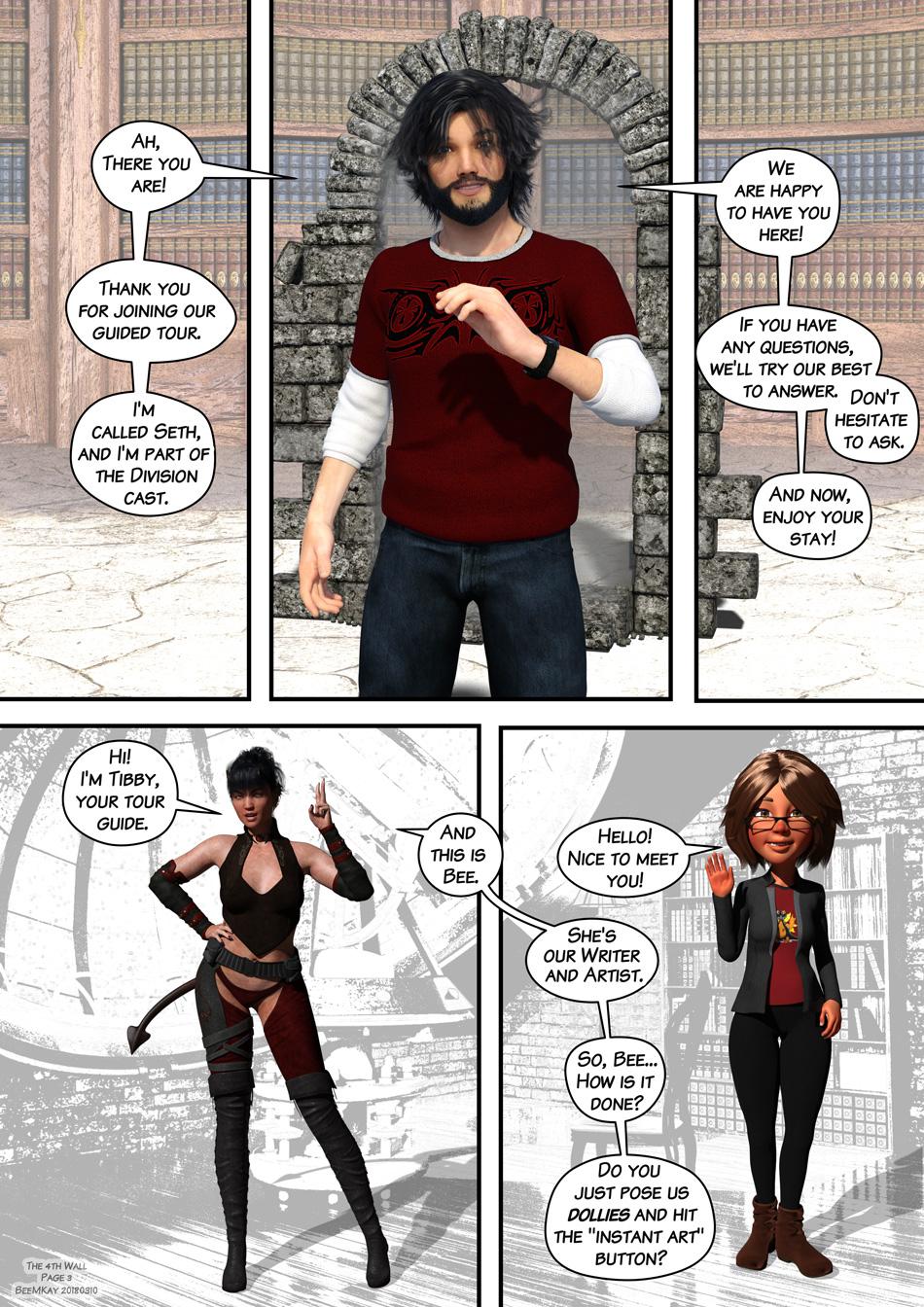 Demon-Division_018_English.jpg
Post edited by BeeMKay on