What I lack in everything, I make up for with enthusiasm :)

mori_mann
Posts: 1,030
Alright, I've been playing around with DAZ for a few months now and I'm enjoying it entirely too much. I'm still in the stages of testing and playing around, discovering something new every time. (Not to mention reading lots and lots!!) I'm getting very useful feedback from friends, some of them artsy-types themselves, but I think I'm ready to throw myself before the proverbial wolves. Wolves are nice an fluffy, aren't they? ;)
I'm happily polluting my dA page with borderline idiotic pics of what I call my Test Subjects, but I suppose I might as well try to let some practised eyes look at my more.. serious.. attempts. The ones that include actual characters that mean something to a weird mind like my own :) (Don't worry, once I'm done making myself look liek an idiot and everyone looks the other way, I'll be ready to post actual stuff I put effort in on there, too)
Disclaimer: I have no shred of talent and am severely lacking in the skill department, but that never stopped me. It won't now. I'd love some constructive criticisms, tips and general pointers. I can be very stubborn and explain way too much, but looking back, even I can see tons of stuff wrong with every single image I did so far, so, yeah. Here goes nothing. Be gentle, I bruise easily.
One of the first full images including a background that I did. It doesn't have a title.
Meet Liondre, a half-elven druid, finding something very glowy and about to scoop (some of) it up with her cup.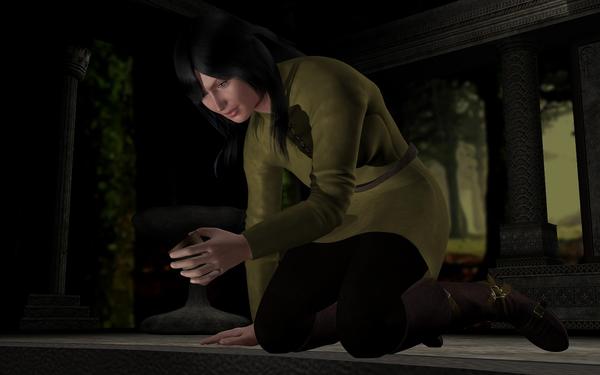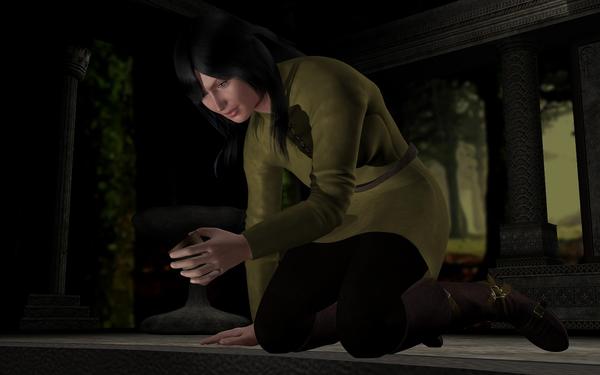 Post edited by mori_mann on