Metadata tutorial - Adding new items to your smart content

Herald of Fire
Posts: 3,504
I originally posted this in the new user forum, but I decided to tidy it up a little and give it its own thread. Here I'll run through an example where I took 3D Universes' Toon Boy Sam and added metadata so that both he and his wardrobe appear in the smart content tab similar to most newer items for Genesis and beyond.
What is Metadata?
Simply put, metadata is information which Daz loads from its database telling it where to find items and what those items are compatible with. Click on Genesis, for example, and the Smart Content pane will change to list the items compatible with it. This can be anything from skins to clothes, hair and accessories. Hairstyles might have different materials to choose from, all of which can be displayed in the Smart Content pane when you select the item you want.
Metadata allows us to control what is listed, where it is listed and what items it's compatible with.
What items can use Metadata?
Anything that Daz can load can have associated metadata. It doesn't matter if it's a paid legacy item or a freebie downloaded from ShareCG. As long as the item can be found in your content library, you can add metadata to it so that Daz can find it and add it to the Smart Content pane.
User made morphs designed for Genesis can be added too, but bear in mind that Genesis will already have a compatibility base set for it, so be sure not to make alterations to the Genesis metadata or other content may not function properly.
Getting Started
As stated earlier, I'll be going step by step to taking Sam and adding metadata for both the character, his wardrobe and hair. To illustrate the workflow I like to use, we'll start at the upper level, which in most cases is the figure itself, and work down through the hierarchy.
1) First, browse to the content library and find the character you want to add metadata for.
2) Right-Click the tab where it says "Content Library" and choose "Content DB Editor"
3) In the window that appears click on your character in the top section and in the 'Type' drop down, choose 'Actor'
4) In the bottom section, click on 'Categories' and then right-click !Sam and then go to "Add Root Categories to Selected Files"
5) Look in the list which follows for the category which most suits your character. In the case of Sam I chose Default/Figures/People/Male/Stylized.
Your character is now available to find in the Smart Content pane, but won't have any compatibilities set yet.
Setting up character compatibility
1) Assuming you still have the Content DB Editor up, look in the bottom pane for "Compatibility" and click on it.
2) Select your character from the list and then click on the dropdown box where it says "Not declared". Change it to "Declared As"
3) Your figure needs an identifier. There are two ways to do this. You can either manually type in an identifier in the box supplied, or you add it by clicking on the Database button to the right. The latter brings up a window where you can click the icon in the top-right to add a new compatibility base. In my case, Sam was added to "3D Universe/Toon Boy Sam".
4) Click Accept and close the Content DB Editor and then load your figure into the scene. Click on your figure in the Scene tab.
5) Guide your mouse cursor to the options icon near the edge of the pane. Click on it and go to Edit ->Scene Identification.
6) In the box which follows you can now tell Daz to set his compatibility base to the identifier you set earlier. In my case, again, it's "3D Universe/Toon Boy Sam"
You're now prepared to add in items for his wardrobe.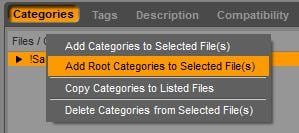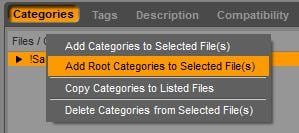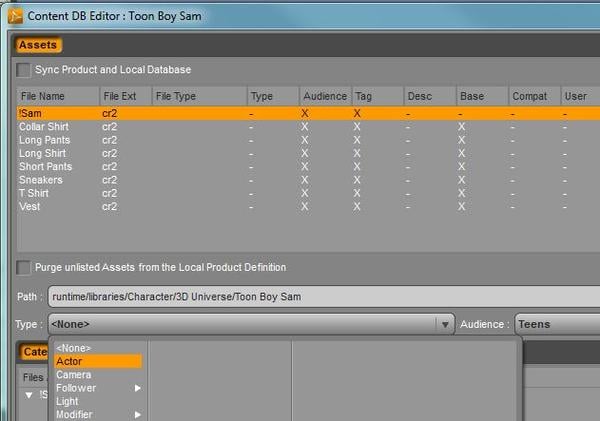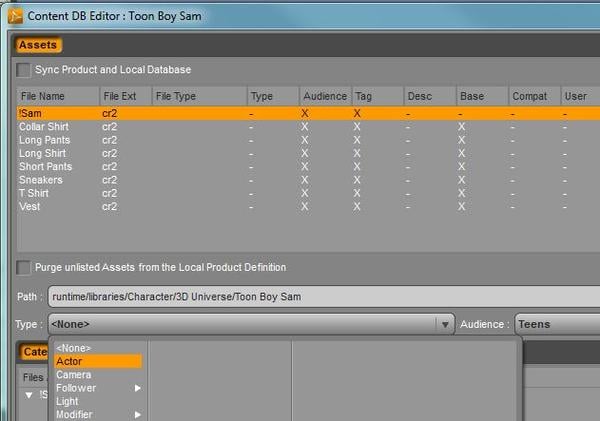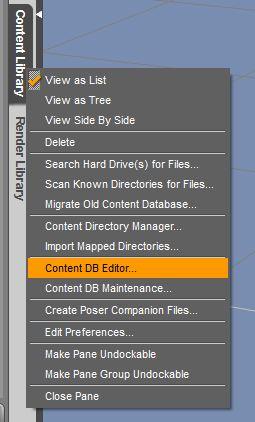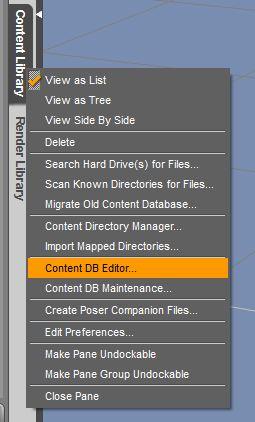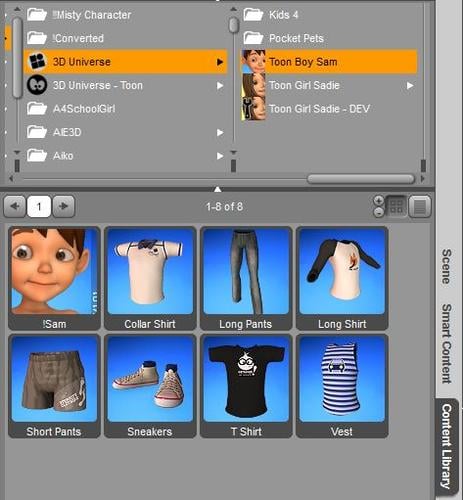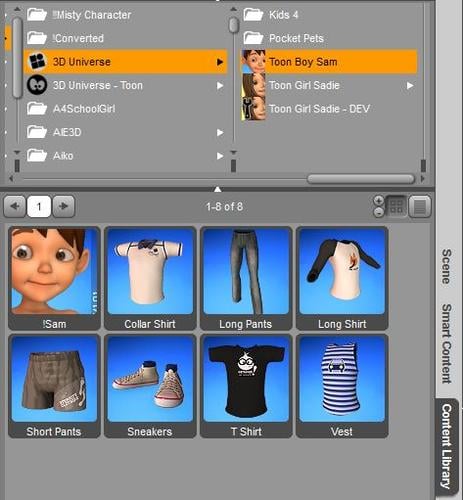 Post edited by Herald of Fire on