Released : Face To Face And Virtual Origins (Commercial)

V3Digitimes
Posts: 2,724
https://www.daz3d.com/face-to-face-and-virtual-origins
PLEASE INSTALL WITH DIM! I submitted a ticket so that Daz fixes their Daz Connect installer issue, but in the meantime, DIM install or manual install is super highly recommended.
Sometimes, well, pretty often for me, it can be fastidious to move specific objects or figures to be in contact with other specific objects or figures in Daz Studio, more precisely to place a given face(s) of an object in contact with other face(s) of another object (object or figure, this is the same here), and once done, even small rotations adjustments automatically make you lose this contact, and you have to do it all over again. The goal of face to face is to drastically increase the gain of time and of comfort when you place figures or objects relatively to one another. Face to Face and Virtual Origins is here to make the "contact" process extremely easy and instantaneous, with additional tools to maintain this contact even when you adjust rotations. This set of tools allows you to :
Automatically translate an object/figure so that the face(s) you want are automatically placed on the faces you want of another object, or on given coordinates of the scene. For instance the heel of a shoe (and the figure wearing it) on a support (a step of a stair…), a hand against a wall, a finger against an object, given faces of an object (a glass, the handle of a weapon…) in a hand, or parrot feet on a shoulder, or you can fill shelves with as many objects as you want in the blink of an eye, or move a figure really far away in the scene (but on or near to specific faces), move the bottom of a thigh on a chair in one click (even if this chair is in another room), to move a figure so that its lips of a figure end on the forehead (or the lips) of another figure, etc, etc, the examples are endless. Translations of objects to reach their target can be proportional (100% Y axis, 50% X axis, 0% Z axis for instance).
Automatically rotate an object so that the face(s) you want end parallel with the faces you want on another object, or parallel to a given plane. The same way, rotation can be proportional between 0 and 100% of the full rotation required.
Rotation and translation process are independent, you can simply rotate, simply translate, or do both, in the order you want.
Add virtual origins so that you can use the rotations around these origins to maintain the contact will you rotate your objects (but you can still use the "normal" rotations with the initial origin if you want to, this is not destructive of the initial origin), or maintain the faces you want at a given location while you rotate the rest around it.
Virtual origins can be loaded stand-alone (independently from the face to face scripts), and can use the orientation axis of the world space. You can also use a "reference plane" instead, which will warranty that not only the face you want will remain in place during rotations (the object/figure rotates around the selected face), but that it will keep the same normal if you use the local rotation around Y axis of the reference plane.
For Face to Face, the principle is extremely easy: load and place a target plane where you want in the scene, or create a target plane on selected faces of an object (target faces) using the dedicated script. Once done, select, on the object you want to transform (translate and/or rotate) the faces which are supposed to reach the target plane, and apply the corresponding transform script. Several scripts are included depending if you want to translate, or to rotate (in one direction or another), or both, if you want to have the possibility to apply a partial transform, and if the object has a parent or not (and you want to move the parent too). But the titles and thumbs of the transform scripts are very clear about what they do. If you create several targets in your scene, you'll be systematically allowed to choose with which target you want to work.
For Virtual Origins, it is even more easy. You can use the virtual origins added by the transforms scripts, or you can select any face on any object/figure and apply the script either to create a virtual origin placed on the selected faces (with world space orientation) or a "plane" virtual origin placed on the selected faces AND parallel to these faces (its Y axis is the normal to the faces).
This thread is here to answer the technical questions you might have concerning Face to Face. Please install it with Daz Install Manager (or Manually) if possible, it seems that these last days there are issues in smart content installers for products made of scripts (I saw this on other threads).
For the ones who want more details, here is a video explaining the principle, and giving some examples of application. Sorry for the music instead of my voice, I could not speak...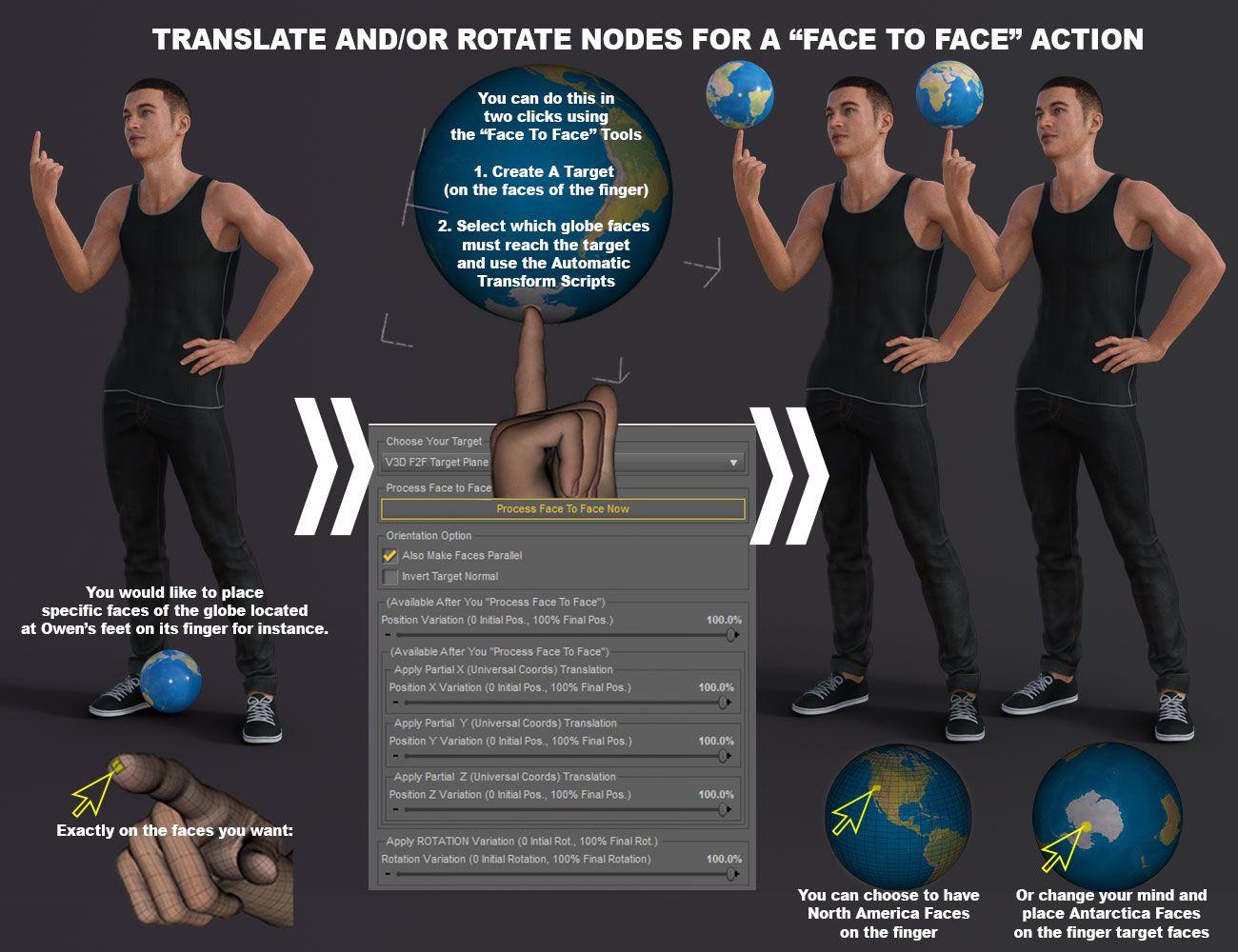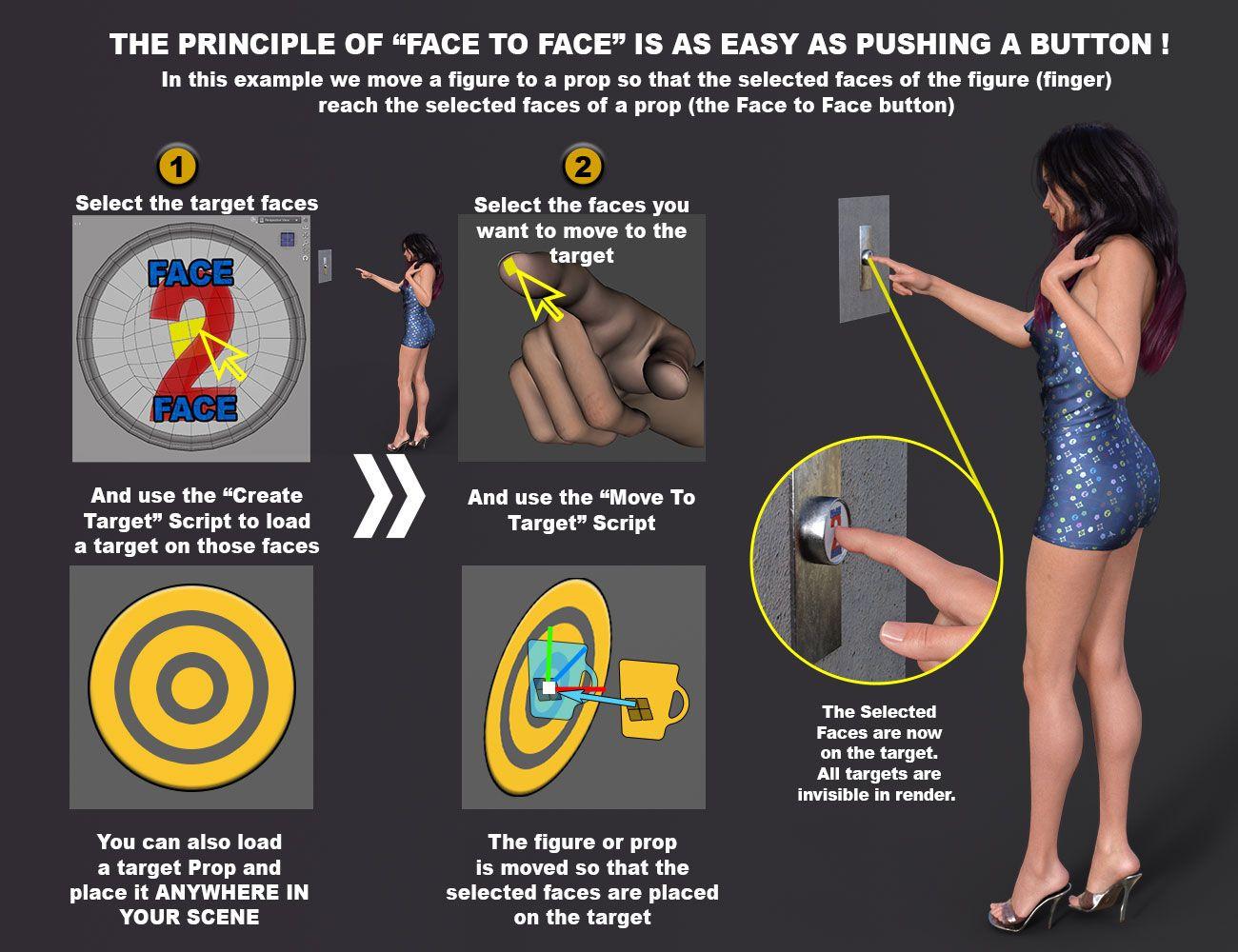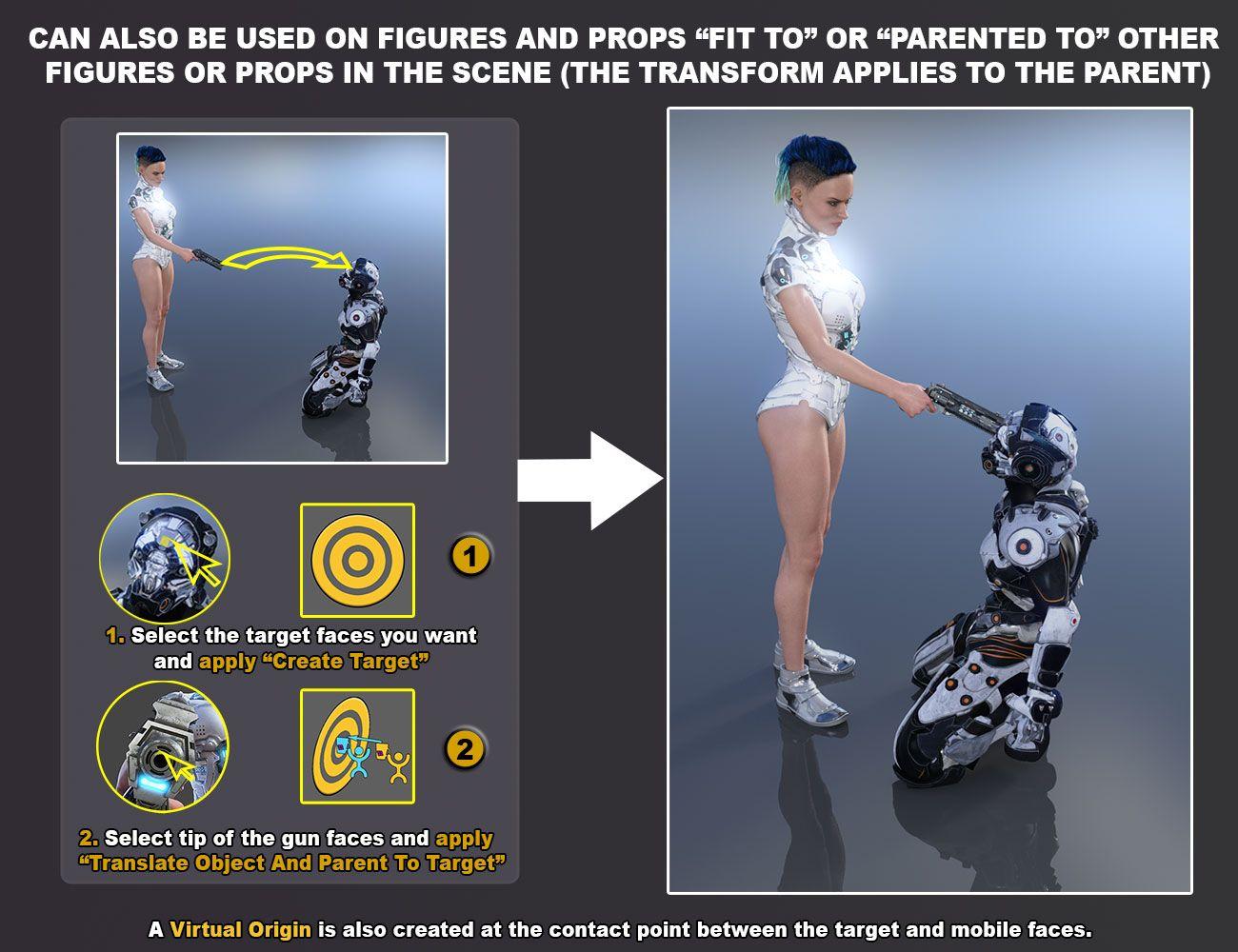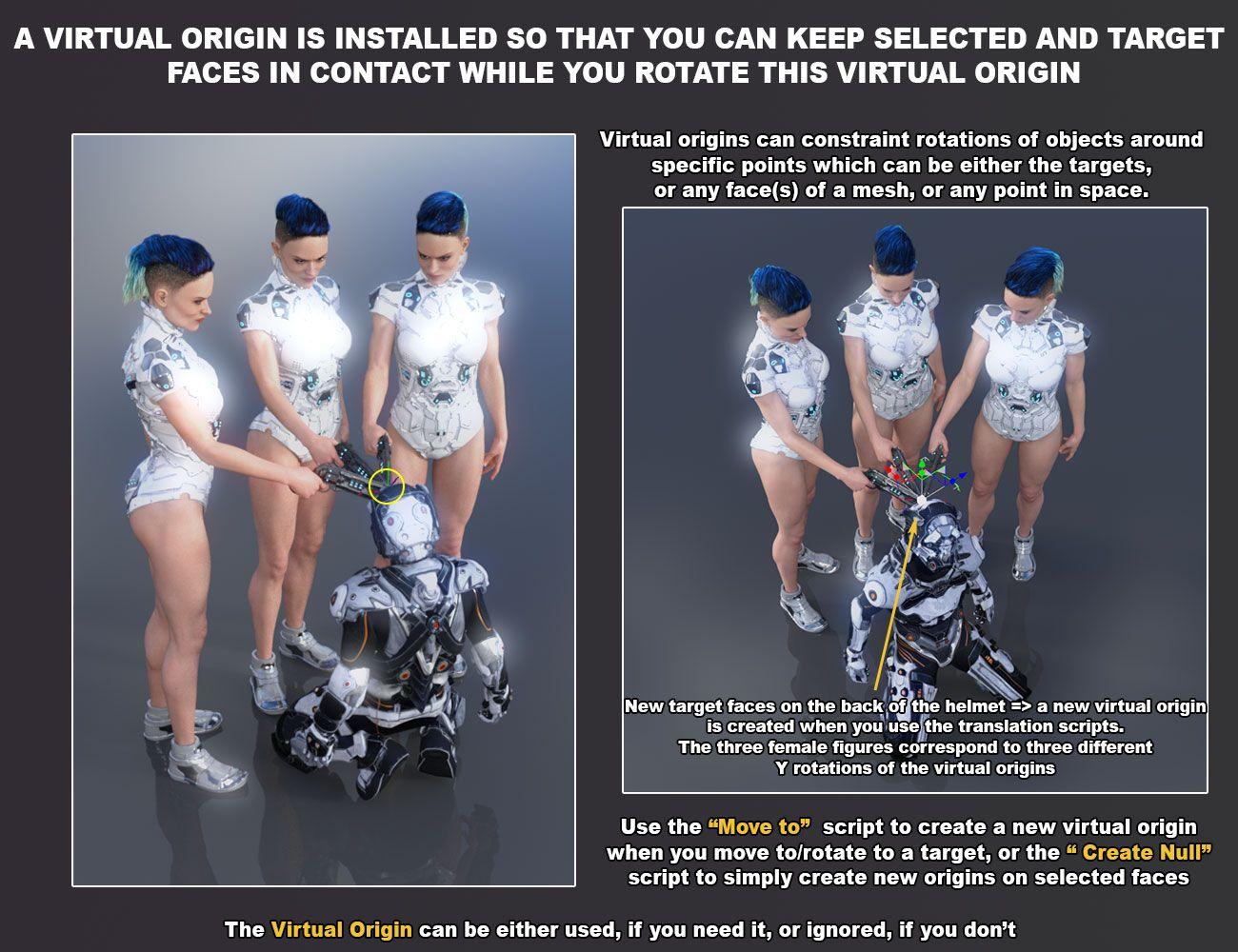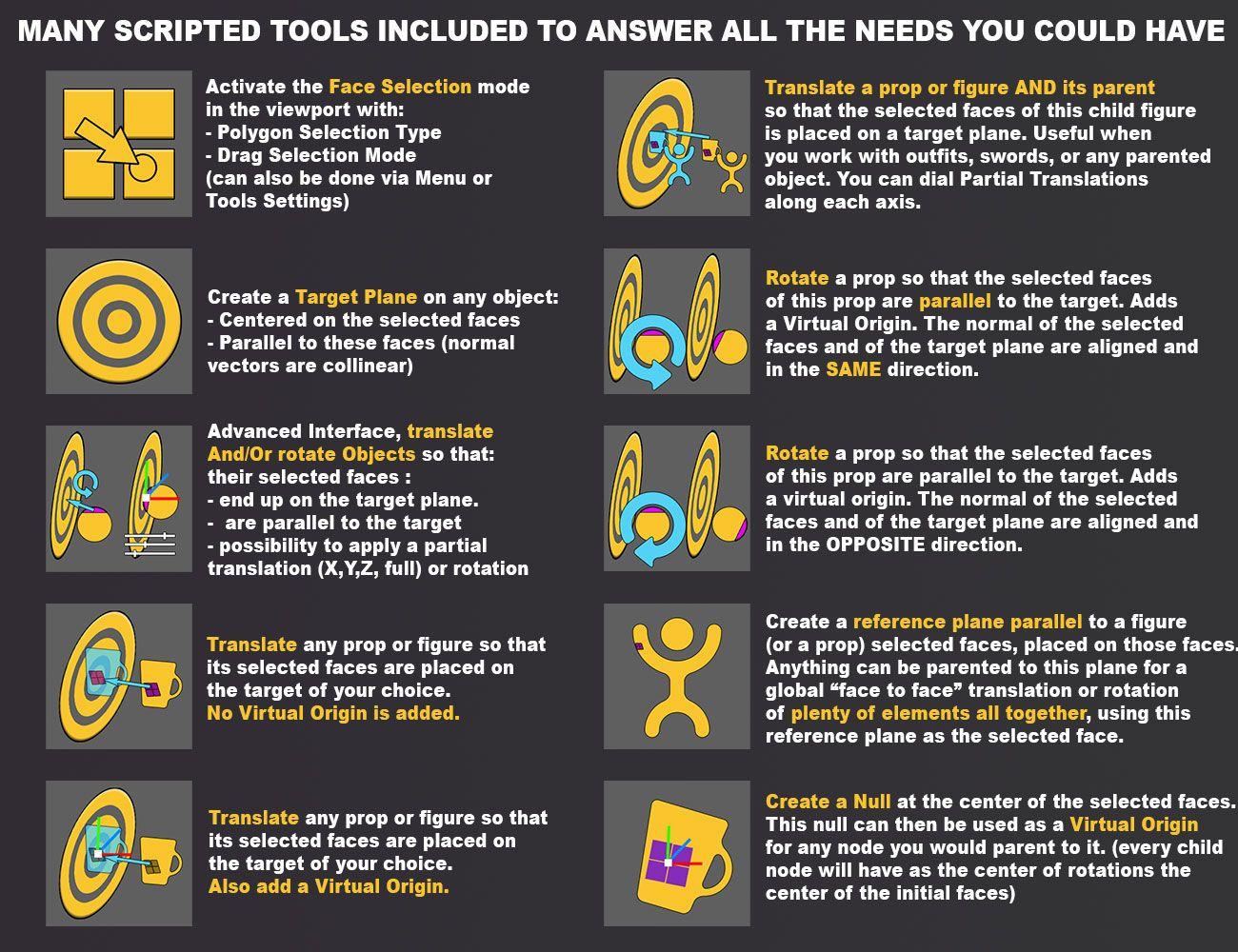 Post edited by V3Digitimes on