[Released] Now-Crowd Utilities [Commercial]

RiverSoftArt
Posts: 6,224
Make your Now-Crowds even better with the new Now-Crowd Utilities product!
The Now-Crowd Billboards are a popular line of products for quickly and easily creating crowds, from spaceports to modern cities to medieval taverns.
The Now-Crowd Utilities gives you even further control over your Now-Crowds with a suite of scripts. They will quickly become indispensable when setting up your Now-Crowd scenes!
Note: No Now-Crowd products are included with the Now-Crowd Utilities product. You need to own at least one Now-Crowd product to use this product, except for the Crowd Formation script which will work with any group.
What's Included and Features
Now-Crowd Utilities:
Detailed User Guide
8 Powerful Scripts:

Crowd Maker – Quickly and easily create crowds from any Now-Crowd Billboards product
Crowd Formation – Rearrange any group of billboards or non-billboards into a mob or organized block formation
Move Billboards to Ground – Move your billboards to be perfectly placed on the ground
Move Billboards to Height – Move your billboards to be perfectly placed relative to any height
Drop Billboards to Surface – Drop your billboards onto the surface of an object
Convert to Billboards – Convert Now-Crowd Billboards to Daz Studio billboard nodes
New and Improved Change Billboard Angle – New and Improved with Group support
New and Improved Orient Billboards – New and Improved with Group and Timeline support
Tutorial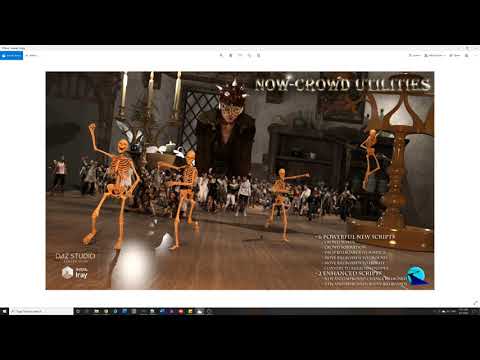 Post edited by RiverSoftArt on