Ventriloquest face mask - advice needed

launok
Posts: 761
Good day,
I have downloaded a freebie of a face mask but was disappointed to find out the mask is actually part of a huge 3D background. The mask is lying on the background but when I have tried to ungroup the model in Bryce as I always do, huge pieces of the mask seems part of the background. I have a long time not used Hexagon and don't really know what to do here. As you will notice on the attached images the model is actually only partly in the grid. This file is huge (57 mb) and I have uploaded it to my Deviantart stash as email can't attach it, even in Google drive! But here is original freebie link http://www.123dapp.com/Search/ventriloquist/content/all I have used .obj in Hexagon.
I think if I use 'faces' it should be possible to take parts away but to be honest I just can't concentrate at this point. Memory blockage and not much experience too, lol!
Such a mask I think can be added to a character for funny renders. I have searched the web for freebies like this, but this is the only freebie I could get hold of.
Laura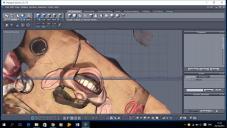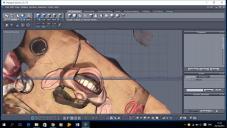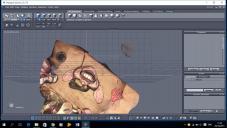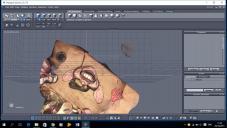 Post edited by launok on