What's this? A Tako Render thread? No way!

Tako Yakida
Posts: 514
Yes way!

Oddly enough, my muse took some time off from 3D for about a month before slowly oozing her way back.
I'm probably rendering again because I am waiting for my old camera to sell now that I have my nikon.
So, rather than worry if it's going to sell, I will pour my jitteriness into some renders.
Let's see if my muse will keep it up or not.

************************************

Anyways, here is my first render for this brave new forum.

Image rendered in LuxRender using the Reality plug-in for DAZ Studio.

Render time: 48 minutes with two versions using different focal points and f/stops rendering simultaneously.

Blended the two renders together in Photoshop Elements with some other minor postwork.

In the Reality plug-in window, very little tweaking was needed for the materials used. I set the little floating robot's "eyes" to blue glass. I set the red LEDs in the BG to lights. Some other minor adjustments.

The rest of the lighting is one Image Based Light free from HDRLabs.com/sibl and one curved "meshlight" behind the camera which is essentially a glowing plane with bent sides.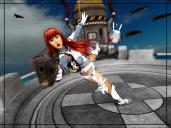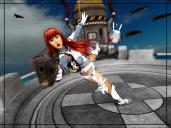 Post edited by Tako Yakida on