Daz Studio Storing Morphs in wrong folder.
jukingeo
Posts: 682
Hello All!
A while back I had accidentally deleted a folder that was supposed to contain a custom morph that I have made called "Voluptuous Toned Body". I had followed a tutorial on You Tube for the procedure. However, unbeknownst to me, Daz Studio seemed to be storing all the morph settings for my characters in that folder. At the time I discovered it, I didn't think anything of it and thought it was copies of what I had stored on my hard drive elsewhere. So I deleted it and that started my problems with my Genesis 8 Female characters loosing their morphs. Realizing what I had done, I had put the morph folder back, but I made sure I never used that custom morph again. Well, Daz stopped creating new charaters and storing the morphs in that folder, but many of my older characters are still calling morphs from that folder.
To give a better picture of what I am talking about, here is are the (partial) contents taken directly from that folder. Remember, this folder was to contain only a few items as it was supposed to be a custom morph: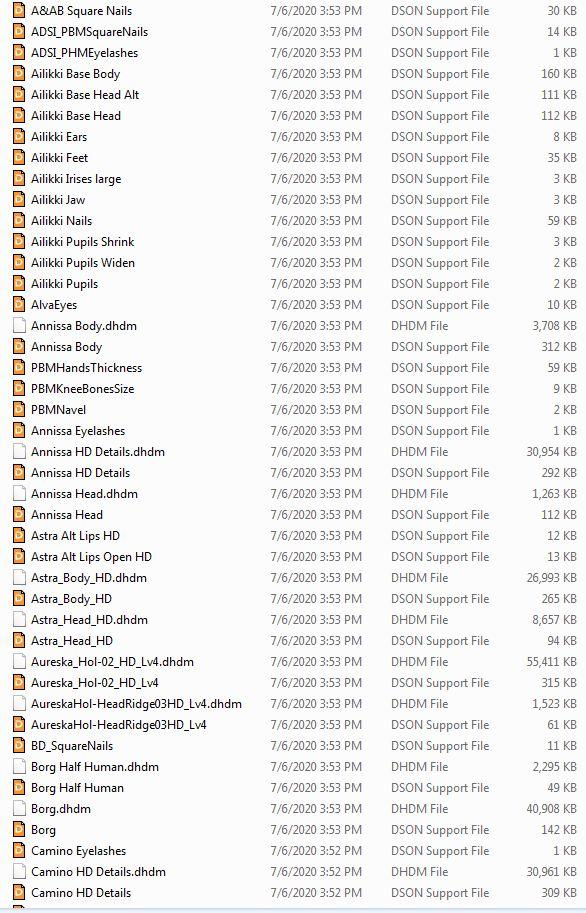 The list goes on listing the morphs stored in the folder from A-Z taking up a massive 3 gig worth of morph files.
As you see, by that screenshot that it was dumping every single morph I used for my creations into that folder after I created it and I have no idea why Daz did that in the first place. So, if it is no longer doing it, why am I bothering? Well, it seems as if many of my HD morphs are not working both with existing characters and also when I create new characters and that is a big problem. I had deleted the affected HD morph packages and had reinstalled them, but to no avail. Further, I do want to fix this situation and delete this folder, but currently can't do that otherwise it will affect my characters that I have created pre- 2020.
Any help would be appreciated.
Thank you,
Geo


VoluptuousTonedMorphFolder.JPG
Post edited by jukingeo on