SBH Length Interpolation Discussion. Need some advice please.

Dark45
Posts: 39
I've been working in both Zbrush and SBH for hair recently. I'd love to try blender too but I seem to be too stupid to work diffeomorphic properly. I have a test scene that someone else made that works so perfectly but none of my scenes will import properly. IDK, just another frustrating thing I'm dealing with and not the topic of the discussion, sorry just had to rant for a second.
OK SBH, I gave up on this for anything other than fur, male hair, eye brows, etc. because long hair seemed too damn impossible.
Well, I'm giving it another go and you know what, some of my results haven't been terrible except for the interpolation algerithm doesn't want me to style hair I guess. The interpolation of spaces between hairs is decently aggressive but I have tamed that to a point that I'm somewhat ok with.
The length though, I have been fuming for about 6 hours now trying to make this hairstyle. As I style, the interpolated hairs keep getting longer and longer, well past the guide hair length. Issue with this is any hair that is longer than the guide hair will not follow the guide line and is stricken with rigor mortis.
I've messed with everything SBH offers to try and resolve this. So, I am giving it a long shot and posting this to see if anyone out there maybe willing to help easy the suffering a little. If you are able to help, a thousand thank yous and a lovely snack basket will be sent to your place of dwelling.
Have a blessed day everyone!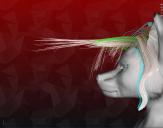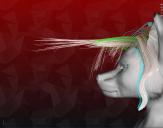 Post edited by Dark45 on