Arachnid Class - Rim Runner (Released)
Rane
Posts: 131
Arachnid Class - Rim Runner
Ladies and gentlemen, boys and girls, and everything or everyone in between! I hereby present to you, the latest in the Arachnid Class line of ships, the Rim Runner! She's designed as your every day runabout cargo vessel, with never before seen features! (At least, in the Arachnid class geometry or products.) This beauty of a ship features everything you've come to know and love(or loath) about the Arachnid class, and then some. She features an upgraded and updated bridge, chairs, hull, and she has a few new features as well. She comes with a full blown energy shield to protect her crew with, speed enhancing contrails with which to make still-shots seem incredibly fast, AND she still has her teeth, though they are an add on in this variant.
Arachnid Class - Rim Runner Interior
Not to be out-done by her predesessors though, the Rim Runner also comes complete with a full blown interior! Featuring a Medical Bay, Captain's Quarters, a bathroom for Men and Women, a full Lounge AND enough personnel space for 12 crew members, more if they get VERY cozy with each other, this ship has more than enough features for your small crews to galavant about the system with. (Also, due to the power constraints on various older machines, this product has been split into several modular sections for the ease of the user. Personnel quarters are their own chunk, the Lounge/bathroom area is its own chunk as well. Same with the medical bay and captain's quarters. Also, each internal section comes with walls that can be hidden for better camera angles.)
Arachnid Class - Rim Runner Cargo Set
That's not all though! This particular beasty is also a beast of burdeon! She also comes complete with her own cargo racks, cargo hauler parasite tugs, and more! (The cargo tug is intended to be used in conjunction with the main ship, but it is capable of being a stand-alone tug.) Although the vessel itself is needed for some of the props, the rest can be used on their own or with other products. (The Set 7 cargo rack is one such product. It's designed as a stand-alone cargo container rack.)
Please note: This product is designed to-scale with the default DAZ figures, so its HUGE in scene. I've provided camera angles for the default load positions for the products, but they may require tweaking for that perfect shot.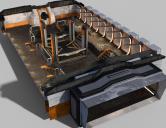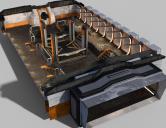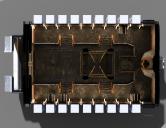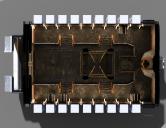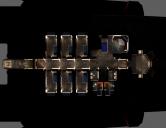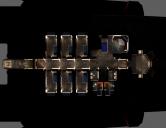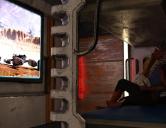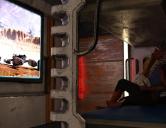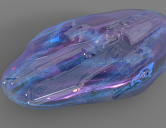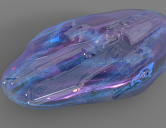 Arachnid Class Promo 3.png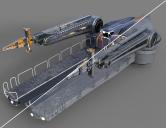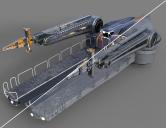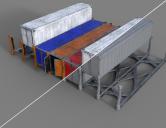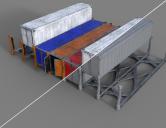 Post edited by Rane on