The Kids4 Morphs++ Expressions
fallonlance
Posts: 4
Hey all - I had a question regarding the Kids4 product, and hoping someone can help me out. I recently bought the Kids4 Base + Morphs, and nearly everything is working as expected.
My question is regarding the The Morphs++ pack, which again, is mostly working fine. However, applying the pre-set expressions (i.e., Afraid, Angry, Happy, etc) seem to have no effect. I understand that simply selecting one of Angry, Sad, etc. only applies a Morph, and then I need to adjust the dial accordingly. But when adjusting the dials for preset expressions, no changes are applied to the Kids4 figure.
All other morph dials work great and as expected (i.e., brows, mouth, nose, etc.), but wanted to ask if anyone had some ideas as to why those specific "expression" morphs don't apply?
I use Poser 11, but have also tried on Poser 12 without any luck.
(i've attached a pic with the "Afraid" dial turned a good bit up, but no changes reflected)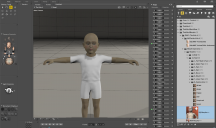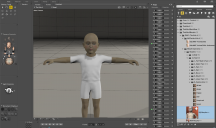 Screen Shot 2021-08-31 at 11.10.25 PM.png