Daz Studio Install Issue
sporkmanstudios
Posts: 0
Hopefully someone can give me some guidance.
I did an install of daz3d the other day and today i wanted to install some of the content that I purchased. Originally I had the install of the daz program and central on the c drive. Today I uninstalled everything for Daz as I wanted to move everything including the install files to 2TB Drive. I did the uninstall viz Daz Central and then I uninstalled DAZ central. I noticed that all the install directories were still on my system. So I wiped everything for Daz off my PC to do a fresh clean install. Rebooted my system and redid the install moving everything to the external drive. The install went fine and daz and Central reinstalled fine.
Here is where the trouble started, So I started to redownload the assets in central and I open daz with no issues but I noticed that none of the assets were installed. But in central they showed open. So I clicked open and I got the error message resource error could not open file (path name appdata/roaming/DAZ3D/InstallManager/LaunchStudioProduct.dsa) File does not exist. I did change my content manager because I have 3party asset on the e drive that i purchased for my project. I tried to add the asset in to the directory and it did not show up so I removed the line for external drive, I have it set back to default. In Searching the forums for the error message I download DIM to see if I can install them that way and I kept getting file could not be installed. So I figured I would wipe everything again and leave it as default and try and still running into the same issues. I am not sure why a company would not allow for a clean up of all it assets. I really want to use Daz as I will be looking to create the characters and then plan to import into Unity once I have the look of my characters.
I have attached all screen shot of where all the directories are pointing to, the only program right now that installed into the correct place is Daz Central, all the files are showing on the E- Drive. I want to get everything onto the E-Drive as that is what I plan on using this includes all assets. any help would be great.
Resource Error could not install.jpg
Content Manager Screen .jpg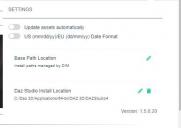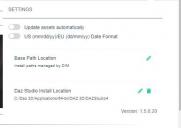 Install Manager Settings .jpg
Post edited by Chohole on